Are Artificial Christmas Trees Better for the Environment Than Real Ones? It Depends
[ad_1]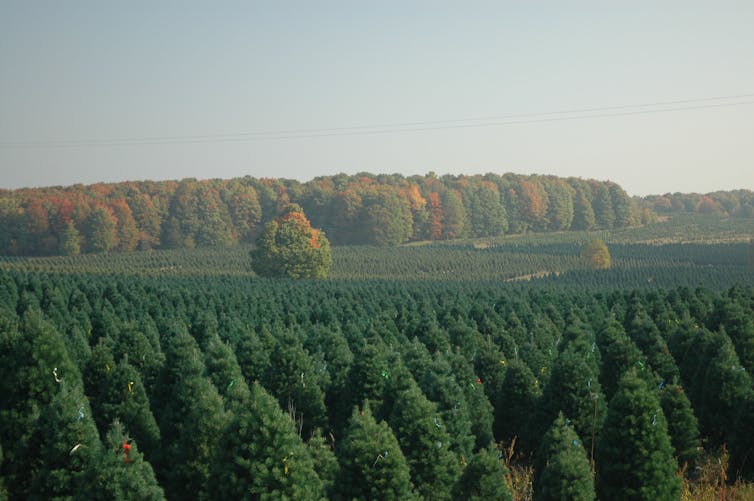 Environmentally conscious consumers often ask me whether a real Christmas tree or an artificial one is the more sustainable choice. As a horticulture and forestry researcher, I know this question is also a concern for the Christmas tree industry, which is wary of losing market share to artificial trees.
And they have good reason: Of the 48.5 million Christmas trees Americans purchased in 2017, 45 percent were artificial, and that share is growing. Many factors can influence this choice, but the bottom line is that both real and artificial Christmas trees have negligible environmental impacts. Which option "wins" in terms of carbon footprint depends entirely on assumptions about how long consumers would keep an artificial tree versus how far they would drive each year to purchase a real tree.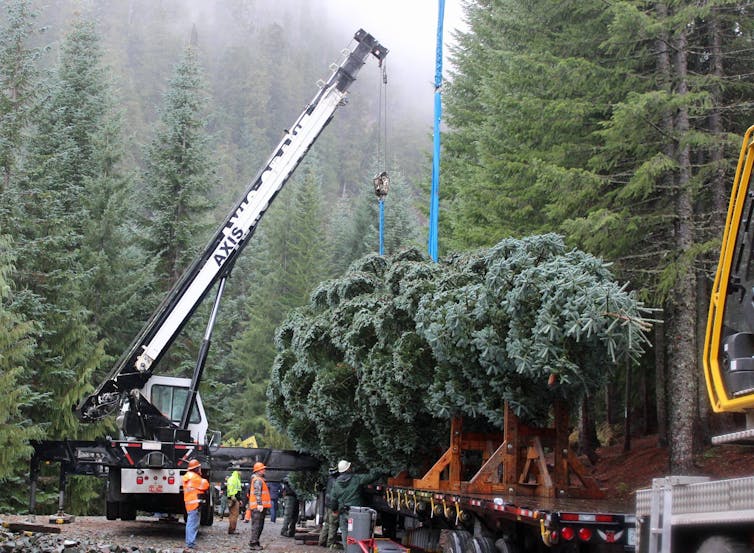 From Seedling to Wood Chipper
Many consumers believe real Christmas trees are harvested from wild forest stands and that this process contributes to deforestation. In fact, the vast majority of Christmas trees are grown on farms for that express purpose.
To estimate the total impact of something like a Christmas tree, researchers use a method called life cycle assessment to develop a "cradle to grave" accounting of inputs and outputs required to produce, use and dispose of it. For natural Christmas trees, this covers everything from planting seedlings to harvesting the trees and disposing of them, including equipment use, fertilizer and pesticide applications, and water consumption for irrigation.
Life cycle assessments often will also estimate a system's carbon footprint. Fuel use is the biggest source of greenhouse gas emissions in Christmas tree production. Using 1 gallon of gas or diesel to power a tractor or delivery truck releases 20 to 22 pounds (9 to 10 kilograms) of carbon dioxide into the atmosphere.
On the positive side, Christmas trees absorb and store carbon from the atmosphere as they grow, which helps to offset emissions from operations. Carbon represents about 50 percent of the dry weight of the wood in a tree at harvest. According to recent estimates, Christmas tree-sized conifers store roughly 20 pounds of carbon dioxide in their above-ground tissue and likely store similar amounts below ground in their roots.
However, using 1 gallon of gasoline produces about the same amount of carbon dioxide, so if a family drives 10 miles each way to get their real tree, they likely have already offset the carbon sequestered by the tree. Buying a tree closer to home or at a tree lot along your daily commute can reduce or eliminate this impact.
And natural trees have other impacts. In 2009, Scientific American specifically called out the Christmas tree industry for greenwashing, because growers' press releases touted carbon uptake from Christmas tree plantations while ignoring pesticide use and carbon dioxide emissions from plantation management, harvesting and shipping.
Is Synthetic Better?
Artificial trees have a different set of impacts. Although many people think shipping trees from factories in China takes a lot of energy, ocean shipping is actually very efficient. The largest energy use in artificial trees is in manufacturing.
Producing the polyvinyl chloride and metals that are used to make artificial trees generates greenhouse gas emissions and other pollutants. China is working to reduce pollution from its chemical industry, but this may drive up the prices of those materials and the goods made from them.
Moreover, to consider sustainability from a broader perspective, production of real Christmas trees supports local communities and economies in the United States, whereas purchasing artificial trees principally supports manufacturers in China.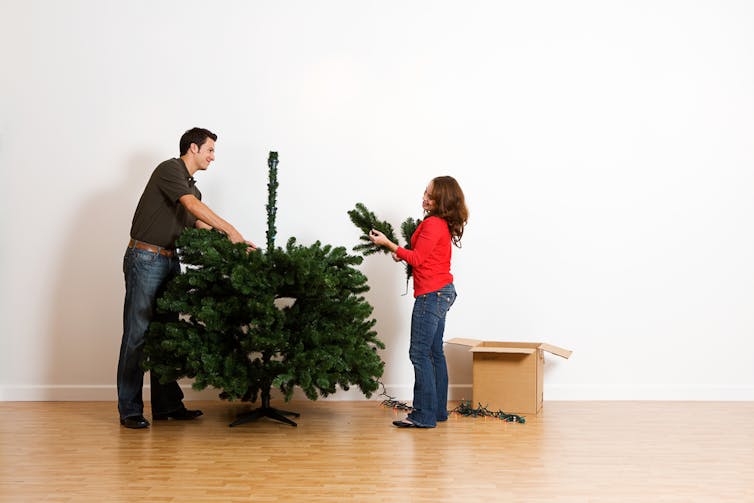 Going Head to Head
Recently the American Christmas Tree Association, which represents artificial tree manufacturers, commissioned a life cycle assessment comparing real and artificial Christmas trees. The analysis considered environmental aspects of sustainability, but did not examine social or economic impacts.
The report concluded that the environmental 'break-even' point between a real Christmas tree and an artificial tree was 4.7 years. In other words, consumers would need to keep artificial trees for five years to offset the environmental impact of purchasing a real tree each year.
One major shortcoming of this analysis was that it ignored the contribution of tree roots – which farmers typically leave in the ground after harvest – to soil carbon storage. This omission could have a significant impact on the break-even analysis, given that increasing soil organic matter by just one percent can sequester 11,600 pounds of carbon per acre.
Reuse or Recycle Your Tree
Consumers can't affect how farmers grow their live trees or how manufacturers produce artificial versions, but they can control what happens after Christmas to the trees they purchase. For artificial trees, that means reusing them as many times as possible. For natural trees, it means recycling them.
This is essential to optimize the carbon footprint of a real tree. Grinding used Christmas trees and using them for mulch returns organic matter to the soil, and can contribute to building soil carbon. Many public works departments across the United States routinely collect and chip used Christmas trees after the holidays. If local tree recycling is not available, trees can be chipped and added to compost piles. They also can be placed in backyards or ponds to provide bird or fish habitat.
In contrast, if a used tree is tossed into a bonfire, all of its carbon content is immediately returned to the air as carbon dioxide. This also applies to culled trees on tree farms. And if used trees are placed in landfills, their carbon content will ultimately return to atmosphere as methane because of the way materials buried in landfills break down. Methane is a greenhouse gas 21 times more potent than carbon dioxide over a century, so this is the most environmentally harmful way to dispose of a used tree.
All kinds of factors influence choices about Christmas trees, from fresh trees' scent to family traditions, travel plans and the desire to support farmers or buy locally. Regardless of your choice, the key to relieving environmental angst is planning to reuse or recycle your tree. Then you can focus on gifts to put under it.

Bert Cregg, Professor of Horticulture and Forestry, Michigan State University
This article is republished from The Conversation under a Creative Commons license. Read the original article.
[ad_2]

Source link
Globe Climate: Canada's resource reckoning is coming
Good afternoon, and welcome to Globe Climate, a newsletter about climate change, environment and resources in Canada.
This afternoon, the Alberta government announced that it is restoring a coal mining policy it revoked last spring. At the time, the move provoked a widespread public backlash detailed by The Globe. The original decision, which opened up more than 1.4 million hectares to exploration, was made without public consultation. Premier Jason Kenney previously defended the changes.
Lots more on coal and Canada's resources industry in this week's newsletter edition.
Now, let's catch you up on other news.
'Incredibly destructive': Canada's Prairies to see devastating impact of climate change
As the climate continues to warm at an alarming rate, experts warn if dramatic steps to mitigate global warming are not taken, the effects in Canada's Prairie region will be devastating to the country's agriculture sector.
According to Environment and Climate Change Canada, the country is warming, on average, about double the global rate.
Scientists with the National Oceanic and Atmospheric Administration in the U.S. recently found 2020 was earth's second-hottest year on record, with the average land and ocean surface temperature across the globe at 0.98 of a degree C above the 20th-century average.
However, the agency found the northern hemisphere saw its hottest year on record, at 1.28 degrees C above the average.
"(In Canada) we are looking at about 6.4C degrees of warming this century, which isn't much less than one degree per decade, which is just a terrifying rate of warming," Darrin Qualman, the director of climate crisis policy and action at the National Farmer's Union said.
Qualman said there is "massive change coming" to Canada's Prairies, which will be "incredibly destructive."
"It's not going too far to say that if we made that happen, parts of the Prairies wouldn't be farmable anymore," he said.
According to the federal government, in 2018 Canada's agriculture and agri-food system generated $143 billion, accounting for 7.4 per cent of the country's GDP.
The sector employed 2.3 million people in 2018. The majority of the 64.2 million hectares of farmland in Canada is concentrated in the Prairies and in southern Ontario.
The effects of climate change are already being felt on the ground in the Prairies, Qualman said, adding that the NFU has already heard from farmers complaining of "challenging weather."
"People are sharing pictures of flattened crops and buildings, et cetera, that have been damaged," he said. "And we're still at the beginning of this."
Insect-based dog food aims to cut your pet's carbon pawprint
Meat has an enormous carbon footprint, with livestock liable for about 15 per cent of worldwide emissions, as we have beforehand mentioned on this e-newsletter. That is prompted specialists to suggest consuming much less meat for sustainability (and well being) causes.
However what about your pet? One research discovered that the methane and nitrous oxide emissions generated by canine and cat meals within the U.S. alone had been equal to about 64 million tonnes of CO2, or roughly the quantity produced by 13.6 million automobiles. And it might be getting worse, with a development towards feeding pets "human-grade" meat.
That is prompted some pet meals makers to look to lower-carbon protein sources — together with bugs.
Research present that producing insect-based meals requires far much less feed, land and water and generates far fewer greenhouse fuel emissions per kilogram than meats comparable to beef, pork or rooster.
That is one of many causes increasingly more pet meals containing insect protein are hitting the market. Purina, a model owned by multinational Nestlé, launched a line of canine and cat meals containing black soldier fly larvae in Switzerland in November.
In Canada, Montreal-based Wilder Harrier began promoting canine treats made with cricket protein in 2015 and pet food made with black soldier fly larvae in 2019. It plans to broaden to launch a line of insect-based cat treats later this yr and cat meals in 2022 due to "a ton of demand," mentioned firm co-founder Philippe Poirier.
Wilder Harrier initially labored with animal nutritionists on insect-based merchandise to unravel a unique downside — specifically, the founders' canines had allergy symptoms to frequent meats utilized in canine meals. Poirier mentioned now about half its prospects hunt down the product due to their pets' allergy symptoms and about half for environmental causes.
Dr. Cailin Heinze, a U.S.-based veterinary nutritionist licensed by the American School of Veterinary Vitamin, has written concerning the environmental influence of pet meals. She mentioned we're typically "not as involved as we probably ought to [be]" concerning the environmental footprint of pets.
Alternatively, she famous that the longer-term influence of newer diets, comparable to vegan meals and people containing bugs, hasn't been nicely examined in comparison with conventional pet meals.
Maria Cattai de Godoy, an assistant professor of animal sciences on the College of Illinois who research novel proteins for pet meals (together with bugs, yeast and plant-based substances), mentioned such substances are rigorously examined to find out their security and diet earlier than being added to pet meals.
"This can be a very extremely regulated trade," she mentioned, however admitted it is also evolving.
Relating to bugs, she mentioned constructive information "reveals promise in direction of utilizing them increasingly more in pet meals." Insect-based proteins have additionally earned the endorsement of the British Veterinary Affiliation, which says some insect-based meals could also be higher for pets than prime steak.
However Godoy famous that there isn't any one-size-fits-all resolution, and pet homeowners ought to take into consideration the wants of their very own particular person pet and analysis whether or not a specific weight loss plan can be appropriate.
She mentioned that other than the kind of protein, issues like packaging and manufacturing strategies may also make a distinction. For instance, utilizing meat byproducts that may in any other case turn into waste would not drive elevated meat manufacturing the identical approach as utilizing human-grade meat.