Deux arrestations en lien avec les vols de drones à l'aéroport de Gatwick
[ad_1]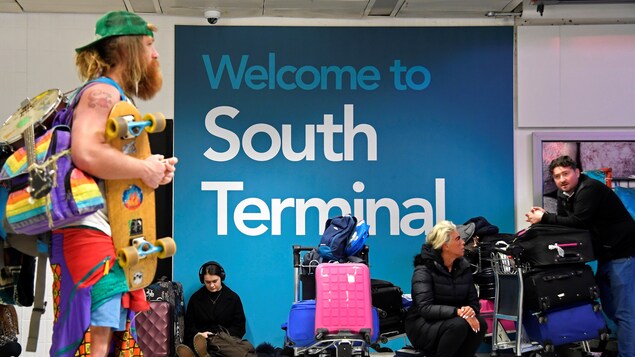 Les autorités ont procédé à ces arrestations tard vendredi soir. « Des procédures sont toujours en cours afin de prévenir de tels incidents », a toutefois spécifié le commissaire de police James Collis, faisant appel à la vigilance du public afin de signaler tout comportement louche près de l'aéroport. M. Collis n'a pas précisé si la piste d'une action écologiste était confirmée.
Plus tôt dans la journée de vendredi, le trafic a repris à Gatwick, après une brève suspension en raison de la présence de drones. L'aéroport se remettait à peine de 36 heures de paralysie due à ces mystérieux drones, un incident « sans précédent », selon le gouvernement.
Les autorités de l'aéroport avaient été contraintes jeudi d'interrompre leurs activités, piégeant plus de 120 000 passagers à quelques jours des fêtes de Noël. « Nous avons temporairement suspendu les activités aériennes pendant que nous enquêtions sur la présence non confirmée d'un autre drone », a dit un porte-parole de l'aéroport. « Pour l'instant il n'y a aucun décollage ni atterrissage. »
L'armée et la police ont déployé des moyens technologiques pour surveiller le site et éviter le retour des drones. « Il y a sur le terrain une combinaison de mesures afin de faire en sorte que la confiance revienne […]. Certains de ces moyens sont militaires », a déclaré le secrétaire britannique aux Transports, Chris Grayling, sans entrer dans le détail.
La piste de Gatwick avait été rouverte vers 4 h 30 (HNE) vendredi matin avant d'être fermée de nouveau pendant environ 90 minutes. Les voyageurs étaient alors invités à vérifier le statut de leur vol avant de se rendre à l'aéroport, en raison de possibles retards ou annulations.
Selon Chris Woodroofe, le directeur opérationnel de l'aéroport, le deuxième du pays après Heathrow, près de 700 vols étaient initialement prévus vendredi. Il s'est excusé auprès des 120 000 voyageurs touchés à quelques jours des fêtes de Noël.
Les forces de l'ordre ont « considérablement augmenté » leur présence sur place, a expliqué sur Twitter la police du Sussex, comté où se trouve l'aéroport.
Ce type d'incident est sans précédent.
« Il nous faudra comprendre très rapidement ce qui s'est passé » pour pouvoir « tirer les leçons », a ajouté M. Grayling face aux critiques sur l'incapacité des autorités à neutraliser les drones.
Dans les colonnes du Telegraph, la secrétaire d'État chargée des Transports, Elizabeth Sugg, a promis de « nouvelles mesures qui aideront à lutter contre d'autres usages malveillants des drones ».
« Nous travaillons avec les fabricants de drones à des solutions techniques, comme le géorepérage », a-t-elle ajouté, précisant que cette technique permettrait, grâce aux données du drone, de l'empêcher de voler au-dessus de certaines zones comme les aéroports et les prisons.
L'action écologiste serait une piste d'enquête
L'aéroport de Gatwick avait été fermé mercredi soir par mesure de sécurité, avant de rouvrir brièvement dans la nuit et de fermer de nouveau à 3 h 45 GMT jeudi matin, car les drones ne cessaient de réapparaître, jouant au chat et à la souris avec les policiers.
Le PDG de l'aéroport, Stewart Wingate, a dénoncé jeudi une « activité très ciblée qui visait à fermer l'aéroport et causer le maximum de perturbations juste avant Noël ».
Jeudi soir, la police du Sussex a indiqué que les drones avaient été aperçus plus de 50 fois en 24 heures.
Elle a qualifié l'incident d'« acte délibéré », tout en assurant qu'il n'y avait « aucune indication suggérant que cela soit lié au terrorisme ».
Un « loup solitaire » défenseur de l'environnement pourrait se cacher derrière cette attaque, écrit vendredi le Daily Telegraph, citant une source gouvernementale.
« Une action écologiste est une piste d'enquête à ce stade », a dit cette source au quotidien britannique.
Le chaos à Gatwick faisait la une de la quasi-totalité des quotidiens britanniques vendredi. « Comment cette petite tache dans le ciel peut-elle gâcher le Noël de 350 000 personnes? », s'interrogeait vendredi le tabloïd Daily Mail, photo à l'appui.
Le gouvernement blâmé
Le gouvernement s'est vu reprocher de ne pas en avoir fait assez pour protéger les aéroports.
D'après Karl Turner, chargé des questions de transports au sein du parti d'opposition travailliste, il aurait dû interdire les drones dans un périmètre de 5 kilomètres autour des aéroports.
La loi actuelle, renforcée cette année, interdit leur utilisation à moins d'un kilomètre d'un aéroport et à une altitude supérieure à 400 pieds (122 mètres). Les coupables risquent jusqu'à cinq ans d'emprisonnement.
Des responsables de différents ministères se sont réunis vendredi matin pour faire le point sur la situation.
L'armée a été appelée à l'aide, mettant à disposition des technologies de pointe pour traquer les drones. La police a envisagé d'abattre le drone, après que les autorités eurent écarté dans un premier temps cette possibilité, craignant les « balles perdues ».
Avec des avions cloués au sol toute la journée de jeudi, les voyageurs ont dû prendre leur mal en patience, dormant parfois à même le sol dans l'aéroport. Des vols ont été détournés vers d'autres villes au Royaume-Uni, voire à Paris et à Amsterdam.
Gatwick dessert plus de 228 destinations dans 74 pays et quelque 45 millions de passagers y transitent chaque année.
[ad_2]

Source link
'Too soon to celebrate' Ottawa's low case count, says Etches
Ottawa Public Health (OPH) logged just 11 new cases of COVID-19 on Tuesday, the lowest daily total since Sept. 1.
Because of the lag between testing and reporting, the low number could simply reflect low turnout at the city's testing sites on weekends — all month, new case counts have been lower on Tuesdays and Wednesdays.
During a virtual news conference Tuesday, the city's medical officer of health Dr. Vera Etches said she doesn't read too much into a single day's report.
"I don't think we can make too much of 11. Actually, it could be a lot higher tomorrow — I would expect that, on average," she said. "It's too soon to celebrate."
Provincewide, public health officials reported 1, 249 new cases Tuesday.
OPH also declared 62 cases resolved Tuesday, lowering the number of known active cases in the city to 462. Two more people have died, both in care homes currently experiencing outbreaks, raising the city's COVID-19 death toll to 361. 
Santa Claus isn't coming to Ottawa's major malls this year
Santa Claus may still be coming to town this Christmas, but he won't be dropping by any of Ottawa's major malls, thanks to the COVID-19 pandemic.
On Friday, Cadillac Fairview said Santa won't be making an appearance at any of its 19 malls across Canada, including Rideau Centre in downtown Ottawa. On Tuesday, Bayshore and St. Laurent shopping centres confirmed they, too, are scrapping the annual tradition.
"Due to the evolution of the situation in regards to COVID-19, we have made the difficult decision to cancel our Santa Program and Gift Wrap Program this year," Bayshore spokesperson Sara Macdonald wrote in an email to CBC.
Macdonald said parent company Ivanhoé Cambridge cancelled all holiday activities "due to the rising number of COVID-19 cases across the country."
Macdonald said families that had already booked an appointment to visit Santa will receive an email with more information.  
Virtual visits with Santa
Rideau Centre said based on customer research and discussions with public health officials, its North Pole is going online this year.
"Children will be able to have a private chat with Santa," said Craig Flannagan, vice-president of marketing for Cadillac Fairview. "You'll also be able to join a 15-minute storytime with Santa over Facebook Live."
At Place d'Orléans Shopping Centre, visitors are invited to take a "selfie with Santa" — actually, a life-size cutout of Santa Pierre, the man who's been playing Santa at the east end mall for years.
"We understand that this is not ideal, but in lieu of this tradition we will be doing what we can to maintain and encourage holiday cheer," according to a statement on the mall's Facebook page.
Ottawa Bylaw breaks up two large parties in Ottawa over the weekend
OTTAWA — Ottawa Bylaw is investigating social gatherings of more than 10 people in private homes across Ottawa last weekend.
Mayor Jim Watson tells Newstalk 580 CFRA that Ottawa Bylaw broke-up two house parties over the weekend, with 20 to 25 people at each party.
"That's the kind of stupidity that angers me, that's where the bulk of the transmissions are taking place, if we exclude the tragedy of the long-term care homes; it's these house parties with unrelated people," said Watson on Newstalk 580 CFRA's Ottawa at Work with Leslie Roberts.
"The message doesn't seem to be getting through, particularly to some young people who think they're invincible."
In a statement to CTV News Ottawa, Bylaw and Regulatory Services Director Roger Chapman says, "There are still ongoing investigations from this past weekend that could result in charges."
Chapman says recent investigations led to two charges being issued for social gatherings of more than 10 people in a private residence in contravention of the Reopening Ontario Act.
"In one case, up to 30 individuals were observed attending a house party in Ward 18 on Oct. 24," said Chapman.
"The second charge was issued following a house party in Ward 16 on Oct. 31, where up to 16 individuals were observed to be in attendance."
The fine is $880 for hosting an illegal gathering.
Alta Vista is Ward 18, while Ward 16 is River Ward.
Ottawa Bylaw has issued 24 charges for illegal gatherings since the start of the pandemic.