Deux arrestations en lien avec les vols de drones à l'aéroport de Gatwick
[ad_1]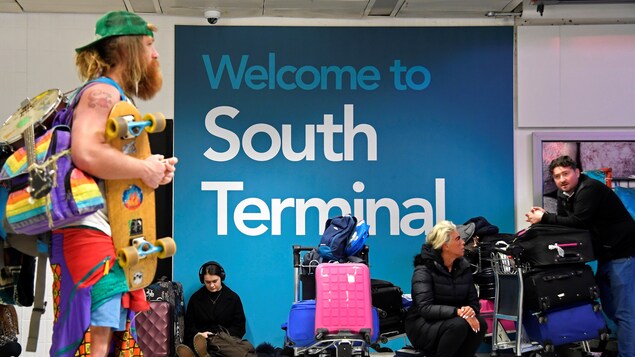 Les autorités ont procédé à ces arrestations tard vendredi soir. « Des procédures sont toujours en cours afin de prévenir de tels incidents », a toutefois spécifié le commissaire de police James Collis, faisant appel à la vigilance du public afin de signaler tout comportement louche près de l'aéroport. M. Collis n'a pas précisé si la piste d'une action écologiste était confirmée.
Plus tôt dans la journée de vendredi, le trafic a repris à Gatwick, après une brève suspension en raison de la présence de drones. L'aéroport se remettait à peine de 36 heures de paralysie due à ces mystérieux drones, un incident « sans précédent », selon le gouvernement.
Les autorités de l'aéroport avaient été contraintes jeudi d'interrompre leurs activités, piégeant plus de 120 000 passagers à quelques jours des fêtes de Noël. « Nous avons temporairement suspendu les activités aériennes pendant que nous enquêtions sur la présence non confirmée d'un autre drone », a dit un porte-parole de l'aéroport. « Pour l'instant il n'y a aucun décollage ni atterrissage. »
L'armée et la police ont déployé des moyens technologiques pour surveiller le site et éviter le retour des drones. « Il y a sur le terrain une combinaison de mesures afin de faire en sorte que la confiance revienne […]. Certains de ces moyens sont militaires », a déclaré le secrétaire britannique aux Transports, Chris Grayling, sans entrer dans le détail.
La piste de Gatwick avait été rouverte vers 4 h 30 (HNE) vendredi matin avant d'être fermée de nouveau pendant environ 90 minutes. Les voyageurs étaient alors invités à vérifier le statut de leur vol avant de se rendre à l'aéroport, en raison de possibles retards ou annulations.
Selon Chris Woodroofe, le directeur opérationnel de l'aéroport, le deuxième du pays après Heathrow, près de 700 vols étaient initialement prévus vendredi. Il s'est excusé auprès des 120 000 voyageurs touchés à quelques jours des fêtes de Noël.
Les forces de l'ordre ont « considérablement augmenté » leur présence sur place, a expliqué sur Twitter la police du Sussex, comté où se trouve l'aéroport.
Ce type d'incident est sans précédent.
« Il nous faudra comprendre très rapidement ce qui s'est passé » pour pouvoir « tirer les leçons », a ajouté M. Grayling face aux critiques sur l'incapacité des autorités à neutraliser les drones.
Dans les colonnes du Telegraph, la secrétaire d'État chargée des Transports, Elizabeth Sugg, a promis de « nouvelles mesures qui aideront à lutter contre d'autres usages malveillants des drones ».
« Nous travaillons avec les fabricants de drones à des solutions techniques, comme le géorepérage », a-t-elle ajouté, précisant que cette technique permettrait, grâce aux données du drone, de l'empêcher de voler au-dessus de certaines zones comme les aéroports et les prisons.
L'action écologiste serait une piste d'enquête
L'aéroport de Gatwick avait été fermé mercredi soir par mesure de sécurité, avant de rouvrir brièvement dans la nuit et de fermer de nouveau à 3 h 45 GMT jeudi matin, car les drones ne cessaient de réapparaître, jouant au chat et à la souris avec les policiers.
Le PDG de l'aéroport, Stewart Wingate, a dénoncé jeudi une « activité très ciblée qui visait à fermer l'aéroport et causer le maximum de perturbations juste avant Noël ».
Jeudi soir, la police du Sussex a indiqué que les drones avaient été aperçus plus de 50 fois en 24 heures.
Elle a qualifié l'incident d'« acte délibéré », tout en assurant qu'il n'y avait « aucune indication suggérant que cela soit lié au terrorisme ».
Un « loup solitaire » défenseur de l'environnement pourrait se cacher derrière cette attaque, écrit vendredi le Daily Telegraph, citant une source gouvernementale.
« Une action écologiste est une piste d'enquête à ce stade », a dit cette source au quotidien britannique.
Le chaos à Gatwick faisait la une de la quasi-totalité des quotidiens britanniques vendredi. « Comment cette petite tache dans le ciel peut-elle gâcher le Noël de 350 000 personnes? », s'interrogeait vendredi le tabloïd Daily Mail, photo à l'appui.
Le gouvernement blâmé
Le gouvernement s'est vu reprocher de ne pas en avoir fait assez pour protéger les aéroports.
D'après Karl Turner, chargé des questions de transports au sein du parti d'opposition travailliste, il aurait dû interdire les drones dans un périmètre de 5 kilomètres autour des aéroports.
La loi actuelle, renforcée cette année, interdit leur utilisation à moins d'un kilomètre d'un aéroport et à une altitude supérieure à 400 pieds (122 mètres). Les coupables risquent jusqu'à cinq ans d'emprisonnement.
Des responsables de différents ministères se sont réunis vendredi matin pour faire le point sur la situation.
L'armée a été appelée à l'aide, mettant à disposition des technologies de pointe pour traquer les drones. La police a envisagé d'abattre le drone, après que les autorités eurent écarté dans un premier temps cette possibilité, craignant les « balles perdues ».
Avec des avions cloués au sol toute la journée de jeudi, les voyageurs ont dû prendre leur mal en patience, dormant parfois à même le sol dans l'aéroport. Des vols ont été détournés vers d'autres villes au Royaume-Uni, voire à Paris et à Amsterdam.
Gatwick dessert plus de 228 destinations dans 74 pays et quelque 45 millions de passagers y transitent chaque année.
[ad_2]

Source link
List of Tourist Attractions Open Now in Ottawa
With Ontario now in Step 3 of 2021 three-step plan for reopening, museums and other indoor attractions are allowed to reopen with capacity limited to not exceed 50 per cent capacity indoors and 75 per cent capacity outdoors.
Here is a list of Ottawa attractions you can visit starting July 16th.
Do remember to wear masks and buy tickets in advance.
Parliament Hill
Parliament's Centre Block and Peace Tower are closed for renovation.
You can join for tours of the Senate of Canada Building (2 Rideau Street), House of Commons at West Block (111 Wellington Street) on Parliament Hill, and East Block at East Block (111 Wellington Street) on Parliament Hill.
When: Grounds open; guided tours of Parliament are suspended through the summer of 2021.
Where: 111 Wellington Street, Downtown Ottawa

Ottawa performer leapfrogs from gymnastics to Broadway to TV
A new AppleTV+ series set in a magical town that's stuck in a neverending 1940s musical includes a pair of Ottawa siblings in the cast. 
Warren Yang and his sister, Ericka Hunter, play two of the singing, dancing residents of the village portrayed in Schmigadoon!, a small-screen series that takes its cues from classic musicals like Brigadoon, Wizard of Oz and Sound of Music, and skewers them with the offbeat comedic mastery of Saturday Night Live. 
In fact, you'll recognize many of the names from SNL, starting with executive producer Lorne Michaels, creator of the late-night, live-comedy sketch show. Schmigadoon! also stars SNL cast member Cecily Strong and comedian Keegan-Michael Key, who hosted SNL in May. They play a New York couple who get lost on a hike and stumble into a strange town where everyone sings and dances.
For Yang, a relative newcomer to show-biz, the series marks his television debut. For Hunter, the younger of his two older sisters, it's the latest in a career path that began with dance lessons as a child more than 30 years ago. She attended Canterbury High School, Ottawa's arts-focused secondary school. 
"Her dream was always to perform," said Yang, 34, in an interview. "But that was never the path I thought was an option for me."
While his sister studied dance, Yang did gymnastics. He was an elite gymnast throughout his youth, ultimately leaving Merivale High School at 16 to train in Montreal, finishing high school through correspondence courses. He was a member of the Canadian National Team and received a scholarship to study at Penn State, majoring in marketing.
A few years after graduation, Yang was working at an advertising agency in Toronto when he got a call from a Manhattan number. To his astonishment, they asked if he would be interested in auditioning for a Broadway revival of Miss Saigon.
COVID-19: uOttawa to require vaccination for students living in residence
Vaccination will be mandatory for students who want to live in residence at the University of Ottawa this year, with proof of vaccination and at least one dose required before move-in, or within two weeks of doing so if they can't secure a shot before arriving.
Those who can't receive a vaccine for "health-related reasons or other grounds protected under the Ontario Human Rights Code" will be able to submit a request for accommodation through the university's housing portal, according to information on the university's website.
Students with one dose living in residence will also have to receive their second dose "within the timeframe recommended by Ottawa Public Health."
People who haven't been granted an exemption and don't get vaccinated or submit proof of having done so by the deadlines set out by the school will have their residence agreements terminated, uOttawa warns.
"Medical and health professionals are clear that vaccination is the most (effective) means of protecting people and those around them," reads a statement provided to this newspaper by uOttawa's director of strategic communications, Patrick Charette.
Article content
"It is precisely for this reason that the University of Ottawa is requiring all students living in residence for the 2021-2022 academic year to be fully vaccinated. The University recognizes that some students may require accommodations for a variety of reasons and will be treating exceptions appropriately."
Faculty, staff and students are also strongly encouraged to get vaccinated, the statement notes.
"Ensuring a high vaccine coverage in all communities is critical to ensuring an ongoing decline in cases and ending the pandemic. This will be especially important with the return of students to post-secondary institutions in our region in the fall of 2021."
Neither Carleton University nor Algonquin College is currently mandating vaccination for students living in residence, according to the websites for both schools. But uOttawa isn't alone in its policy – Western University, Trent University, Durham College and Fanshawe College have all implemented similar requirements. Seneca College, in the GTA, is going even further, making vaccination mandatory for students and staff to come to campus, in-person, for the fall term.