Acheter durant les soldes d'après Noël, est-ce vraiment une bonne affaire?
[ad_1]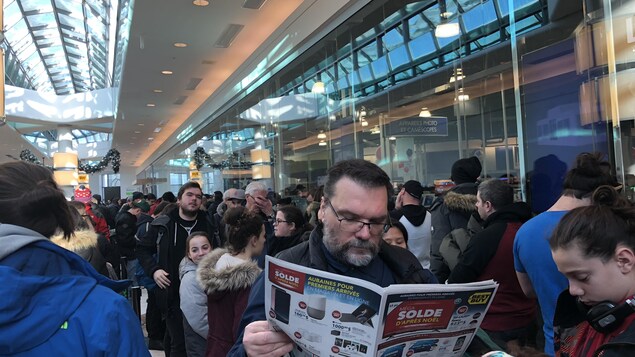 La popularité de ces soldes atteint un sommet depuis 2015, selon un récent sondage de L'Observateur pour le Conseil québécois du commerce de détail (CQCD). Au Québec, 2,5 millions de consommateurs prévoient chasser les aubaines cette année, soit deux personnes sur cinq. Il s'agit d'une hausse de 11 points de pourcentage comparativement à l'an dernier.
À l'échelle du Canada, les intentions sont similaires. Quelque 35 % des consommateurs prévoient profiter des soldes d'après Noël, selon le Conseil canadien du commerce de détail.
Si ces ventes sont très populaires, elles ne garantissent toutefois pas aux consommateurs de profiter des rabais affichés. « L'objectif pour le commerçant, c'est d'abord de stimuler la liquidation de son inventaire », affirme Robert Soroka, chargé d'enseignement au Département de marketing de l'École de gestion John-Molson à l'Université Concordia.
« Il y a de vraies aubaines, mais pas sur autant de produits que ce que l'on pense, explique M. Soroka. Le prix de certains items très populaires sera grandement réduit, mais la quantité sera aussi très limitée […]. Autrement, une foule d'autres produits peuvent présenter une petite réduction, voire pas du tout. »
Parmi les produits les plus recherchés, on retrouve les vêtements et l'électronique, qui constitueront environ 70 % des achats cette année, selon le sondage du CQCD.
« Si je peux vous amener dans mon magasin en vous faisant espérer que vous serez l'une des dix personnes à mettre la main sur cette télé 55 pouces en solde, peut-être vais-je arriver à vous vendre d'autres produits pour liquider mon inventaire? », explique le professeur, afin de résumer la stratégie des commerçants.
C'est trompeur. […] La plupart des gens ne profitent pas de ces super-spéciaux.
Quelques trucs pour consommateurs avertis
En moyenne au Québec, chaque personne prévoit dépenser 279 $ lors des soldes d'après Noël. « C'est une somme significative, affirme Robert Soroka. Les gens ont vraiment tendance à trop acheter dans un contexte de solde comme celui-là. »
« Les gens devraient acheter ce dont ils ont besoin et magasiner intelligemment. Si vous voyez un solde vraiment intéressant et que vous pouvez en profiter, pourquoi pas? Mais acheter pour acheter ne vous permettra pas d'économiser, au contraire. »
Le professeur propose par ailleurs plusieurs moyens plutôt simples pour repérer les vraies bonnes économies.
D'abord, il suggère de magasiner à l'avance afin de connaître le prix courant des articles convoités et ainsi pouvoir reconnaître quand un rabais réel se présente. « C'est la seule manière de savoir. Si votre évaluation du solde se base uniquement sur le prix affiché lors de la vente d'après Noël, c'est très possible que vous ne fassiez pas une bonne affaire. »
Aussi, Internet peut s'avérer utile pour comparer les prix et observer leur évolution dans le temps. M. Soroka suggère par exemple d'utiliser le site Amazon comme comparatif puisque les prix de vente y sont généralement parmi les plus bas. « Si le solde que vous convoitez bat ce prix, c'est probablement que vous êtes sur la bonne voie », dit-il.
Enfin, il propose de privilégier les commerces qui permettent les échanges et les remboursements ou qui offrent de rembourser la différence du prix de l'article si jamais celui-ci se trouve en solde peu de temps après votre achat. « Ces commerces sont typiquement un peu plus fiables. »
Au total, 1092 personnes ont participé au sondage du CQCD qui a été mené du 3 au 10 décembre. La marge d'erreur est de 3,1 %, 19 fois sur 20.
[ad_2]

Source link
More groups join in support of women in STEM program at Carleton
OTTAWA — Major companies and government partners are lending their support to Carleton University's newly established Women in Engineering and Information Technology Program.
The list of supporters includes Mississauga-based construction company EllisDon.
The latest to announce their support for the program also include BlackBerry QNX, CIRA (Canadian Internet Registration Authority), Ericsson, Nokia, Solace, Trend Micro, the Canadian Nuclear Safety Commission, CGI, Gastops, Leonardo DRS, Lockheed Martin Canada, Amdocs and Ross.
The program is officially set to launch this September.
It is being led by Carleton's Faculty of Engineering and Design with the goal of establishing meaningful partnerships in support of women in STEM.
The program will host events for women students to build relationships with industry and government partners, create mentorship opportunities, as well as establish a special fund to support allies at Carleton in meeting equity, diversity and inclusion goals.
VR tech to revolutionize commercial driver training
Serious Labs seems to have found a way from tragedy to triumph? The Edmonton-based firm designs and manufactures virtual reality simulators to standardize training programs for operators of heavy equipment such as aerial lifts, cranes, forklifts, and commercial trucks. These simulators enable operators to acquire and practice operational skills for the job safety and efficiency in a risk-free virtual environment so they can work more safely and efficiently.
The 2018 Humboldt bus catastrophe sent shock waves across the industry. The tragedy highlighted the need for standardized commercial driver training and testing. It also contributed to the acceleration of the federal government implementing a Mandatory Entry-Level Training (MELT) program for Class 1 & 2 drivers currently being adopted across Canada. MELT is a much more rigorous standard that promotes safety and in-depth practice for new drivers.
Enter Serious Labs. By proposing to harness the power of virtual reality (VR), Serious Labs has earned considerable funding to develop a VR commercial truck driving simulator.
The Government of Alberta has awarded $1 million, and Emissions Reduction Alberta (ERA) is contributing an additional $2 million for the simulator development. Commercial deployment is estimated to begin in 2024, with the simulator to be made available across Canada and the United States, and with the Alberta Motor Transport Association (AMTA) helping to provide simulator tests to certify that driver trainees have attained the appropriate standard. West Tech Report recently took the opportunity to chat with Serious Labs CEO, Jim Colvin, about the environmental and labour benefits of VR Driver Training, as well as the unique way that Colvin went from angel investor to CEO of the company.
Next-Gen Tech Company Pops on New Cover Detection Test
While the world comes out of the initial stages of the pandemic, COVID-19 will be continue to be a threat for some time to come. Companies, such as Zen Graphene, are working on ways to detect the virus and its variants and are on the forefronts of technology.
Nanotechnology firm ZEN Graphene Solutions Ltd. (TSX-Venture:ZEN) (OTCPK:ZENYF), is working to develop technology to help detect the COVID-19 virus and its variants. The firm signed an exclusive agreement with McMaster University to be the global commercializing partner for a newly developed aptamer-based, SARS-CoV-2 rapid detection technology.
This patent-pending technology uses clinical samples from patients and was funded by the Canadian Institutes of Health Research. The test is considered extremely accurate, scalable, saliva-based, affordable, and provides results in under 10 minutes.
Shares were trading up over 5% to $3.07 in early afternoon trade.