Un nouveau Centrosaurus découvert en Arizona
[ad_1]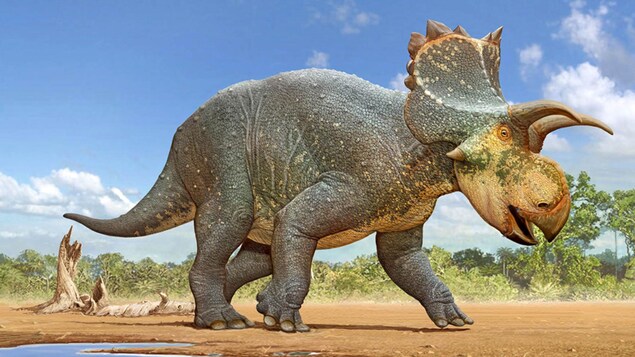 Les paléontologistes du Musée d'histoire naturelle du Nouveau-Mexique ont découvert des fragments fossilisés des crânes de deux individus.
Selon les scientifiques, ces fossiles appartiennent à la famille des cératopsidés, des dinosaures marginocéphaliens qui comprennent les Triceratops et les Styracosaurus.
Ce Centrosaurus peuplait l'Amérique du Nord il y a 73 millions d'années au Crétacé supérieur. Il a été nommé Crittendenceratops krzyzanowskii, parce que les restes ont été découverts dans la formation de Fort Crittenden, au sud-est de l'État de l'Arizona, mais aussi en hommage au paléontologue Stan Krzyzanowski, aujourd'hui décédé, qui a découvert les ossements fossilisés.
La bête mesurait environ 3,5 m de long, pesait environ 750 kg et se distinguait des autres centrosaures par la forme unique des os de sa collerette (bouclier protecteur).
[ad_2]

Source link
More groups join in support of women in STEM program at Carleton
OTTAWA — Major companies and government partners are lending their support to Carleton University's newly established Women in Engineering and Information Technology Program.
The list of supporters includes Mississauga-based construction company EllisDon.
The latest to announce their support for the program also include BlackBerry QNX, CIRA (Canadian Internet Registration Authority), Ericsson, Nokia, Solace, Trend Micro, the Canadian Nuclear Safety Commission, CGI, Gastops, Leonardo DRS, Lockheed Martin Canada, Amdocs and Ross.
The program is officially set to launch this September.
It is being led by Carleton's Faculty of Engineering and Design with the goal of establishing meaningful partnerships in support of women in STEM.
The program will host events for women students to build relationships with industry and government partners, create mentorship opportunities, as well as establish a special fund to support allies at Carleton in meeting equity, diversity and inclusion goals.
VR tech to revolutionize commercial driver training
Serious Labs seems to have found a way from tragedy to triumph? The Edmonton-based firm designs and manufactures virtual reality simulators to standardize training programs for operators of heavy equipment such as aerial lifts, cranes, forklifts, and commercial trucks. These simulators enable operators to acquire and practice operational skills for the job safety and efficiency in a risk-free virtual environment so they can work more safely and efficiently.
The 2018 Humboldt bus catastrophe sent shock waves across the industry. The tragedy highlighted the need for standardized commercial driver training and testing. It also contributed to the acceleration of the federal government implementing a Mandatory Entry-Level Training (MELT) program for Class 1 & 2 drivers currently being adopted across Canada. MELT is a much more rigorous standard that promotes safety and in-depth practice for new drivers.
Enter Serious Labs. By proposing to harness the power of virtual reality (VR), Serious Labs has earned considerable funding to develop a VR commercial truck driving simulator.
The Government of Alberta has awarded $1 million, and Emissions Reduction Alberta (ERA) is contributing an additional $2 million for the simulator development. Commercial deployment is estimated to begin in 2024, with the simulator to be made available across Canada and the United States, and with the Alberta Motor Transport Association (AMTA) helping to provide simulator tests to certify that driver trainees have attained the appropriate standard. West Tech Report recently took the opportunity to chat with Serious Labs CEO, Jim Colvin, about the environmental and labour benefits of VR Driver Training, as well as the unique way that Colvin went from angel investor to CEO of the company.
Next-Gen Tech Company Pops on New Cover Detection Test
While the world comes out of the initial stages of the pandemic, COVID-19 will be continue to be a threat for some time to come. Companies, such as Zen Graphene, are working on ways to detect the virus and its variants and are on the forefronts of technology.
Nanotechnology firm ZEN Graphene Solutions Ltd. (TSX-Venture:ZEN) (OTCPK:ZENYF), is working to develop technology to help detect the COVID-19 virus and its variants. The firm signed an exclusive agreement with McMaster University to be the global commercializing partner for a newly developed aptamer-based, SARS-CoV-2 rapid detection technology.
This patent-pending technology uses clinical samples from patients and was funded by the Canadian Institutes of Health Research. The test is considered extremely accurate, scalable, saliva-based, affordable, and provides results in under 10 minutes.
Shares were trading up over 5% to $3.07 in early afternoon trade.