Why You Shouldn't Worry Too Much About Designer Babies
[ad_1]

When Adam Nash was still an embryo, living in a dish in the lab, scientists tested his DNA to make sure it was free of Fanconi anemia, the rare inherited blood disease from which his sister Molly suffered. They also checked his DNA for a marker that would reveal whether he shared the same tissue type. Molly needed a donor match for stem cell therapy, and her parents were determined to find one. Adam was conceived so the stem cells in his umbilical cord could be the lifesaving treatment for his sister.
Adam Nash is considered to be the first designer baby, born in 2000 using in vitro fertilizaton with pre-implantation genetic diagnosis, a technique used to choose desired characteristics. The media covered the story with empathy for the parents' motives but not without reminding the reader that "eye color, athletic ability, beauty, intelligence, height, stopping a propensity towards obesity, guaranteeing freedom from certain mental and physical illnesses, all of these could in the future be available to parents deciding to have a designer baby."
The designer babies have thus been called the "future-we-should-not-want" for each new reproductive technology or intervention. But the babies never came and are nowhere close. I am not surprised.
I study the prediction of complex diseases and human traits that result from interactions between multiple genes and lifestyle factors. This research shows that geneticists cannot read the genetic code and know who will be above average in intelligence and athleticism. Such traits and diseases that result from multiple genes and lifestyle factors cannot be predicted using just DNA, and cannot be designed. Not now. And very unlikely ever.
Designer Babies Are Next
The inevitable rise of designer babies was proclaimed in 1978 after the birth of Louise Brown, the first IVF baby, as the next step toward "a brave world where parents can select their child's gender and traits." The same situation occurred in 1994 when a 59-year-old British woman stretched the limits of nature by giving birth to twins using donated eggs that were implanted in her womb at a fertility clinic in Italy.
The response was the same in 1999, when a fertility clinic in Fairfax, Virginia, offered sex selection of embryos to screen against diseases that only happen in boys. In 2013, when 23andMe was granted a patent for a tool that predicts the likelihood of traits in babies based on DNA of two parents, the question of patenting designer babies was raised. In 2016, when the U.K. permitted a woman to donate her healthy mitochondria to a couple using IVF to conceive a child, raising the number of parents to three, fears of unnatural children rose again. Last month, when Genomic Prediction, a New Jersey company, announced its DNA screening panel for embryos would also assess the risk for complex diseases such as Type 2 diabetes and heart disease that are caused by multiple genes, fears of engineering babies with high IQ or athletic prowess emerged.
The same issues arose on Nov. 26 when He Jiankui reported at the Second International Summit on Human Genome Editing in Hong Kong that he had successfully edited the DNA of twin baby girls born last month.
The designer baby doom scenarios have not evolved with the technology. It's been the same story for decades. It's the same "desirable" traits and the same assumption that parents want to select these traits if technology allowed. But no one seems to be questioning whether these traits are solely a product of our genes such that they can be selected or edited in embryos.
Wondering about designer babies was understandable in the early days, but repetition of these supposed fears now suggests lack of understanding of how DNA, and the genes they encode, work.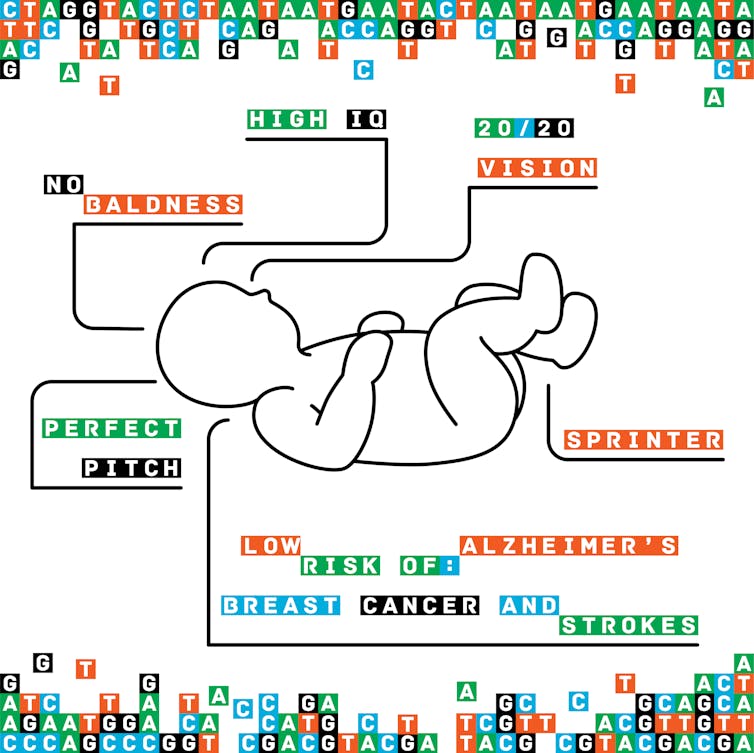 Designing Favorable Traits Isn't Easy
Although there are exceptions, DNA generally differs between people in two ways: There are DNA mutations and DNA variations.
Mutations cause rare diseases like Huntington's disease and cystic fibrosis, which are caused by a single gene. Mutations in the BRCA genes substantially increase the risk of breast and ovarian cancer. Selecting embryos that do not have these mutations removes the entire or main cause of disease – women who don't have BRCA mutations can still develop breast cancer through other causes, like all women.
Variations are changes in the genetic code that are more common than mutations and associated with common traits and diseases. DNA variants increase the likelihood that you may have a trait or develop a disease but do not determine or cause it. Association means that in several large study populations, a DNA variant was more frequent among people with the trait than those without, often only slightly more frequent.
These variants don't determine a trait, but increase its likelihood by interacting with other DNA variants and nongenetic influences such as upbringing, lifestyle and environment. To design such traits in embryos would require multiple DNA changes in multiple genes and orchestrating or controlling relevant environment and lifestyle influences too.
Let's compare it to driving a car. DNA mutations are like the flat tires and the failing brakes: technical problems that make driving problematic, no matter where you drive. DNA variations are like the color and the type of car, or other features of the car that may affect the driving experience and even might create problems over time. For example, a convertible is a delight when driving on Hollywood's Sunset Boulevard on a breezy summer evening, but cruel when crossing a high mountain pass in midwinter. Whether features of the car are an asset or a liability depends on the context and that context might change — they are never ideal all the time.
Another Hurdle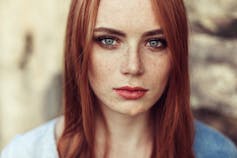 Most DNA mutations do nothing else other than cause the disease, but DNA variations may play a role in many diseases and traits. Take variations in the MC1R "red hair" gene, which not only increases the chance that your child will have red hair, but also increases their risk of skin cancer. Or variations in the OCA2 and HERC2 "eye color" genes that are also associated with the risk of various cancers, Parkinson's and Alzheimer's disease. To be sure, these are statistical associations, reported in the scientific literature, some may be confirmed; others may not. But the message is clear: Editing DNA variations for "desirable" traits may have adverse consequences, including many that scientists don't know about yet.
We can see this in the analysis of He Jiankui's gene-edited babies. By trying to make the babies resistant to HIV, He might have greatly increased susceptibility to infections by West Nile virus or influenza.
To be sure, even though complex traits such as intelligence, athletics and musicality cannot be selected or designed, there will be opportunists who will try to offer these traits, even if totally premature and unsupported by science. Like Stephen Hsu, the co-founder of Genomic Prediction who said about his offer to test embryos for polygenic risk, the risk of a disease based on multiple genes, "I think people are going to demand that. If we don't do it, some other company will." And also He said: "There will be someone, somewhere, who is doing this. If it's not me, it's someone else." People need to be protected against this irresponsible and unethical use of DNA testing and editing.
Science brought incredible progress in reproductive technology, but didn't bring designer babies one step closer. The creation of designer babies is not limited by technology, but by biology: The origins of common traits and diseases are too complex and intertwined to modify the DNA without introducing unwanted effects.

This article is republished from The Conversation under a Creative Commons license. Read the original article.
[ad_2]

Source link
Today's letters: 'Visionary' plans don't always work in Ottawa
The opinion piece written by Tobi Nussbaum, CEO of the NCC, declares that a "bold, visionary transit plan" would showcase the capital.
As a long-term resident of Ottawa, I've had it with visionary plans. In the 1950s, the streetcars serving Ottawa so well were sent to the scrapyards. In the early '60s, Queensway construction bulldozed established neighbourhoods and ripped the city apart. Later in the decade, the downtown railway station, which could have formed the hub of a commuter network, was relocated to the suburbs. These actions, in the name of "progress," were undertaken with the "vision" to make Ottawa a car-reliant city.
Now we have an LRT, built just in time for most people to realize that they do not have to go downtown as they can work from home.
Current thinking is pushing a new "link" between Ottawa and Gatineau, with yet more expensive and disruptive infrastructure projects being touted, including a tramway or another tunnel under the downtown core.
That was then: Biggest earthquake since 1653 rocked Ottawa in 1925
A regular weekly look-back at some offbeat or interesting stories that have appeared in the Ottawa Citizen over its 175-year history. Today: The big one hits.
The Ottawa Senators were playing a Saturday night game against the Montreal Canadiens at the Auditorium, the score tied 0-0 halfway through the second period. Sens' rookie Ed Gorman and the Habs' Billy Boucher had just served penalties for a dustup when the building began to make "ominous creaking sounds." A window crashed to the ground.
Nearby, at Lisgar Collegiate, all eyes were on teenager Roxie Carrier, in the role of Donna Cyrilla in the musical comedy El Bandido. She had the stage to herself and was singing "Sometime" when the building rocked, the spotlight went out, and someone in the audience yelled "Fire!"
At a home on Carey Avenue, one woman's normally relaxed cat suddenly arched its back, rushed around the room two or three times, spitting angrily, and climbed up the front-window curtains.
Ottawa delays small nuclear reactor plan as critics decry push for new reactors
TORONTO — Canadians will have to wait a little while longer to see the federal government's plan for the development of small nuclear reactors, seen by proponents as critical to the country's fight against global warming.
Speaking at the opening of a two-day virtual international conference on Wednesday, the parliamentary secretary to the minister of natural resources said the plan will lay out key actions regarding the reactors. Its launch, Paul Lefebvre said, would come in the next few weeks.
"We're still putting the finishing touches on it," Lefebvre said. "The action plan is too important to be rushed."
Small modular reactors — SMRs — are smaller in size and energy output than traditional nuclear power units, and more flexible in their deployment. While conventional reactors produce around 800 megawatts of power, SMRs can deliver up to 300 megawatts.
Proponents consider them ideal as both part of the regular electricity grid as well as for use in remote locations, including industrial sites and isolated northern communities. They could also play a role in the production of hydrogen and local heating.
"SMRs will allow us to take a bold step of meeting our goal of net-zero (emissions) by 2050 while creating good, middle class jobs and strengthening our competitive advantage," said Lefebvre.
Natural Resources Minister Seamus O'Regan had been scheduled to speak at the conference but did not due to a family emergency.
Industry critics were quick to pounce on the government's expected SMR announcement. They called on Ottawa to halt its plans to fund the experimental technology.
While nuclear power generation produces no greenhouse gas emissions, a major problem facing the industry is its growing mound of radioactive waste. This week, the government embarked on a round of consultations about what do with the dangerous material.
Dozens of groups, including the NDP, Bloc Quebecois, Green Party and some Indigenous organizations, oppose the plan for developing small modular reactors. They want the government to fight climate change by investing more in renewable energy and energy efficiency.
"We have options that are cheaper and safer and will be available quicker," Richard Cannings, the NDP natural resources critic, said in a statement.
Lefebvre, however, said the global market for SMRs is expected to be worth between $150 billion and $300 billion a year by 2040. As one of the world's largest producers of uranium, Canada has to be part of the wave both for economic and environmental reasons, he said.
"There's a growing demand for smaller, simpler and affordable nuclear technology energy," Lefebvre said.
Joe McBrearty, head of Canadian Nuclear Laboratories, told the conference the company had signed a host agreement this week with Ottawa-based Global First Power for a demonstration SMR at its Chalk River campus in eastern Ontario. A demonstration reactor will allow for the assessment of the technology's overall viability, he said.
"When talking about deploying a new technology like an SMR, building a demonstration unit is vital to the success of that process," McBrearty said. "Most importantly, it allows the public to see the reactor, to kick the tires so to speak, and to have confidence in the safety of its operation."