Trump met son secrétaire à la Défense à la porte plus tôt que prévu
[ad_1]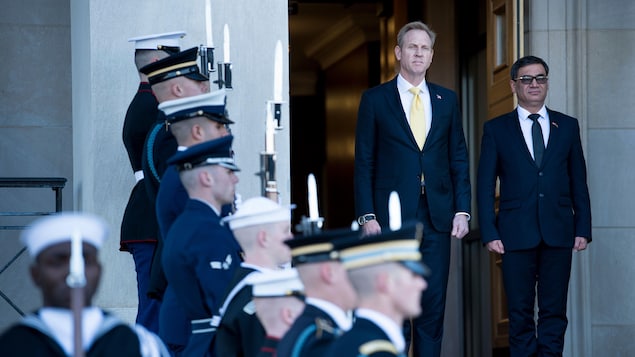 Irrité par les critiques et les répercussions de la démission du secrétaire à la Défense Jim Mattis, le président Donald Trump a mis le chef du Pentagone à la porte, dimanche, soit deux mois plus tôt que prévu.
Dans une série de messages sur Twitter, M. Trump a même semblé se questionner sur les raisons qui l'avaient mené à inclure M. Mattis dans son cabinet et a annoncé que le secrétaire adjoint à la Défense, Patrick Shanahan, assurerait l'intérim à compter du 1er janvier.
Ce revirement empêchera Jim Mattis d'influencer davantage la politique des États-Unis en matière de sécurité nationale et d'apaiser les tensions avec certains alliés du pays, ce qu'il aurait pu le faire s'il avait quitté ses fonctions à la fin de février comme prévu. Cela témoigne aussi du grand mécontentement de la Maison-Blanche à l'égard de la lettre de démission cinglante de l'ancien membre de la marine, qui a présenté la missive à Donald Trump jeudi.
M. Mattis a démissionné pour protester contre la décision du président de retirer toutes les troupes américaines de la Syrie. Des sources affirment cependant que la réaction à la décision du secrétaire de la Défense d'abandonner son poste, incluant le choc et la consternation manifestés au Capitole, a agacé M. Trump et a probablement contribué à précipiter le départ du général retraité.
Les sources ont précisé que Jim Mattis avait été prévenu de la décision de Donald Trump avant que la nouvelle ne soit publiée sur Twitter.
Si M. Mattis a démissionné après que le président eut annoncé le retrait d'environ 2000 soldats américains de la Syrie, les sources soutiennent que la décision du secrétaire de la Défense était le résultat d'une accumulation de différends entre le commandant en chef et lui.
Dans une lettre de démission caustique, le général retraité a clairement fait savoir qu'il n'était pas sur la même longueur d'onde que M. Trump, qui a exprimé du mépris pour l'OTAN et des doutes sur la nécessité de maintenir une présence militaire en Asie.
Jim Mattis était aussi en désaccord avec l'ordre de Donald Trump de développer des stratégies pour retirer jusqu'à la moitié des 14 000 soldats américains stationnés en Afghanistan.
Un retrait de la Syrie critiqué par la France
Le président Trump a également précisé qu'il avait discuté avec son homologue turc Recep Tayyip Erdogan de la sortie américaine de la Syrie, promettant « un retrait lent et très coordonné ».
De son côté, le président français Emmanuel Macron s'est montré plus critique de la décision des États-Unis, jugeant qu'un allié se devait « d'être fiable ».
« Je regrette très profondément la décision prise » par les États-Unis de se retirer de Syrie, a dit M. Macron en visite au Tchad.
« Je veux ici rendre hommage au général Mattis et aux propos qui ont accompagné sa décision. Depuis un an, nous avons constaté comment il a été un interlocuteur fiable », a-t-il ajouté lors d'une conférence de presse.
M. Macron a tenu à rappeler à Washington sa responsabilité quant à l'avenir des combattants kurdes.
[ad_2]

Source link
City committee votes to name Sandy Hill Park after Inuit artist Annie Pootoogook
OTTAWA — Ottawa city councillors have voted to rename a Sandy Hill park after celebrated Inuk artist Annie Pootoogook.
The community and protective services committee approved a recommendation to rename the park at 240 Somerset Street East the "Annie Pootoogook Park."
Pootoogook was an award-winning artist who lived in Ottawa. She died in 2016 at the age of 47 when she fell into the Rideau River. Ottawa police investigated her death, but it was ruled non-suspicious.
Stephanie Plante submitted an application to the city to commemorate Pootoogook by renaming the park after her.
Plante says she met with Veldon Coburn, the adoptive father of Pootoogook's eight-year-old daughter, and reached out to Pootoogook's brother in Nunavut to discuss the idea.
"Women matter, the arts matter, and most importantly Inuit people matter," Plante told the committee.
"As of today, it's quite possible an entirely new generation will write Annie Pootoogook Park on birthday party invitations, t-ball sign ups, dog park meet ups, soccer registration forms, summer camp locations."
Alexandra Badzak, director of the Ottawa Art Gallery, told the community and protective services committee the arts community supports honouring Pootoogook.
"Those of us in the arts in Ottawa, across Canada and internationally know of the importance of Annie Pootoogook's work," said Badzak. "Who's pen and pencil crayon drawings drew upon the legacy of her famous artistic family."
The head of the National Gallery of Canada said Pootoogook's artistic legacy is remembered across Canada.
"There's absolutely no question that Annie Pootoogook is deserving of having Sandy Hill Park named in her honour," Sasha Suda told the committee Thursday morning.
"She was an unbelievably bright light. Despite the briefness of her career, she leaves an incredibly strong legacy through her art work and in the ways that she changed the art world."
Coun. Mathieu Fleury told the committee plans are in the works to set up an exhibit space in the Sandy Hill Community Centre to highlight Pootoogook's work. The city is also working to set up programming for Inuit and artists in the park.
Council will vote on the proposal next week.
City aces legal dispute over Kanata golf club
An Ontario court judge has upheld a 40-year-old agreement that says the Kanata Lakes Golf and Country Club must remain open space and not be redeveloped into a housing community.
The decision is a big win for the city, Kanata North Coun. Jenna Sudds and her constituents, who have spent two years trying to prevent property owner ClubLink from turning the course into a 1,500-home development with its partners Minto Communities and Richcraft Homes.
Sudds, who said she burst into tears over Friday's decision, called it "terrific news" for the community. As many as 500 homes back onto the course and more than 1,000 households use the grounds for recreation, she said.
"The green space, the golf course itself, which really is right in the middle of our community here, is used by the community quite frequently," said Sudds, who recently moved the neighbourhood. "I see people out all hours of the day throughout the winter. It's amazing to see all the tracks snowshoeing and skiing and dog-walking."
40-year-old agreement 'valid'
ClubLink, which bought the 50-year-old course in 1997, announced in December 2018 that it planned to redevelop part of the property.
Local residents, along with the newly elected councillor and the city's own legal department, argued that the development shouldn't go ahead due to a 1981 legal agreement between then City of Kanata and the developer. That agreement called for 40 per cent of the area in Kanata Lakes to be open space in perpetuity.
"The 1981 Agreement continues to be a valid and binding contract," Ontario Superior Court Justice Marc Labrosse wrote in his 44-page decision.
Ottawa residents remain pro-Trump Avenue
It appears Donald Trump still has a home in Canada's capital, even if he has departed Washington, D.C.
Earlier this year, residents on Trump Avenue, in Ottawa's Central Park neighbourhood, put the possibility of changing the name of their street to a vote following the former president's tumultuous time in office.
The neighbourhood has several streets named after icons of New York City and Trump was a famous real estate mogul before he was elected.
In order to change the name of a street, the city requires 50 per cent plus one of all households on that street to be in favour.
There are 62 houses on Trump Avenue, meaning at least 32 households would have had to vote to change the name.
The city councillor for the area, Riley Brockington, said Wednesday that 42 households voted and the neighbourhood was divided, 21 to 21.
Without the required margin to enact the change, Brockington says the matter will not proceed any further.