Un 10e championnat de division de suite pour les Patriots
[ad_1]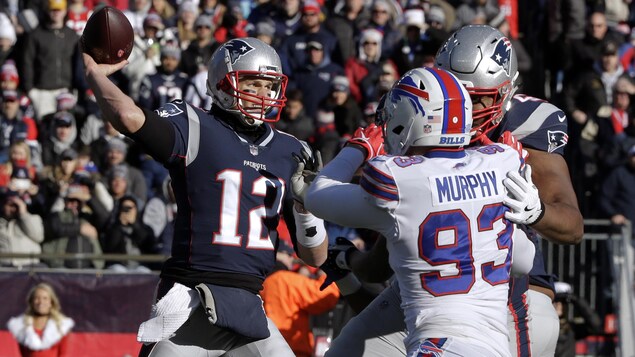 Les Pats, qui avaient perdu leurs deux derniers matchs, ont maintenant un dossier de 10 gains en 15 matchs.
Les hommes de Bill Belichick sont invaincus dans leurs sept rencontres à domicile cette saison.
Le quart-arrière Tom Brady a connu un après-midi plutôt modeste avec une seule passe de touché et deux interceptions. Il a conclu le match avec à peine 126 verges aériennes.
Brady a tout de même passé le cap des 4000 verges par la passe pour la 10e fois de sa carrière. Seuls Peyton Manning, Drew Brees et Philip Rivers ont préalablement réalisé cet exploit.
Tampa Bay 20 Dallas 27
Les Cowboys ont remporté le titre de la Division est de l'Association nationale en renversant les Buccaneers de Tampa Bay 27 à 20.
La formation texane (9-6) accède ainsi aux séries pour la deuxième fois en trois ans.
Les Bucs (5-10) ont dominé avec 383 verges combinées contre seulement 232 pour les favoris de la foule, mais le quart Jameis Winston s'est rendu coupable de deux échappés dont l'un après un sac de Randy Gregory qui a été retourné sur 69 verges pour un touché par Jaylon Smith.
Houston 30 Philadelphie 32
Les Texans de Houston (10-5) devront quant à eux patienter jusqu'à la semaine prochaine pour s'assurer du titre de leur division.
Ils se sont inclinés au compte de 32-30 à Philadelphie alors que Jake Elliott a réussi un placement de 35 verges dans les toutes dernières secondes du quatrième quart.
À son deuxième départ de la saison, Nick Foles a connu un match du tonnerre avec 471 verges par la passe et quatre touchés.
Les Eagles, champions en titre du Super Bowl, ont conservé de minces espoirs de participer aux éliminatoires, eux qui revendiquent 8 victoires en 15 rencontres.
Jacksonville 17 Miami 7
Les Dolphins (7-8) ont été éliminés devant leurs partisans en subissant un échec de 17-7 face aux Jaguars de Jacksonville.
Ils ont été exclus des séries pour la 15e fois en 17 saisons.
Les Jaguars (5-10) enregistraient quant à eux un deuxième gain seulement à leur 11 dernières sorties.
Giants de NY 27 Indianapolis 28
Les Colts d'Indianapolis ont vaincu les Giants de New York 28-27 alors qu'Andrew Luck a uni ses efforts à Chester Rogers pour une passe de touché d'une verge avec 55 secondes au cadran.
Il s'agissait d'un huitième triomphe en neuf matchs pour les Colts (9-6), qui pourraient gagner le championnat de leur division s'ils battent les Titans du Tennessee la semaine prochaine et que Houston s'incline devant Jacksonville.
Cincinnati 18 Cleveland 26
Les Browns de Cleveland ont offert un beau cadeau de Noël à leurs partisans en défaisant les Bengals de Cincinnati 26-18.
Ce faisant, les Browns balayaient la série de l'Ohio pour la première fois depuis 2002.
Avec leur cinquième gain en six matchs, ils ont maintenant une fiche de 7-7-1. Cleveland n'avait pas gagné autant de matchs depuis 2007. Ils ne seront toutefois pas des séries.
Baker Mayfield a réussi trois passes de touché et en compte maintenant 24 à sa fiche, deux de moins que le record pour un quart recrue que détiennent conjointement Peyton Manning et Russell Wilson.
[ad_2]

Source link
'Too soon to celebrate' Ottawa's low case count, says Etches
Ottawa Public Health (OPH) logged just 11 new cases of COVID-19 on Tuesday, the lowest daily total since Sept. 1.
Because of the lag between testing and reporting, the low number could simply reflect low turnout at the city's testing sites on weekends — all month, new case counts have been lower on Tuesdays and Wednesdays.
During a virtual news conference Tuesday, the city's medical officer of health Dr. Vera Etches said she doesn't read too much into a single day's report.
"I don't think we can make too much of 11. Actually, it could be a lot higher tomorrow — I would expect that, on average," she said. "It's too soon to celebrate."
Provincewide, public health officials reported 1, 249 new cases Tuesday.
OPH also declared 62 cases resolved Tuesday, lowering the number of known active cases in the city to 462. Two more people have died, both in care homes currently experiencing outbreaks, raising the city's COVID-19 death toll to 361. 
Santa Claus isn't coming to Ottawa's major malls this year
Santa Claus may still be coming to town this Christmas, but he won't be dropping by any of Ottawa's major malls, thanks to the COVID-19 pandemic.
On Friday, Cadillac Fairview said Santa won't be making an appearance at any of its 19 malls across Canada, including Rideau Centre in downtown Ottawa. On Tuesday, Bayshore and St. Laurent shopping centres confirmed they, too, are scrapping the annual tradition.
"Due to the evolution of the situation in regards to COVID-19, we have made the difficult decision to cancel our Santa Program and Gift Wrap Program this year," Bayshore spokesperson Sara Macdonald wrote in an email to CBC.
Macdonald said parent company Ivanhoé Cambridge cancelled all holiday activities "due to the rising number of COVID-19 cases across the country."
Macdonald said families that had already booked an appointment to visit Santa will receive an email with more information.  
Virtual visits with Santa
Rideau Centre said based on customer research and discussions with public health officials, its North Pole is going online this year.
"Children will be able to have a private chat with Santa," said Craig Flannagan, vice-president of marketing for Cadillac Fairview. "You'll also be able to join a 15-minute storytime with Santa over Facebook Live."
At Place d'Orléans Shopping Centre, visitors are invited to take a "selfie with Santa" — actually, a life-size cutout of Santa Pierre, the man who's been playing Santa at the east end mall for years.
"We understand that this is not ideal, but in lieu of this tradition we will be doing what we can to maintain and encourage holiday cheer," according to a statement on the mall's Facebook page.
Ottawa Bylaw breaks up two large parties in Ottawa over the weekend
OTTAWA — Ottawa Bylaw is investigating social gatherings of more than 10 people in private homes across Ottawa last weekend.
Mayor Jim Watson tells Newstalk 580 CFRA that Ottawa Bylaw broke-up two house parties over the weekend, with 20 to 25 people at each party.
"That's the kind of stupidity that angers me, that's where the bulk of the transmissions are taking place, if we exclude the tragedy of the long-term care homes; it's these house parties with unrelated people," said Watson on Newstalk 580 CFRA's Ottawa at Work with Leslie Roberts.
"The message doesn't seem to be getting through, particularly to some young people who think they're invincible."
In a statement to CTV News Ottawa, Bylaw and Regulatory Services Director Roger Chapman says, "There are still ongoing investigations from this past weekend that could result in charges."
Chapman says recent investigations led to two charges being issued for social gatherings of more than 10 people in a private residence in contravention of the Reopening Ontario Act.
"In one case, up to 30 individuals were observed attending a house party in Ward 18 on Oct. 24," said Chapman.
"The second charge was issued following a house party in Ward 16 on Oct. 31, where up to 16 individuals were observed to be in attendance."
The fine is $880 for hosting an illegal gathering.
Alta Vista is Ward 18, while Ward 16 is River Ward.
Ottawa Bylaw has issued 24 charges for illegal gatherings since the start of the pandemic.