Canadian woman detained in China has returned home
[ad_1]

Sarah McIver, a Canadian teacher who was detained in China earlier this month, has returned to Canada after being released from custody, Global Affairs Canada says.
"Global Affairs can confirm that a Canadian citizen, who was detained in China this month, has been released and has now returned to Canada," a spokesperson said in an email. 
For privacy reasons, the department said no further information could be disclosed. 
Earlier this month, the Alberta woman became the third Canadian detained in China in recent weeks over a work-permit issue related to her teaching job. She had been sentenced to administrative punishment for illegal employment, according to a spokesperson for the Chinese government.
McIver's arrest came just days after the detentions of Canadians Michael Kovrig and Michael Spavor, though both Canada and China insisted her case is different from that of the two men.
Tensions have been high between Canada and China since the Dec. 1 arrest of Meng Wanzhou, the chief financial officer of Chinese telecom giant Huawei Technologies.
Canada made the arrest at the Vancouver International Airport at the request of the U.S. officials, who accuse her of violating trade sanctions on Iran. Meng has since been released on bail pending extradition proceedings.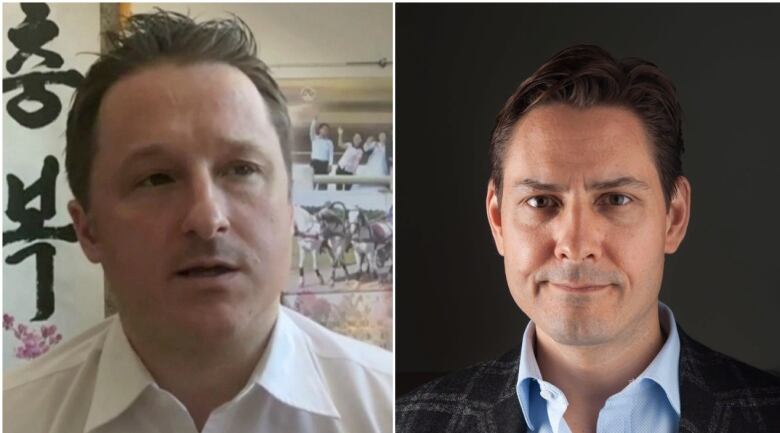 Canadian businessman Michael Spavor, left, and Canadian diplomat Michael Kovrig were taken into custody on allegations of endangering China's national security, officials in that country say. (Associated Press/ International Crisis Group/Canadian Press)
Not long after the tech executive's arrest, Chinese officials confirmed Kovrig and Spavor had been detained separately in China on national security concerns. 
Chinese officials have not exactly said that the two men are in custody in retaliation for Meng's arrest, but they have pointedly linked the cases, insisting at length that Meng's arrest was illegal and an international affront, while Kovrig and Spavor have been detained properly under Chinese law.
Kovrig is a Canadian diplomat currently on leave from Global Affairs as he serves as an adviser to the International Crisis Group think-tank, while Spavor is a businessman who arranges tours of North Korea.
Canada and its allies have been pushing back against the detentions, with Foreign Affairs Minister Chrystia Freeland saying last week that the government is "deeply concerned" by the "arbitrary detention" of the two men.
Global Affairs did not say when McIver was released or when she returned to Canada.
[ad_2]

Source link
Students call on University of Ottawa to implement pass/fail grading amid pandemic
OTTAWA — The University of Ottawa Students' Union (UOSU) is calling on the university to introduce optional, one-course-only pass/fail grading for the Fall 2020 and Winter 2021 semesters amid the COVID-19 pandemic.
The students' union said nearly 5,000 uOttawa students have signed its petition supporting the grading system.
In a letter to the university, the UOSU said it is asking the school to make changes to the grading structure, including allowing one course per semester to be converted to the "pass" or "satisfactory" designation.
The UOSU also made recommendations regarding a reduction of workload and course delivery.
"The adaptation to online learning during the pandemic for students has created unique challenges and disruptions that could not have been anticipated," wrote Tim Gulliver, the UOSU's Advocacy Commissioner.
"The use of flexible compassionate grading options has been introduced in other universities, such as Carleton University which includes a use of Pass/Fail which we feel could be implemented at the University of Ottawa."
Carleton University approved the use of flexible and compassionate grading for the Fall 2020 and Winter 2021 terms in early November.
The UOSU also called for all grades that constitute a fail to appear as "Not Satisfactory" on their transcript, which would not be included in grade point average calculations.
The union represents more than 38,000 undergraduate students at the University of Ottawa.
In a response to CTV News, the University of Ottawa said it is aware of the petition.
"Last spring a decision was made by the (University) Senate to allow the Satisfactory/Non Satisfactory mark to be used, given the unique circumstances of the pandemic, which hit us close to the end of the Winter 2020 semester. The University is aware of the petition and is looking into the matter."
OPP warn of phone scams in Ottawa Valley
Upper Ottawa Valley OPP warn residents of a phone scam that's been making its way through the region recently.
Police say a scammer pretends to be from a local business and tells the person their credit card didn't work on a recent purchase before asking the person on the phone to confirm their credit card number.
The victim may not have even used the card at the store, but police said the scammer creates a sense of urgency.
Police remind residents to verify the legitimacy of any caller before providing any personal information over the phone.
Similar scams have been reported recently in the region, according to police, with scammers posing as police officers, Revenue Canada or other government agencies demanding payment for a variety of reasons. A Social Insurance Number scam has also been reported recently, where a victim is asked for their SIN number under threat of being arrested. 
 
If a scam artist contacts you or if you have been defrauded, you're asked to contact police or the Canadian Anti-Fraud Centre at 1-888-495-8501 or visit their website at www.antifraudcentre.ca.
The human history of Ottawa Valley is thousands of years old. Archeologists may have found a piece of it on Parliament Hill
OTTAWA—Archeologists working on Parliament Hill have discovered a relic of Indigenous life that one Algonquin leader sees as a symbol of his people's long history in what is now the heart of Canadian political power.
The jagged stone point was unearthed last year on the east side of Centre Block, but its discovery was not publicized as officials worked with Algonquin communities to authenticate the object, the Star has learned.
Stephen Jarrett, the lead archeologist for the ongoing renovation of Parliament's Centre Block, said this week that while such an object is "not an uncommon find," the stone point joins just a small handful of Indigenous artifacts ever discovered on Parliament Hill.
"It's about the size of my palm, and it could be used as a knife or a projectile," Jarrett said this week in response to inquiries from the Star.
He said the point is made of chert, a type of sedimentary stone most often used for implements of this type. And while the point was unearthed in what Jarrett calls "disturbed soil" — earth that has been dug up and moved, most likely during construction of Parliament — the soil it was in "is natural to the site."
That means "it came from a source nearby, but finding exactly where it came from is impossible," Jarrett said.
For Douglas Odjick, a band council member responsible for education and culture with the Kitigan Zibi Anishinabeg, this artifact of "an original world" is a testament to the longevity of his Algonquin nation in an area they still claim as unceded and unsurrendered territory. Based on the assessment of Ian Badgley, the top archeologist with the National Capital Commission, Odjick said the stone point is likely 4,000 years old and dates to a time when the confluence of the Ottawa, Gatineau and Rideau Rivers — along with all their tributaries that stretch out into the surrounding area — served as a great hub of regional trade activity.
"It symbolizes who we are and how long we've been here," Odjick said, comparing the area to an ancient version of a busy hub like New York's busy Grand Central Station.