En 2019, Perry Bellegarde espère consolider des gains
[ad_1]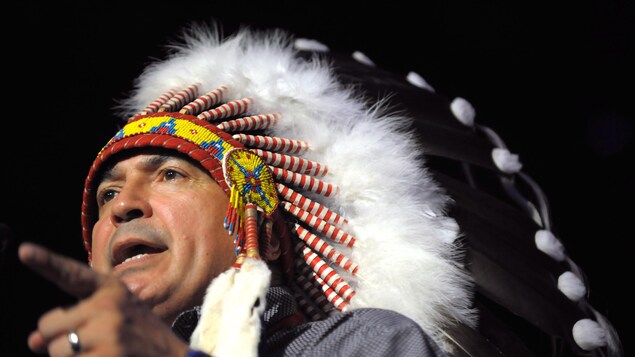 Un texte d'Ismaël Houdassine
Élu en juillet dernier pour un second mandat, Perry Bellegarde demeure néanmoins un chef contesté. Plusieurs l'accusent d'être trop proche des libéraux, et plus particulièrement du premier ministre Justin Trudeau. En entrevue téléphonique, le chef avoue, un peu excédé, avoir à se défendre constamment.
« Si vous préconisez des changements politiques et législatifs, vous devez avoir accès aux décideurs, lance-t-il. Et donc, pour le moment, c'est le premier ministre Trudeau et son Cabinet. Mais nous devons aussi entretenir des rapports avec tous les autres dirigeants fédéraux, c'est pourquoi j'ai tenu à les inviter à notre dernière assemblée. »
Ainsi, Andrew Scheer du Parti conservateur, Elizabeth May du Parti vert et Jagmeet Singh du Nouveau Parti démocratique, mais aussi le premier ministre Trudeau, se sont rendus à Ottawa en novembre pour rencontrer les chefs autochtones du pays, réunis pour trois jours dans la capitale fédérale. À quelques mois des élections fédérales, prévues pour l'automne prochain, chacun des chefs de parti est venu faire part de sa vision des relations avec les Premières Nations. Occasion sans doute pour M. Bellegarde de montrer qu'il ne privilégie aucun candidat.
« Nous avons besoin de tous les dirigeants du gouvernement fédéral issus de tous les partis fédéraux, car on ne sait jamais ce qui se passera en octobre 2019, précise le chef de l'APN. Mon travail consiste à influencer les politiques et les lois. »
L'APN est devenue plus sensible aux besoins, aux problèmes et aux préoccupations des peuples autochtones, c'est pourquoi il était important qu'ils soient tous présents pour répondre aux questions.
Même si un changement de gouvernement est toujours « risqué », prévient M. Bellegarde, une chose demeure certaine : tous les partis doivent disposer d'une plateforme solide en ce qui concerne les droits des Premières Nations. Il les appelle d'ailleurs à investir davantage dans l'amélioration des conditions de vie des Autochtones.
« Sinon, il sera difficile de parler de réconciliation. Plus de 140 ans après l'adoption de la Loi sur les Indiens, les souffrances qui touchent les communautés autochtones sont toujours aussi bien présentes », affirme-t-il.
Des gains importants
Il reste que, selon lui, l'année 2018 aura été marquée par plusieurs avancées importantes, dont la signature en novembre dernier du nouvel Accord Canada–États-Unis–Mexique (ACEUM), l'ancien ALENA. « Je repense [à cet accord] qui pour la première fois inclut une référence aux droits des peuples autochtones. À l'heure actuelle, c'est de loin l'accord commercial international le plus progressiste concernant les peuples autochtones. Nous devons nous appuyer sur cela. »
Parmi les autres gains, le chef mentionne aussi l'octroi de 17 milliards de dollars en financement sur sept ans dans le budget fédéral pour les Premières Nations, de même que le projet de loi pour protéger les langues autochtones, dont il espère la concrétisation avant la tenue des prochaines élections.
Perry Bellegarde souligne également son rôle dans l'élaboration du projet sur la réforme des services aux enfants autochtones, que la ministre des Services aux Autochtones, Jane Philpott, compte déposer en janvier. « Nous avons convaincu le gouvernement de travailler avec nous », dit-il de cette loi élaborée conjointement avec des représentants autochtones.
Toutefois, le chef de l'APN concède qu'il reste encore du chemin à parcourir. « Il faut investir davantage dans l'éducation, le logement, l'eau et les soins de santé afin de combler l'écart énorme entre les Autochtones et les non-Autochtones. Quand nous y parviendrons, cela sera bénéfique pour tout le monde au Canada. »
Des défis de taille
La Déclaration des Nations unies sur les droits des peuples autochtones est une feuille de route pour la réconciliation, explique le chef de l'APN, mais elle inclut des obligations que le Canada doit mettre en oeuvre, car les défis ne manquent pas pour les Premières Nations.
Dans la foulée de la publication d'un rapport accablant sur le Service de police de Thunder Bay, M. Bellegarde mentionne quelques priorités, notamment la lutte contre le racisme systémique.
Nous devons commencer à examiner de nouvelles initiatives dans le système de justice pour éliminer la discrimination partout au pays, car cela ne se produit pas seulement à Thunder Bay, mais partout ailleurs. Les autorités doivent travailler collectivement avec les membres des Premières Nations pour enfin résoudre ce fléau.
Il ne fait aucun doute pour M. Bellegarde que le système de justice ne fonctionne pas pour les Premières Nations. La justice doit être remaniée. Pour y parvenir, il faut d'abord reconnaître qu'il existe des problèmes, dit-il.
« Je plaide pour un plus grand nombre de procureurs de la Couronne autochtones et davantage d'Autochtones dans les jurys. Nous avons un nombre disproportionné de personnes dans les prisons, alors que les Autochtones représentent 4,5 % de la population canadienne. C'est inacceptable », dénonce-t-il.
En août dernier, la Cour d'appel fédérale a annulé le projet d'expansion du pipeline Trans Mountain, estimant qu'Ottawa avait entre autres failli à son obligation de consulter les populations autochtones. Le chef Bellegarde a toujours maintenu une position neutre quant à cet enjeu qui divise les chefs autochtones. Une position qui a été vivement critiquée, notamment par le Conseil national des jeunes de l'APN.
Il faut « un équilibre entre économie et environnement », se défend le chef Bellegarde. « En tant que peuples autochtones, nous avons des droits inhérents, issus de traités, et nos droits à l'autodétermination doivent être respectés. Les peuples autochtones ont leur mot à dire », ajoute-t-il.
Le chef de l'APN a conscience que l'expansion du controversé oléoduc divise les communautés. « L'un des droits les plus importants est le droit de dire oui et celui de dire non. Il reste que ce n'est pas au chef national de l'APN ni à son exécutif de décider. Le choix revient aux communautés autochtones concernées », argue-t-il.
L'année 2018 aura vu la conclusion de l'Enquête nationale sur les femmes et les filles autochtones disparues et assassinées. Le rapport final est attendu pour mai prochain. « Mon travail sera de pousser les gouvernements à mettre en oeuvre toutes les recommandations proposées, afin de mettre fin à la violence. En 2019, nous ne voulons plus voir de violences à l'encontre des femmes et des filles autochtones », conclut-il.
[ad_2]

Source link
'Too soon to celebrate' Ottawa's low case count, says Etches
Ottawa Public Health (OPH) logged just 11 new cases of COVID-19 on Tuesday, the lowest daily total since Sept. 1.
Because of the lag between testing and reporting, the low number could simply reflect low turnout at the city's testing sites on weekends — all month, new case counts have been lower on Tuesdays and Wednesdays.
During a virtual news conference Tuesday, the city's medical officer of health Dr. Vera Etches said she doesn't read too much into a single day's report.
"I don't think we can make too much of 11. Actually, it could be a lot higher tomorrow — I would expect that, on average," she said. "It's too soon to celebrate."
Provincewide, public health officials reported 1, 249 new cases Tuesday.
OPH also declared 62 cases resolved Tuesday, lowering the number of known active cases in the city to 462. Two more people have died, both in care homes currently experiencing outbreaks, raising the city's COVID-19 death toll to 361. 
Santa Claus isn't coming to Ottawa's major malls this year
Santa Claus may still be coming to town this Christmas, but he won't be dropping by any of Ottawa's major malls, thanks to the COVID-19 pandemic.
On Friday, Cadillac Fairview said Santa won't be making an appearance at any of its 19 malls across Canada, including Rideau Centre in downtown Ottawa. On Tuesday, Bayshore and St. Laurent shopping centres confirmed they, too, are scrapping the annual tradition.
"Due to the evolution of the situation in regards to COVID-19, we have made the difficult decision to cancel our Santa Program and Gift Wrap Program this year," Bayshore spokesperson Sara Macdonald wrote in an email to CBC.
Macdonald said parent company Ivanhoé Cambridge cancelled all holiday activities "due to the rising number of COVID-19 cases across the country."
Macdonald said families that had already booked an appointment to visit Santa will receive an email with more information.  
Virtual visits with Santa
Rideau Centre said based on customer research and discussions with public health officials, its North Pole is going online this year.
"Children will be able to have a private chat with Santa," said Craig Flannagan, vice-president of marketing for Cadillac Fairview. "You'll also be able to join a 15-minute storytime with Santa over Facebook Live."
At Place d'Orléans Shopping Centre, visitors are invited to take a "selfie with Santa" — actually, a life-size cutout of Santa Pierre, the man who's been playing Santa at the east end mall for years.
"We understand that this is not ideal, but in lieu of this tradition we will be doing what we can to maintain and encourage holiday cheer," according to a statement on the mall's Facebook page.
Ottawa Bylaw breaks up two large parties in Ottawa over the weekend
OTTAWA — Ottawa Bylaw is investigating social gatherings of more than 10 people in private homes across Ottawa last weekend.
Mayor Jim Watson tells Newstalk 580 CFRA that Ottawa Bylaw broke-up two house parties over the weekend, with 20 to 25 people at each party.
"That's the kind of stupidity that angers me, that's where the bulk of the transmissions are taking place, if we exclude the tragedy of the long-term care homes; it's these house parties with unrelated people," said Watson on Newstalk 580 CFRA's Ottawa at Work with Leslie Roberts.
"The message doesn't seem to be getting through, particularly to some young people who think they're invincible."
In a statement to CTV News Ottawa, Bylaw and Regulatory Services Director Roger Chapman says, "There are still ongoing investigations from this past weekend that could result in charges."
Chapman says recent investigations led to two charges being issued for social gatherings of more than 10 people in a private residence in contravention of the Reopening Ontario Act.
"In one case, up to 30 individuals were observed attending a house party in Ward 18 on Oct. 24," said Chapman.
"The second charge was issued following a house party in Ward 16 on Oct. 31, where up to 16 individuals were observed to be in attendance."
The fine is $880 for hosting an illegal gathering.
Alta Vista is Ward 18, while Ward 16 is River Ward.
Ottawa Bylaw has issued 24 charges for illegal gatherings since the start of the pandemic.