En 2019, Perry Bellegarde espère consolider des gains
[ad_1]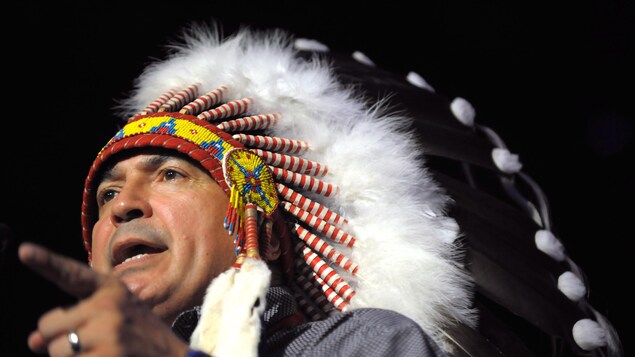 Un texte d'Ismaël Houdassine
Élu en juillet dernier pour un second mandat, Perry Bellegarde demeure néanmoins un chef contesté. Plusieurs l'accusent d'être trop proche des libéraux, et plus particulièrement du premier ministre Justin Trudeau. En entrevue téléphonique, le chef avoue, un peu excédé, avoir à se défendre constamment.
« Si vous préconisez des changements politiques et législatifs, vous devez avoir accès aux décideurs, lance-t-il. Et donc, pour le moment, c'est le premier ministre Trudeau et son Cabinet. Mais nous devons aussi entretenir des rapports avec tous les autres dirigeants fédéraux, c'est pourquoi j'ai tenu à les inviter à notre dernière assemblée. »
Ainsi, Andrew Scheer du Parti conservateur, Elizabeth May du Parti vert et Jagmeet Singh du Nouveau Parti démocratique, mais aussi le premier ministre Trudeau, se sont rendus à Ottawa en novembre pour rencontrer les chefs autochtones du pays, réunis pour trois jours dans la capitale fédérale. À quelques mois des élections fédérales, prévues pour l'automne prochain, chacun des chefs de parti est venu faire part de sa vision des relations avec les Premières Nations. Occasion sans doute pour M. Bellegarde de montrer qu'il ne privilégie aucun candidat.
« Nous avons besoin de tous les dirigeants du gouvernement fédéral issus de tous les partis fédéraux, car on ne sait jamais ce qui se passera en octobre 2019, précise le chef de l'APN. Mon travail consiste à influencer les politiques et les lois. »
L'APN est devenue plus sensible aux besoins, aux problèmes et aux préoccupations des peuples autochtones, c'est pourquoi il était important qu'ils soient tous présents pour répondre aux questions.
Même si un changement de gouvernement est toujours « risqué », prévient M. Bellegarde, une chose demeure certaine : tous les partis doivent disposer d'une plateforme solide en ce qui concerne les droits des Premières Nations. Il les appelle d'ailleurs à investir davantage dans l'amélioration des conditions de vie des Autochtones.
« Sinon, il sera difficile de parler de réconciliation. Plus de 140 ans après l'adoption de la Loi sur les Indiens, les souffrances qui touchent les communautés autochtones sont toujours aussi bien présentes », affirme-t-il.
Des gains importants
Il reste que, selon lui, l'année 2018 aura été marquée par plusieurs avancées importantes, dont la signature en novembre dernier du nouvel Accord Canada–États-Unis–Mexique (ACEUM), l'ancien ALENA. « Je repense [à cet accord] qui pour la première fois inclut une référence aux droits des peuples autochtones. À l'heure actuelle, c'est de loin l'accord commercial international le plus progressiste concernant les peuples autochtones. Nous devons nous appuyer sur cela. »
Parmi les autres gains, le chef mentionne aussi l'octroi de 17 milliards de dollars en financement sur sept ans dans le budget fédéral pour les Premières Nations, de même que le projet de loi pour protéger les langues autochtones, dont il espère la concrétisation avant la tenue des prochaines élections.
Perry Bellegarde souligne également son rôle dans l'élaboration du projet sur la réforme des services aux enfants autochtones, que la ministre des Services aux Autochtones, Jane Philpott, compte déposer en janvier. « Nous avons convaincu le gouvernement de travailler avec nous », dit-il de cette loi élaborée conjointement avec des représentants autochtones.
Toutefois, le chef de l'APN concède qu'il reste encore du chemin à parcourir. « Il faut investir davantage dans l'éducation, le logement, l'eau et les soins de santé afin de combler l'écart énorme entre les Autochtones et les non-Autochtones. Quand nous y parviendrons, cela sera bénéfique pour tout le monde au Canada. »
Des défis de taille
La Déclaration des Nations unies sur les droits des peuples autochtones est une feuille de route pour la réconciliation, explique le chef de l'APN, mais elle inclut des obligations que le Canada doit mettre en oeuvre, car les défis ne manquent pas pour les Premières Nations.
Dans la foulée de la publication d'un rapport accablant sur le Service de police de Thunder Bay, M. Bellegarde mentionne quelques priorités, notamment la lutte contre le racisme systémique.
Nous devons commencer à examiner de nouvelles initiatives dans le système de justice pour éliminer la discrimination partout au pays, car cela ne se produit pas seulement à Thunder Bay, mais partout ailleurs. Les autorités doivent travailler collectivement avec les membres des Premières Nations pour enfin résoudre ce fléau.
Il ne fait aucun doute pour M. Bellegarde que le système de justice ne fonctionne pas pour les Premières Nations. La justice doit être remaniée. Pour y parvenir, il faut d'abord reconnaître qu'il existe des problèmes, dit-il.
« Je plaide pour un plus grand nombre de procureurs de la Couronne autochtones et davantage d'Autochtones dans les jurys. Nous avons un nombre disproportionné de personnes dans les prisons, alors que les Autochtones représentent 4,5 % de la population canadienne. C'est inacceptable », dénonce-t-il.
En août dernier, la Cour d'appel fédérale a annulé le projet d'expansion du pipeline Trans Mountain, estimant qu'Ottawa avait entre autres failli à son obligation de consulter les populations autochtones. Le chef Bellegarde a toujours maintenu une position neutre quant à cet enjeu qui divise les chefs autochtones. Une position qui a été vivement critiquée, notamment par le Conseil national des jeunes de l'APN.
Il faut « un équilibre entre économie et environnement », se défend le chef Bellegarde. « En tant que peuples autochtones, nous avons des droits inhérents, issus de traités, et nos droits à l'autodétermination doivent être respectés. Les peuples autochtones ont leur mot à dire », ajoute-t-il.
Le chef de l'APN a conscience que l'expansion du controversé oléoduc divise les communautés. « L'un des droits les plus importants est le droit de dire oui et celui de dire non. Il reste que ce n'est pas au chef national de l'APN ni à son exécutif de décider. Le choix revient aux communautés autochtones concernées », argue-t-il.
L'année 2018 aura vu la conclusion de l'Enquête nationale sur les femmes et les filles autochtones disparues et assassinées. Le rapport final est attendu pour mai prochain. « Mon travail sera de pousser les gouvernements à mettre en oeuvre toutes les recommandations proposées, afin de mettre fin à la violence. En 2019, nous ne voulons plus voir de violences à l'encontre des femmes et des filles autochtones », conclut-il.
[ad_2]

Source link
Ottawa Book Expo 2020 – Authors, Publishers look forward to a top-notch Canadian book fair
Diversity has always been a complex issue, no matter where you look.Case in point, world-famous writer, Stephen King, has recently come under criticism for his views on diversity. The best-selling author had stated, "I would never consider diversity in matters of art, only quality. It seems to me that to do otherwise would be wrong." Many criticized the novelist as being out of touch and "ignorant," but one cannot deny that King's opinions on diversity, mirror the thoughts of a whole lot of people in the creative industry.
The Toronto Book Expo is coming back in 2020, with a multi-cultural concept that aims to include marginalized authors. The Expo intends to celebrate literary works of diverse cultural backgrounds, and the entire literary community in Canada is expectant. Book-lovers and writers alike, are invited to three days of uninhibited literary celebration where diverse cultural works will be prioritized. At the event, authors will be allowed to share their culture with a broad audience. The audience will be there specifically to purchase multi-cultural works.
Multicultural literary expos do not come every day. In Canada, there is a noticeable lack of literary events celebrating other cultures. This leads to a significantly lower amount of cultural diversity in the industry. The Toronto Book Expo would aim at giving more recognition to these marginalized voices. Understandably, more recognizable work will be prioritized.
The Toronto Book Expo is making a statement that diversity is needed in the literary community. The statement is truly motivating, especially if you consider the fact that this could mean more culturally diverse works of literature.
There is a lot of noticeable cultural ignorance in literature. This is an issue that needs to be addressed and books are one of the best means of improving multi-cultural diversity in literature. The Toronto Book Expo is going to fully utilize books to fight ignorance in the literary industry.
Real progress cannot be made if there is a substantial amount of ignorant people in the industry. In spite of advancements made in education in recent years, there is still a considerable percentage of adults who remain unable to read and write.The Toronto Book Expo aims to bring awareness to social literacy issues such as illiteracy.
It is important to uphold high literacy levels in the community and to support those who are uneducated. A thriving society cannot be achieved if the community is not able to read their civil liberties and write down their grievances.
The major foundation of a working and dynamic society is entrenched in literature. Literature offers us an understandingof the changes being made to our community.
The event would go on for three days at three different venues. Day 1 would hold at the York University Student & Convention Centre at 15 Library Lane on March 19. Day 2 would be held at the Bram and BlumaAppel Salon Facility on the second floor of the main Toronto Reference Library near Yonge and Bloor Streets in downtown Toronto on March 21 and day 3 of the expo would take place at the internationally famous Roy Thomson Hall.
A Week In Ottawa, ON, On A $75,300 Salary
Welcome to Money Diaries, where we're tackling what might be the last taboo facing modern working women: money. We're asking millennials how they spend their hard-earned money during a seven-day period — and we're tracking every last dollar.Attention, Canadians! We're featuring Money Diaries from across Canada on a regular basis, and we want to hear from you. Submit your Money Diary here.Today: a biologist working in government who makes $75,300 per year and spends some of her money this week on a bathing suit. Occupation: Biologist
Industry: Government
Age: 27
Location: Ottawa, ON
Salary: $75,300
Paycheque Amount (2x/month): $1,930
Gender Identity: Woman
Ottawa doctor pens nursery rhyme to teach proper handwashing
An Ottawa doctor has turned to song to teach kids — and adults, for that matter — how to wash their hands to prevent the spread of germs.
Dr. Nisha Thampi, an infectious disease physician at CHEO, the area's children's hospital, created a video set to the tune of Frère Jacques and featuring the six-step handwashing method recommended by the World Health Organization.
Thampi's 25-second rendition, which was co-authored by her daughter and Dr. Yves Longtin, an infectious disease specialist at the Jewish General Hospital in Montreal, is featured in the December issue of The BMJ, or British Medical Journal.
Thampi said as an infectious disease physician and a mother of two, she thinks a lot about germs at home and school.
"I was trying to find a fun way to remember the stuff," she said. "There are six steps that have been codified by the World Health Organization, but they're complex and hard to remember." 
Thampi said she came up with the idea to rewrite the lyrics to the nursery rhyme on World Hand Hygiene Day in May, when she was thinking about how to help people remember the technique.
She said studies have shown that handwashing is effective in reducing the risk of diarrhea-related illnesses and respiratory diseases.
"So I'd say it's one of the most important and easiest things we can do."
The video includes such often-overlooked steps as "wash the back," "twirl the tips around" and "thumb attack," which pays special attention to the first digit.