En 2019, Perry Bellegarde espère consolider des gains
[ad_1]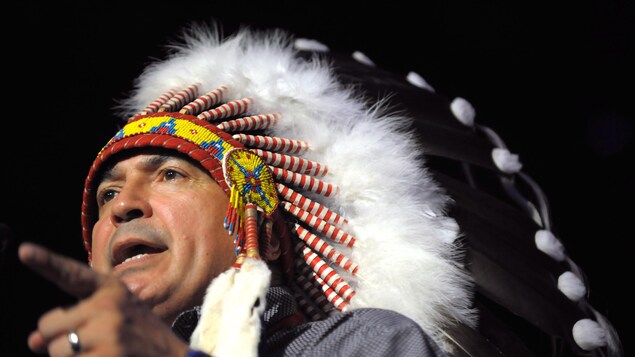 Un texte d'Ismaël Houdassine
Élu en juillet dernier pour un second mandat, Perry Bellegarde demeure néanmoins un chef contesté. Plusieurs l'accusent d'être trop proche des libéraux, et plus particulièrement du premier ministre Justin Trudeau. En entrevue téléphonique, le chef avoue, un peu excédé, avoir à se défendre constamment.
« Si vous préconisez des changements politiques et législatifs, vous devez avoir accès aux décideurs, lance-t-il. Et donc, pour le moment, c'est le premier ministre Trudeau et son Cabinet. Mais nous devons aussi entretenir des rapports avec tous les autres dirigeants fédéraux, c'est pourquoi j'ai tenu à les inviter à notre dernière assemblée. »
Ainsi, Andrew Scheer du Parti conservateur, Elizabeth May du Parti vert et Jagmeet Singh du Nouveau Parti démocratique, mais aussi le premier ministre Trudeau, se sont rendus à Ottawa en novembre pour rencontrer les chefs autochtones du pays, réunis pour trois jours dans la capitale fédérale. À quelques mois des élections fédérales, prévues pour l'automne prochain, chacun des chefs de parti est venu faire part de sa vision des relations avec les Premières Nations. Occasion sans doute pour M. Bellegarde de montrer qu'il ne privilégie aucun candidat.
« Nous avons besoin de tous les dirigeants du gouvernement fédéral issus de tous les partis fédéraux, car on ne sait jamais ce qui se passera en octobre 2019, précise le chef de l'APN. Mon travail consiste à influencer les politiques et les lois. »
L'APN est devenue plus sensible aux besoins, aux problèmes et aux préoccupations des peuples autochtones, c'est pourquoi il était important qu'ils soient tous présents pour répondre aux questions.
Même si un changement de gouvernement est toujours « risqué », prévient M. Bellegarde, une chose demeure certaine : tous les partis doivent disposer d'une plateforme solide en ce qui concerne les droits des Premières Nations. Il les appelle d'ailleurs à investir davantage dans l'amélioration des conditions de vie des Autochtones.
« Sinon, il sera difficile de parler de réconciliation. Plus de 140 ans après l'adoption de la Loi sur les Indiens, les souffrances qui touchent les communautés autochtones sont toujours aussi bien présentes », affirme-t-il.
Des gains importants
Il reste que, selon lui, l'année 2018 aura été marquée par plusieurs avancées importantes, dont la signature en novembre dernier du nouvel Accord Canada–États-Unis–Mexique (ACEUM), l'ancien ALENA. « Je repense [à cet accord] qui pour la première fois inclut une référence aux droits des peuples autochtones. À l'heure actuelle, c'est de loin l'accord commercial international le plus progressiste concernant les peuples autochtones. Nous devons nous appuyer sur cela. »
Parmi les autres gains, le chef mentionne aussi l'octroi de 17 milliards de dollars en financement sur sept ans dans le budget fédéral pour les Premières Nations, de même que le projet de loi pour protéger les langues autochtones, dont il espère la concrétisation avant la tenue des prochaines élections.
Perry Bellegarde souligne également son rôle dans l'élaboration du projet sur la réforme des services aux enfants autochtones, que la ministre des Services aux Autochtones, Jane Philpott, compte déposer en janvier. « Nous avons convaincu le gouvernement de travailler avec nous », dit-il de cette loi élaborée conjointement avec des représentants autochtones.
Toutefois, le chef de l'APN concède qu'il reste encore du chemin à parcourir. « Il faut investir davantage dans l'éducation, le logement, l'eau et les soins de santé afin de combler l'écart énorme entre les Autochtones et les non-Autochtones. Quand nous y parviendrons, cela sera bénéfique pour tout le monde au Canada. »
Des défis de taille
La Déclaration des Nations unies sur les droits des peuples autochtones est une feuille de route pour la réconciliation, explique le chef de l'APN, mais elle inclut des obligations que le Canada doit mettre en oeuvre, car les défis ne manquent pas pour les Premières Nations.
Dans la foulée de la publication d'un rapport accablant sur le Service de police de Thunder Bay, M. Bellegarde mentionne quelques priorités, notamment la lutte contre le racisme systémique.
Nous devons commencer à examiner de nouvelles initiatives dans le système de justice pour éliminer la discrimination partout au pays, car cela ne se produit pas seulement à Thunder Bay, mais partout ailleurs. Les autorités doivent travailler collectivement avec les membres des Premières Nations pour enfin résoudre ce fléau.
Il ne fait aucun doute pour M. Bellegarde que le système de justice ne fonctionne pas pour les Premières Nations. La justice doit être remaniée. Pour y parvenir, il faut d'abord reconnaître qu'il existe des problèmes, dit-il.
« Je plaide pour un plus grand nombre de procureurs de la Couronne autochtones et davantage d'Autochtones dans les jurys. Nous avons un nombre disproportionné de personnes dans les prisons, alors que les Autochtones représentent 4,5 % de la population canadienne. C'est inacceptable », dénonce-t-il.
En août dernier, la Cour d'appel fédérale a annulé le projet d'expansion du pipeline Trans Mountain, estimant qu'Ottawa avait entre autres failli à son obligation de consulter les populations autochtones. Le chef Bellegarde a toujours maintenu une position neutre quant à cet enjeu qui divise les chefs autochtones. Une position qui a été vivement critiquée, notamment par le Conseil national des jeunes de l'APN.
Il faut « un équilibre entre économie et environnement », se défend le chef Bellegarde. « En tant que peuples autochtones, nous avons des droits inhérents, issus de traités, et nos droits à l'autodétermination doivent être respectés. Les peuples autochtones ont leur mot à dire », ajoute-t-il.
Le chef de l'APN a conscience que l'expansion du controversé oléoduc divise les communautés. « L'un des droits les plus importants est le droit de dire oui et celui de dire non. Il reste que ce n'est pas au chef national de l'APN ni à son exécutif de décider. Le choix revient aux communautés autochtones concernées », argue-t-il.
L'année 2018 aura vu la conclusion de l'Enquête nationale sur les femmes et les filles autochtones disparues et assassinées. Le rapport final est attendu pour mai prochain. « Mon travail sera de pousser les gouvernements à mettre en oeuvre toutes les recommandations proposées, afin de mettre fin à la violence. En 2019, nous ne voulons plus voir de violences à l'encontre des femmes et des filles autochtones », conclut-il.
[ad_2]

Source link
Biometric Vaccines Are Here Preceding Forced Digital ID
The future of vaccines is here, just in time for the coming forced digital ID. This isn't some sci-fi movie based on some conspiracy theorists' idea of Revelation where every living being is required to be tagged. Biometric vaccines are real, are in use and have been deployed in the United States.
Biometric vaccines are immunizations laced with digital biometrics, created from merging the tech industry with big pharma. This new form of vaccine injects microchips into the body creating a global ID matrix to track and control every person. Not only has this satanic system already been rolled out, billions may already have been injected unaware.
ID2020 Alliance, a program aimed at chipping every person on earth, has collaborated with GAVI (Global Alliance for Vaccines and Immunizations) to inject these microchips into the body through immunization. 
How to get more of everything you love about Ottawa
We love Ottawa, and we want to help you make the most of living in the capital.
Ottawa Magazine is launching a new membership program, with front-of-the-line access to events, special offers at cultural institutions, and exclusive access to one-of-a-kind food and drink experiences at the city's best restaurants. And of course, a subscription to our award-winning magazine.
Basically, everything you love about the city… just more of it.
Sign up for more information now and you'll be one of the first to hear when memberships go on sale!
Where to Live Now: A data-driven look at Ottawa neighbourhoods
What does community have to do with buying a house? Do people really want friendly neighbours, or do they just want the most square footage for their buck?
In The Village Effect: How Face-to-Face Contact Can Make Us Healthier, Happier and Smarter, Montreal psychologist Susan Pinker cited a 2010 study conducted at Brigham Young University in Idaho that analyzed relationship data for more than 300,000 people over nearly eight years. She discovered that people who were integrated into their communities had half the risk of dying during that time as those who led more solitary lives. In Pinker's analysis, integration meant simple interactions such as exchanging baked goods, babysitting, borrowing tools, and spur-of-the-moment visits — exactly the kinds of exchanges we saw grow when COVID-19 forced us all to stay home.
For this year's real estate feature in the Spring/Summer 2020 print edition, we crunched the numbers to find the neighbourhoods where we think you're most likely to find such opportunities for engagement. Using data available through the Ottawa Neighbourhood Study (ONS), we chose six indicators that we believed would attract those looking to connect with the people around them. Omitting rural areas, we awarded points to each neighbourhood according to where it landed in the ranking. (In the event of a tie, we used a secondary indicator of the same theme to refine the ranking.) You'll find the ten neighbourhoods that performed the best according to those six indicators listed below, along with resident profiles and notable destinations in each 'hood — though many have been forced to adapt to COVID-19, most are offering delivery and/or take-out, and we are hopeful they will resume normal operations once it is safe to do so.