'Rat-hole' mines in India turn death traps for migrant workers | News
[ad_1]

Magurmari, Meghalaya – The only tangible mementoes that Shefali Begum, 18, and Nafisa Begum*, 16, have of their husbands are the 'salwar kameez' (common dress in South Asia) the two brothers had brought for them shortly before heading off to work in an illegal coal mine in northeastern India.
Now, the two women fear they may never see their husbands again.
The brothers Omor Ali, 26, and Shirapat Ali, 25, left their village Magurmari in West Garo Hills of Meghalaya in the first week of December to work at a mine in Ksan on the other side of the state in East Jaintia Hills.
Days later, on December 13, Shefali and Nafisa were told their husbands were among the 15 men trapped in the illegal mine at Ksan when floodwater from a nearby river poured into it.
Twenty days later and despite a rescue operation involving scores of emergency workers and Indian Navy divers, there has been no news of the men, nor any sign of their bodies.
At least seven men from Magurmari are trapped in the "rat-hole" mine. For the impoverished village, these "rat-hole" mines have become death traps. The Ksan "rat-hole" mine – named because men dig through narrow crevices to extract coal – is nearly 113 metres deep.
Workers from India's National Disaster Response Force have been trying to pump out the flood water, but to no avail, according to Santosh Kumar Singh, assistant commander at the rescue force.
On December 31, a Navy diver reached the bottom of the mine, but found only coal at the mouth of one lateral hole.
"Rat-hole" mining was banned in 2014 by India's National Green Tribunal following a petition that said the acidic discharge from the coal mines was polluting the Kopili River downstream.
Mine owners in Meghalaya, which has an estimated 576 million metric tonnes of coal reserves, have challenged the ban in the Supreme Court. The Meghalaya government has also sought a way around the ban, claiming to be losing an annual revenue of Rs 700 crore because of it.
The Ksan incident, however, has brought to the fore how entrenched the practice remains in the hilly state. Most of those employed in "rat-hole" mines are men and teenagers from villages such as Magurmari.
With both her sons, Omor Ali and Shirapat Ali, trapped in the mine, 

Omela Bibi (left) says

there is no man left in the household [Priyanka Borpujari/Al Jazeera]
Death traps 
Most of the 400 families in Magurmari do not own any agricultural land, forcing the men to find work in coal mines, according to Altaf Hussein, uncle to the Ali brothers.
The pair would work at a mine for two-three months and return home for 10 days. According to Hussein, they were paid Rs 30,000 ($430) every month, more than three times the money they would make working as masons in Magurmari.
Omela Bibi, the mother to Omor and Shirapat, was quiet, and her sunken eyes were fixed to the ground. "I would never let them go for such work had I known what gruelling work they undertake," the 48-year-old said. 
The older Ali brother is the father to a seven year-old-daughter and two sons, aged four and two. 
His wife Shefali was dealt a double blow on the day the men got trapped – her 18-year-old brother Raziul Islam was also among the 15 trapped miners.
Islam, a bright student who only graduated from high school last year, went to work in the mines in order to buy an autorickshaw. His father, Sohor Ali, is despondent.
"I could not afford the autorickshaw. I told him we would manage expenses somehow. I touched his feet and begged him, but he just wouldn't listen," said Ali, who works as a day labourer on nearby farms. 
A second family in Magurmari also had two family members trapped in the Ksan mine. Mizanur Sheikh, 32, and his brother-in-law, Abdul Mozid, went to the mines to pay off their debts.
Sheikh used to work at the mines, but quit to sell vegetables in the local market, a venture that did not go too well. He took a series of loans, first for the business, and later for medical expenses after he contracted malaria. Today, he has a debt of Rs 113,000 ($1,625).
Mozid, who drove a small van until four months ago, borrowed money from various people to build a new house.
"Both Mozid and Mizanur decided that the only way out of debt was to work in the mine because it pays better," said 17-year-old Sameer Azad*, Mizanur's cousin.
"We told him not to go, but do kids listen to parents?" said Mohammad Ali, Mozid's father. His other three sons do daily wage jobs, but Mizanur was the highest earning member of the family. 
"The lenders have been coming now, but we cannot blame them as they are poor too," Mohammad Ali said.
Bodiot Zaman shows a copy of the identity card of his trapped son Abdul Kalam Sheikh [Priyanka Borpujari/Al Jazeera]
'We would crawl up to 30 feet inside'
The physical dangers of working in the "rat-hole" mine take a backseat before the relatively better wages from working at the mine.
Abdul Karim worked in such a mine until seven years ago, when a large rock fell on his spine and confined him to a wheelchair.
"We would crawl up to 30 feet (about nine metres) inside in a crevice that's just about two feet high, and slide on our backs to chip out the coal with a pickaxe," said the 28-year-old.
But the accident did not deter his elder brother, 32-year-old Abdul Kalam Sheikh, from working in "rat-hole" mines six years ago.
"He pondered for long, especially after my accident, but he decided that the wages were worth it," Karim told Al Jazeera.
With Karim immobile, Kalam was the sole breadwinner in the family. He had educated all four of his younger sisters. One of them finished her bachelor's degree this year – a rarity in a village where most girls are married off before they reach the marriage age of 18.
Kalam has a son who will soon turn one; the couple are expecting their second child next month. He had gone to Ksan few days after Omor and Shirapat – they had told him over the phone that the money was good.
When the news broke of the miners' fate, his uncle, Rupiot Zaman went to Ksan along with six others from Magurmari.
"There was no evidence of anyone living in the plastic sheds where the men lived. No clothes, no bags. Only the cots that they slept on were there," he said.
The men returned home four days later, empty-handed. 
"We were hoping that at least the bodies would be found, but the water was not receding and it was expensive for us to arrange food every day," said Zaman, who has worked in a coal mine for more than 15 years
Cajoling her crying four-month-old daughter, while her two-and-half years old clings to her, Nafisa said, "My husband had sent his photo when he reached there on someone else's phone in the village, since I don't have a smartphone. The only other photo I have of him is from his ID card."
As I leave, the angry voice of a woman breaks the eerie silence in the village: "Close those mines, otherwise all our sons will be gone."
Names with (*) have been changed since they are minors.
[ad_2]

Source link
Ottawa announces new funding to combat online child abuse
Ottawa has announced $22 million in funding to fight online child abuse.
Noting that police-reported incidents of child pornography in Canada increased by 288 per cent between 2010 and 2017, Public Safety Minister Ralph Goodale made the announcement Tuesday.
It follows a London meeting last week that focused on the exploitation of children between Goodale and his counterparts from the United States, Britain, Australia and New Zealand, collectively known as the Five Eyes intelligence group.
Major internet companies, including Facebook, Google and Microsoft, were also at the meeting and agreed to a set of rules the members of the group proposed to remove child pornography from the internet quicker.
On Tuesday, Goodale warned internet companies they had to be better, faster and more open when in comes to fighting child abuse on line.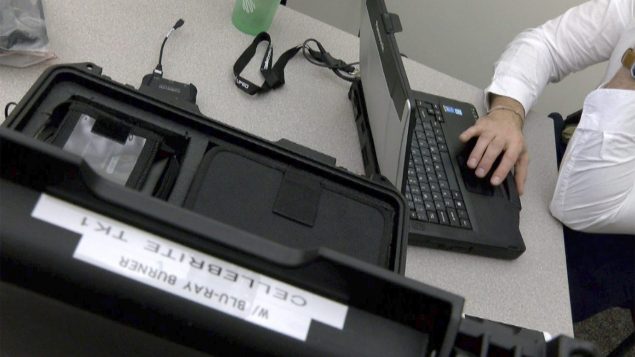 In this Friday, Jan. 12, 2018 photo, detectives use the Cellebrite system to extract information from cellphones at the State Police facility in Hamilton Township, N.J. "Operation Safety Net," the results of which were announced in December, netted 79 people suspected of exploiting children. (Thomas P. Costello/Asbury Park Press/Canadian Press)
"If human harm is done, if a child is terrorized for the rest of their life because of what happened to them on the internet, if there are other damages and costs, then maybe the platform that made that possible should bear the financial consequences," Goodale said.
The government plan includes $2.1 million to intensify engagement with digital industry to develop new tools online and support effective operating principles, $4.9 million for research, public engagement, awareness and collaboration with non-governmental organizations and $15.25 million to internet child exploitation units in provincial and municipal police forces across the country.
Goodale said the strategy recognizes that technology is "increasingly facilitating the easy borderless access to vast volumes of abhorrent images."
That, he said, makes investigations increasingly complex,
"This is a race where the course is always getting longer and more complicated and advancing into brand new areas that hadn't been anticipated five years ago or a year ago or even a week ago," Goodale said.
Gas prices expected to dip in Ottawa
If you can wait an extra day to fill up the gas tank, your bank account might thank you.
Roger McKnight of Enpro is predicting a five cent dip in gas prices Wednesday night at midnight.
This comes after a four cent drop this past Friday, just ahead of the August long weekend.
McKnight said the reason for the drop, both last week and this week, is due to comments made by US President Donald Trump.
He says after the drop, the price will be, on average, 118.9 cents/litre in the Ottawa region.
Oka asks Ottawa to freeze Mohawk land deal, send RCMP to Kanesatake
The town of Oka is asking the federal and provincial governments to slap a moratorium on a proposed land grant to the local Mohawk community in Kanesatake and to establish an RCMP detachment on the First Nations territory to deal with illegal cannabis sales outlets.
The requests were contained in two resolutions adopted Tuesday night by the Oka town council.
The administration of Oka Mayor Pascal Quevillon held its first public meeting since the start of the controversy that pitted the town council against the Kanesatake band council over a decision by a local promoter to give local lands to the Mohawk community.
The three resolutions are addressed to Prime Minister Justin Trudeau's government, Quebec Premier François Legault's government and the Kanesatake band council led by Grand Chief Serge Otsi Simon.
As each resolution was read into the record, Quevillon stressed that the town of Oka was only looking to live in peaceful cohabitation with the Mohawk community.
The town also called upon Ottawa to establish a consultation process that would take into account the concerns of residents in Oka and Kanesatake.
Quevillon's administration also wants access to the plans detailing what lands are at the centre of negotiations between the federal government and the Mohawk community for purchase, suggesting the talks are simply a disguised form of expropriation.
"They're giving money to (the Mohawks) to buy our land and annex it to their territory," Quevillon said.
Despite its demands, the Oka council adopted an official statement addressed to the Kanesatake band council saying the town's population wanted dialogue and peaceful cohabitation, with Quevillon citing the 300 years of close links between the two communities.
During the council meeting's question period, some residents suggested that the council deal with other groups that say they are speaking for Kanesatake, including Mohawk traditionalists. Mayor Quevillon replied that the town would only deal with the band council and did so out of respect for Grand Chief Simon.
The mayor also argued that the RCMP, a federal police force, was best suited to be deployed in Kanesatake, where it would ensure the law would be respected, particularly on the issue of illegal cannabis shops.
Quevillon contended such a deployment was the only way for both communities to work together toward their mutual economic development.
Meanwhile, the apology Grand Chief Simon has said he is expecting from Quevillon for remarks he made earlier this summer about the Mohawk community in Kanesatake does not appear to be coming any time soon.
Asked by a resident if he would apologize, Quevillon left the answer to those citizens who attended the meeting, the vast majority of whom replied, "no."