Décès de l'ancien député de Matane Pierre De Bané
[ad_1]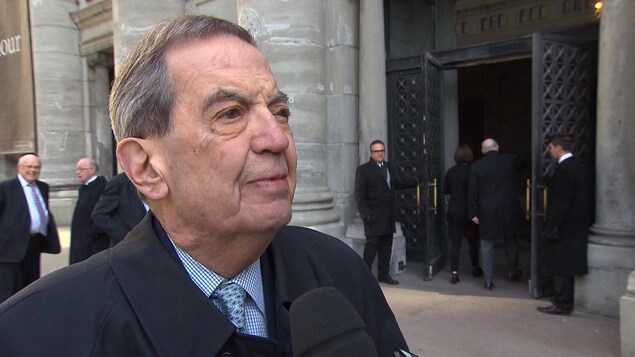 Il a été élu pour la première fois député de Matane en 1968 sous le premier gouvernement de Pierre-Elliot Trudeau et réélu cinq fois jusqu'en 1984.
Il a notamment occupé les postes de ministre des Approvisionnements et Services, de l'Expansion économique régionale, des Relations extérieures, et de Pêches et Océans. Il était toujours ministre et député lorsqu'il fut nommé sénateur en juin 1984. Il occupera cette fonction jusqu'en 2013.
Pierre De Bané était né à Haïfa, en Israël, en 1938, de parents francophones libanais. Il a effectué une partie de ses études au Liban puis a émigré au Canada en 1951 où il a rejoint sa famille.
Il a par la suite amorcé des études en droit. Il sera d'ailleurs professeur de droit à l'Université Laval avant de faire le saut en politique.
Homme de convictions
Au cours de sa carrière politique, Pierre De Bané s'est entre autres opposé à la Loi sur les mesures de guerre et s'est souvent engagé dans la préservation du fait français au Canada, notamment dans les communications aériennes.
Plus récemment, en tant que sénateur, il avait réclamé une présence plus importante de Radio-Canada dans les milieux minoritaires francophones du pays.
Son action comme député dans l'Est-du-Québec a laissé plusieurs traces tangibles. Il a notamment travaillé à l'implantation, à Sainte-Flavie, près de Rimouski, de l'Institut Maurice-Lamontagne, le seul centre de recherche francophone de Pêches et Océans Canada.
À la défense de dossiers régionaux
C'est à lui aussi que revient le choix de Sayabec pour l'usine de panneaux-meubles en échange de la papeterie que réclamaient les citoyens de la vallée de la Matapédia, mais qui sera construite à Matane.
Pierre De Bané est aussi reconnu pour son engagement dans les Opérations Dignité, un mouvement populaire pour le maintien des villages de l'arrière-pays du Bas-Saint-Laurent et de la Gaspésie.
Le député de Matane-Matapédia, Pascal Bérubé, était encore un enfant lorsqu'il a connu Pierre De Bané. Son bureau de circonscription était situé juste en face de la résidence familiale, raconte M. Bérubé qui se souvient que le député De Bané se servait d'une roulotte, l'été, comme bureau de circonscription itinérant.
Pour Pascal Bérubé, Pierre De Bané était un modèle d'intégration et d'homme politique.
Pierre De Bané est une des personnalités politiques les plus appréciées de l'histoire de l'Est-du-Québec.
Rémi Bujold, qui fut député fédéral de Bonaventure–Îles-de-la-Madeleine et ministre du Développement régional, abonde dans le même sens. Pour lui, Pierre De Bané a été avant tout un homme politique entièrement dévoué à sa circonscription.
Il s'en souvient comme d'un collègue qui savait se battre pour sa circonscription et ses idées. C'était un homme attachant. C'était quelqu'un qui était toujours de bonne humeur, mais lorsqu'il avait une idée, il prenait tous les arguments pour convaincre les gens autour de lui.
Pierre De Bané avait reçu la distinction de docteur honoris causa en Sciences de l'administration de l'Université de Moncton. Il était membre du Bureau de l'Association des parlementaires francophones et décoré de l'Ordre national du Cèdre.
[ad_2]

Source link
Starbucks permanently closing Byward market location on Jan. 31
The Byward Market Starbucks is closing permanently at the end of January.
"It is with heavy hearts that we must announce the permanent closure of our store on January 31," the coffee shop said in an Instagram post.
"Due to the changes in the economic climate since the start of the pandemic, Starbucks Canada has made some difficult decisions to close certain stores across the country whose business have been most effected by COVID-19. Unfortunately, our store fell into that category."
Starbucks is to close up to 300 locations by the end of March, the chain announced earlier this month, accelerating its "transformation strategy" in response to changing consumer habits during the pandemic.
The chain expects to complete theplanned store closures by the end of its second quarter. The restructuring includes adding new drive-thru locations, expanding delivery and a pilot of curbside pick up-only locations.
Statistics Canada says wholesale sales rose in November, manufacturing sales down
OTTAWA — Canadian wholesale sales grew for the seventh consecutive month in November to hit a record high, while manufacturing sales fell for the month.
Manufacturing sales dropped 0.6 per cent to $53.7 billion in November, Statistics Canada reported Tuesday.
CIBC senior economist Royce Mendes said factory sales took a breather in November, but he added that the decline seemed to have been narrowly driven by a few categories, noting that only five of 21 industries saw lower sales for the month.
"Declines were most prevalent in the auto and aerospace sectors," Mendes wrote in a brief report.
"Lower prices for lumber and wood products also pulled down sales of wood products, which have been benefiting recently from strong demand for building."
The data provided a snapshot of the economy for November, however the increased restrictions to slow the spread of the pandemic in some provinces since then are expected to have taken a deeper toll on the economy.
"Since November, restrictions have increased in provinces with the largest manufacturing centers, pointing to further subdued performances going forward," TD Bank economist Omar Abdelrahman wrote.
"Although manufacturing was deemed essential by all provinces, the sector will face headwinds from the drop in domestic demand seen elsewhere in the economy."
The transportation equipment industry fell 9.1 per cent to $8.9 billion in November, while aerospace production fell 23.8 per cent to $1.2 billion and motor vehicle sales slipped 5.7 per cent to $4.3 billion.
Wood product manufacturing sales fell 4.1 per cent to $3.3 billion in November on lower sales in the sawmills and wood preservation industry.
Overall manufacturing sales in constant dollars fell 0.6 per cent.
Meanwhile, Statistics Canada said Tuesday wholesale sales rose 0.7 per cent to an all-time high of $67.4 billion as five of seven subsectors reported stronger sales.
The gains were led by the machinery, equipment and supplies subsector and the building material and supplies subsector.
The machinery, equipment and supplies group rose 2.8 per cent to $14.3 billion, while building material and supplies rose 1.1 per cent to $10.2 billion.
Wholesale trade in volume terms rose 0.9 per cent in November.
The data for November came ahead of the Bank of Canada's interest rate decision and monetary policy report on Wednesday.
The central bank is widely expected to keep its key interest on hold at 0.25 per cent.
Retail sales rise 1.3 per cent to $55.2 billion in November as online shopping surges
OTTAWA — Retail sales climbed for the seventh straight month in November as Black Friday deals and a rush to order online gifts early to avoid shipping delays pushed sales up 1.3 per cent to $55.2 billion, Statistics Canada said Friday.
But the federal agency's unofficial early estimate for December appeared to dampen the retail momentum.
It said sales for the last month of 2020 – typically the peak of the holiday shopping season – potentially fell by as much as 2.6 per cent.
Retail expert Farla Efros said it's not surprising the sales would taper off in December given the heavy discounting offered on Black Friday in November, as well as Amazon's decision to move its Prime Day to mid-October.
"Most people took the opportunity to do their shopping early and get those deals," said Efros, president of HRC Retail Advisory.
In addition, Toronto and the Peel region went into lockdown in late November, followed by the entire province of Ontario on Boxing Day.
Efros said those restrictions likely negatively impacted retail sales throughout December.
Meanwhile, the latest Statistics Canada figures show a strong growth in online shopping in November.
Retail e-commerce sales for November were up 75.9 per cent from the same month a year earlier, the agency said. 
"The rise in sales coincided with retailers urging online shoppers to buy early to avoid shipping delays, as well as promotional events such as Black Friday," Statistics Canada said in its release.
Royce Mendes, senior economist at CIBC Capital Markets, said in a client note that the growth in e-commerce sales was likely led by households staying at home more as COVID-19 cases were rising.
He said numbers don't include "some of the largest online retailers, which the survey doesn't capture."
Food and beverage store sales were up 5.9 per cent in November, even as about three per cent of all retailers were closed at some point in the month as restrictions tightened amid a resurgence in COVID-19 cases.
Efros pointed out that restaurants in some areas were forced to close in November, likely leading to the increase in retail food sales at grocery stores.
She said food price inflation may have also pushed the sales figures higher as well.
Meanwhile, sales at auto parts dealers fell in November for the first time since April, as truck sales declined four per cent from November 2019, and passenger car sales tumbled 20.5 per cent compared with the same month last year.