La CSDM aux prises avec une pénurie d'éducateurs dans les services de garde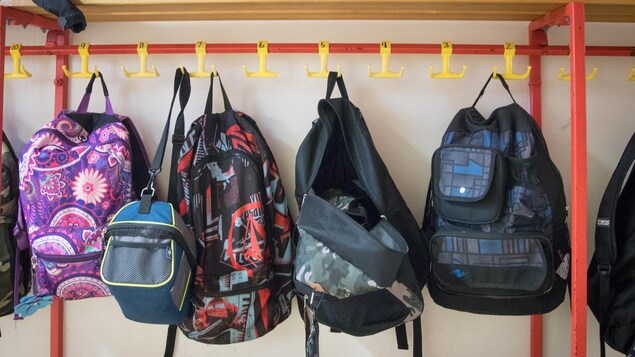 Un texte de Dominic Brassard, de l'émission Le 15-18
À la Commission scolaire de Montréal (CSDM), on cherche des solutions à ce problème qui préoccupe tout autant les parents, les directions d'écoles et le syndicat des employés de soutien.
« C'est épeurant! lance Rachel Demers, vice-présidente de l'Association professionnelle du service administratif (APPA). Au syndicat, je vous dirais que c'est ma pire année au niveau de la pénurie. »
Elle affirme que de nombreux postes d'éducateurs sont affichés chaque semaine, mais qu'une faible proportion est comblée.
À l'APPA, qui représente 5500 membres répartis dans deux commissions scolaires, on explique cette pénurie par les conditions de travail des éducateurs des services de garde en milieu scolaire. Les horaires sont souvent entrecoupés (matin, midi et soir), et les heures de travail sont limitées. D'ailleurs, selon le syndicat, la moitié des 1800 travailleurs qu'il représente ont une semaine de travail de 26 heures et moins.
La présidente de la CSDM, Catherine Harel-Bourdon, reconnaît que ce type d'horaire ne facilite en rien le recrutement. « Si les gens ont accès à un plus grand nombre d'heures, par exemple dans des centres de la petite enfance ou dans des garderies, ils vont choisir quelque chose où ils ont plus d'heures en continu », reconnaît-elle.
De son côté, la représentante des parents au conseil des commissaires de la CSDM, Imane Allam, est inquiète. Elle a elle-même travaillé comme éducatrice dans un service de garde de la CSDM et elle considère que cette pénurie entraîne une diminution de la qualité des services, en plus de poser un certain risque.
Ça crée même un danger sur la sécurité des enfants. Parce qu'il y a des adultes qui peuvent se retrouver avec 30, 35 élèves, donc le ratio est largement dépassé.
À son avis, il est alors impossible que les éducateurs effectuent une surveillance appropriée. À ce sujet, Imane Allam cite en exemple le cas médiatisé d'un élève d'une autre commission scolaire qui a quitté le service de garde de son école pour retourner à la maison, sans que personne ne s'en rende compte.
Les étudiants postsecondaires à la rescousse?
L'APPA souhaite une amélioration des conditions de travail pour faciliter le recrutement et la rétention des éducateurs dans les écoles. Les horaires, le nombre d'heures de travail et les salaires font partie des éléments à revoir, selon le syndicat.
La CSDM évalue en ce moment l'ampleur de la pénurie. En attendant de trouver une solution à long terme, la commission scolaire se doit d'embaucher des éducateurs sans formation, mais qui ont une expérience de travail pertinente avec les enfants.
À court terme, Catherine Harel-Bourdon précise que la CSDM doit recruter autrement. « On lance un appel à tous les étudiants collégiaux et universitaires qui ont des possibilités à certaines heures d'envoyer leur nom et leur cv pour peut-être faire des remplacements. Surtout si ces gens-là ont travaillé dans des camps [de jour]. C'est très intéressant pour nous. »
Ottawa Tourism temporarily halts marketing in China
Ottawa Tourism has hit the pause button on new marketing efforts in China—at least for now.
This comes amid increasing tensions between Canada and China.
On Monday, a Chinese court re-sentenced Canadian Robert Schellenberg to death in a sudden retrial of a drug-smuggling case.
It follows the detention of two Canadians in China that many believe was triggered by the December arrest of Huawei's chief financial officer.
It says "Desination Canada and Ottawa Tourism are continuing to monitor the situation."
An estimated 41,000 Chinese visitors came to Ottawa in 2017.
Ottawa Tourism launched an incentive program to try and attract Chinese tourists to the Capital.  It says it plans on resuming marketing efforts in China but there's no date as of yet.
China is the third largest inbound market to Canada and the third-largest international market for Ottawa after the U.S. and U.K.
Reel justice prevails: This B.C. man won a 30-year battle to fish in a public lake
Rick McGowan started fishing in Stoney Lake and Minnie Lake in B.C.'s Interior in the 1960s when he was 14 years old. The lakes were a good stopping point along Stoney Lake Road, a gravel route the McGowan family travelled almost daily from Merritt to a fishing resort on Paradise Lake owned by Rick's parents, Hughie and Ruby.
The province stocked both lakes with rainbow trout, and Minnie Lake was the place to catch a fish to brag about, five or even eight pounds. "Minnie Lake has always had a great ecosystem for providing big fish," says McGowan. "It had a lot of shrimp and invertebrates for the fish to feed on." The lakes were surrounded by land owned in part by the Woodward family, founders of an eponymous department store chain, but were themselves Crown property and a popular spot for residents, including neighbouring First Nations.
One day—McGowan figures around 1988—the family found the gate to Stoney Lake Road closed and padlocked. It was the start of a 30-year dispute, pitting local anglers against wealthy landowners, public interests against private, and culminating in a recent court decision that could set a precedent for public access to Crown-owned waters.
Today, the owner of that gate is American billionaire Stan Kroenke, who owns a stable of professional sports teams including the NBA's Denver Nuggets and the NHL's Colorado Avalanche, and who is married to a Wal-Mart heir. He bought the Douglas Lake Ranch in 2003 and has been snapping up adjacent land ever since. He's now the largest private landowner in B.C., with rights to almost 500,000 hectares of deeded and Crown grazing land under his Douglas Lake Cattle Company.
After years of disputes over access, which included RCMP arrests for trespassing and a failed petition from the Nicola Valley Fish and Game Club—of which McGowan is a member—the Douglas Lake Cattle Company sued the club. Lawyers asked a judge to clarify whether Stoney Lake Road is public, whether the public should be permitted access to the lakes and who owns the fish.
Douglas Lake Cattle Company did not get the answers it wanted when B.C. Supreme Court Justice Joel Groves rendered his decision in early December. Stoney Lake Road is public; the lakes must be reopened for catch-and-release fishing; and the fish are wild, even if the lakes are stocked, the judge found.
More than a mundane court ruling, the decision is being received as a declaration affirming public rights to cherished water bodies at a time when private interests are rapidly closing them off. The court heard that the company dammed Stoney and Minnie lakes to make them bigger, partially flooding the road in the process. The company, which operates several private fishing lodges, argued that the new expanded borders of the lakes were private. The ranch also put large rocks and logs on the road "to make it impossible to pass," writes Groves.
All the while, the province knew. In 1996, the district highways manager wrote a letter to Douglas Lake ranch manager Joe Gardner, asking him to remove the locked gate and install a cattle guard. Gardner did not comply. "Mr. Gardner has acted, as manager of the DLCC, as someone who is above the law," writes Groves.
Groves had harsh words for the province, the second defendant in the case: "The province did not respond to this apparent unlawful act. Over 20 years, a privately held corporation, owning a large swath of land, prohibited the public from driving on the public road and the province did nothing."
The government came in for even greater rebuke in a scathing epilogue to the decision—a rare document Groves presented in court after his ruling. In it, Groves writes that "it makes no sense to me that the Crown would retain ownership of the lakes, only for there to be no access." He urges the province to re-examine its trespassing laws and "guarantee access to this precious public resource."
Christopher Harvey, lawyer for the Nicola Valley club, says he hopes this ruling will spur the province to protect right of access to public lands. "It is the easiest thing in the world for a landowner to put up a private property sign and just lock a gate over a public road," Harvey says. "Ninety-nine per cent of the public will assume it is private property."
B.C.'s natural resources ministry says it's reviewing the judgment before deciding its next steps, while a lawyer representing Kroenke's company says it is considering all options, including appeal. Neither Kroenke nor ranch manager Gardner agreed to an interview.
The gate to Stoney Lake Road isn't the only one with a lock. There is legal action in the works over access to Corbett Lake, another Crown lake partially on Douglas Lake Cattle Company property. McGowan, now 66, sees this as his fight to ensure his eight-year-old granddaughter can fish in Crown lakes, just like he did as a boy. "The locking and blocking access to public lakes all over B.C. is escalating like an epidemic," he says. "If we don't stop it, you're not going to go off the blacktop without paying someone to go there."
B.C. First Nations leaders lend their support to Wet'suwet'en hereditary chiefs at Smithers rally
First Nations leaders from communities across B.C. gathered in Smithers Wednesday in support of the Wet'suwet'en hereditary leadership following last week's RCMP enforcement of an injunction to allow access to their territory by a pipeline company.
"You are in charge of your land, make no mistake about it. We are in charge of our land. And at times, we need to rely on each other for support," said Murray Smith from Lax Kw'alaams near Prince Rupert.
Smith and others from the Tsimshian nation said they came to show support after the Wet'suwet'en hereditary chiefs stood with them, in their territory, when they were standing in opposition to the Pacific Northwest LNG project on Lelu Island.
"Today's show of support from our neighbours and allies… proves the Wet'suwet'en do not stand alone," said Wet'suwet'en hereditary chief Na'Moks.
"We the hereditary chiefs are the title holders and maintain authority and jurisdiction to make decisions on our unceded lands."
Wet'suwet'en hereditary Chief NaMoks speaks to media following their meeting with RCMP members and Coastal GasLink representatives in Smithers, B.C., on Jan. 10. (Chad Hipolito/Canadian Press)
The First Nations leaders spent Tuesday in closed door meetings with the hereditary leadership to talk about what happened at the Gidimt'en checkpoint last week. It was one of two checkpoints that was established on a remote stretch of forest service road in the nation's traditional territory to prevent access by Coastal GasLink workers.
14 arrested
Fourteen people were arrested Jan. 7 when the RCMP moved in to enforce an interim injunction to allow pipeline workers access through the checkpoint.
Coastal GasLink, owned by TransCanada Corp., says it needs access to the road and bridge in order to meet construction deadlines on a natural gas pipeline from the northeastern part of the province to the coast. Coastal GasLink said it turned to the courts for an injunction as a last resort to get access on the territory where the Unist'ot'en have long operated a checkpoint.
TransCanada has made agreements with elected chiefs and councils along the route of the pipeline and the company has stated in court filings that it has all the necessary approvals to go ahead with its work.
The hereditary chiefs acknowledge that agreements have been signed with elected leadership but say they are the ones that need to consent to this kind of project being built on their traditional territories, according to their own laws, and that band councils only have jurisdiction over the reserve lands.
Agreement made under duress, says chief
At Wednesday's rally, leaders from other B.C. nations expressed their support for the hereditary leaders to continue asserting themselves on the land, saying the approvals for these projects happen according to laws and rules that are not of their making.
"We're playing with their rule book, the rule book that they change all the time," said Ronnie West, from the nearby Lake Babine Nation.
Reconciliation cannot be done at the end of a gun.– Wayne Christian
"So how do we do it? How are we going to win this game?"
The hereditary chiefs spent three days in meetings with the RCMP last week to come to an agreement about next steps with the injunction. Chief Na'Moks said at Wednesday's rally that agreement was made under duress, to protect the people at the Unist'ot'en checkpoint and settlement from experiencing the kind of enforcement action seen at Gidimt'en.
"Reconciliation cannot be done at the end of a gun," said Wayne Christian, a chief from the Secwepemc nation.
"The world is watching what's going on here. Our way of life is being attacked."
Wayne Christian, a chief from the Secwepemc nation, attended meetings in Smithers this week to show support for the Wet'suwet'en hereditary chiefs. (Shuswap Tribal Council)
Earlier this week, the RCMP said it will be conducting a review of its enforcement action at Gidimt'en and has since established a temporary detachment on the land to keep a presence in the area.
As it stands, the interim injunction for Coastal GasLink remains in effect. Further court documents are due for filing at the end of January and the matter has yet to go to trial.
Wet'suwet'en hereditary chiefs maintain they are opposed to the pipeline going through the territory and have not yet announced what their next moves might be.