Nobel Prize Winner: Give Scientists Time to Make 'Curiosity-Driven' Discoveries
[ad_1]

Since the announcement that I won the Nobel Prize in physics for chirped pulse amplification, or CPA, there has been a lot of attention on its practical applications.
It is understandable that people want to know how it affects them. But as a scientist, I would hope society would be equally interested in fundamental science. After all, you can't have the applications without the curiosity-driven research behind it. Learning more about science — science for science's sake — is worth supporting.
Gérard Mourou, my co-recipient of the Nobel Prize, and I developed CPA in the mid-1980s. It all started when he wondered if we could increase laser intensity by orders of magnitude — or by factors of a thousand. He was my doctoral supervisor at the University of Rochester back then. Mourou suggested stretching an ultrashort pulse of light of low energy, amplifying it and then compressing it. As the graduate student, I had to handle the details.
Revolutionizing Laser Physics
The goal was to revolutionize the field of high-intensity laser physics, a fundamental area of science. We wanted the laser to show us how high-intensity light changes matter, and how matter affects light in this interaction.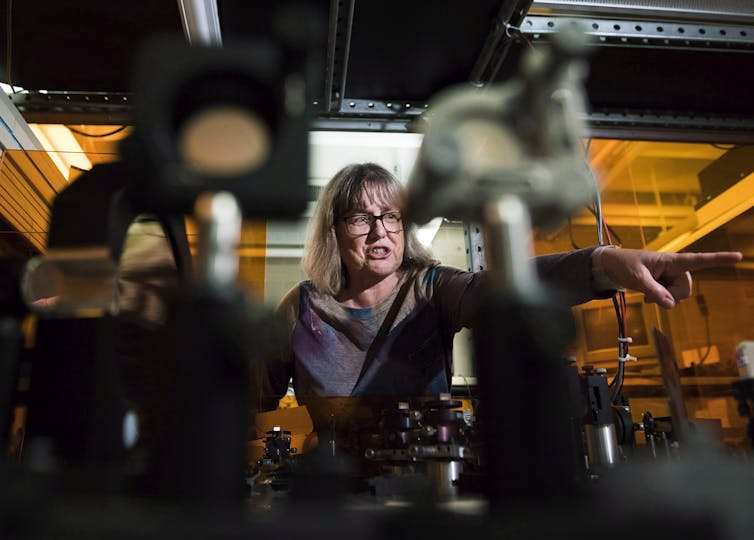 It took me a year to build the laser. We proved that we could increase laser intensity by orders of magnitude. In fact, CPA led to the most intense laser pulses ever recorded. Our findings changed the world's understanding of how atoms interact with high-intensity light.
It was about a decade before practical uses common today eventually came into view.
Many Practical Applications
Because the high-intensity pulses are short, the laser only damages the area where it's applied. The result is precise, clean cuts that are ideal for transparent materials. A surgeon can use CPA to slice a patient's cornea during laser eye surgery. It cleanly cuts the glass parts in our cell phones.
Scientists are taking what we know about high-intensity lasers and are working on a way to use the most intense CPA lasers to accelerate protons.
Hopefully, one day these accelerated particles will help surgeons remove brain tumors that they can't today. In the future, CPA lasers might remove space junk by pushing it out of our orbit and to the Earth's atmosphere, where it will burn up and not collide with active satellites.
In many cases, the practical applications lag several years or even decades behind the original findings.
Albert Einstein created the equations for the laser in 1917, but wasn't until 1960 that Theodore Maiman first demonstrated the laser. Isidor Rabi first measured nuclear magnetic resonance in 1938. He received the Nobel Prize for Physics in 1944 for his research, which led to the invention of magnetic resonance imaging, or MRI. The first MRI exam on a human patient took place in 1977.
Certainly, applications deserve a lot of attention. Before you can get to them though, researchers first have to understand the basic questions behind them.
The term fundamental science may give some the false impression that it doesn't really affect their lives because it seems far removed from anything relatable to them. What's more, the term basic has the non-scientific definition of simple that undermines its importance in the context of basic science.
We must give scientists the opportunity through funding and time to pursue curiosity-based, long-term, basic-science research. Work that does not have direct ramifications for industry or our economy is also worthy. There's no telling what can come from supporting a curious mind trying to discover something new.

Donna Strickland, Professor, Department of Physics and Astronomy, University of Waterloo
This article is republished from The Conversation under a Creative Commons license. Read the original article.
[ad_2]

Source link
Yukon and Northern BC First Nations tackle climate change using Indigenous knowledge and science
YUKON, June 18, 2021 /CNW/ – The Government of Canada is working together in partnership with Indigenous and Northern communities in finding solutions to adapt to the impacts of climate change in the North.
Today, Minister of Northern Affairs, Daniel Vandal, along with Parliamentary Secretary to the Minister of Economic Development and Official Languages (Canadian Northern Economic Development Agency), Larry Bagnell, highlighted progress on three unique, Indigenous-led projects that are helping communities in Yukon and Northern British Columbia adapt to the challenges posed by climate change.
The Minister and Parliamentary Secretary met virtually with Carcross/Tagish First Nation (C/TFN) to learn about their community-led climate change monitoring program. C/TFN has partnered with Tsay Keh Dene Nation (TKDN) and Chu Cho Environmental of Prince George, British Columbia, to build a community-led monitoring project that examines environmental data and Indigenous knowledge to create a holistic picture of how the climate is changing across C/TFN and TKDN traditional territories. The project combines tracking of current and historical climate trends with knowledge shared by Elders while also providing opportunities for youth mentorship and climate change awareness.
The Taku River Tlingit First Nation (TRTFN) is also leading a unique project to assess the impacts of climate change within their traditional territory. Climate change is causing many of the culturally significant ice patches to melt, exposing organic artifacts to oxygen and leading to rapid deterioration. The TRTFN ice patch mapping project will involve performing archaeological assessments to prevent the degradation of artifacts. Research will be guided by traditional knowledge, Elders and oral histories, when available, and heavily involve community, Elders, youth and Knowledge Keepers.
The Pelly Crossing Selkirk Development Corporation is leading the Selkirk Wind Resource Assessment project through the installation of a Sonic Detection and Ranging (SODAR) system. The initiative includes a feasibility study leading up to the construction of a renewable energy facility, including wind, solar and battery energy storage. Expanding clean energy within the region will have direct benefits for communities, including reduced reliance on diesel, job creation and revenue generation for Selkirk First Nation.
These projects are delivering important environmental, social and economic benefits that lead to healthier, more sustainable and resilient communities across Yukon and Northern British Columbia. They also build community clean energy capacity and help to avoid the impacts of climate change.
Atlantic Provinces Ready For Aquaculture Growth
Aquaculture is an important economic driver for rural, coastal and Indigenous communities, and Atlantic Canada is well positioned to increase aquaculture production as global demand for sustainably sourced seafood grows.
That is why the ministers responsible for aquaculture in the Atlantic provinces have agreed to the ongoing development and management of their industries based on common principles. A new memorandum of understanding has been signed by the four ministers, which extends the previous agreement signed in 2008.
"In a time when food security is especially important, it is good to see our aquaculture industry has grown steadily and is poised for continued growth in 2021 based on environmentally responsible, science-based policies and practices," said Keith Colwell, Minister of Fisheries and Aquaculture for Nova Scotia. "Our Atlantic partnership continues to help the industry grow sustainably."
Cooperation between the provinces and the aquaculture industry has led to improvements in pest management, environmentally sustainable aquaculture methods, aquatic animal health and policies to support the shared use of marine and freshwater resources. It also aims to align regulation and policy between the provinces to make the regulatory requirements easier to understand by industry and the public.
Each province has a comprehensive and robust legislative and regulatory framework to ensure environmental sustainability, economic prosperity and public accountability. The provinces update their legislation and regulations regularly. Nova Scotia revamped its regulatory framework in 2015; New Brunswick received Royal Assent for a new Aquaculture Act in 2019 and is working on the supporting regulations; Newfoundland and Labrador completely revised its aquaculture policy in 2019; and Prince Edward Island has recently drafted a new Aquaculture Act.
The ministers have agreed to continue to use science-based evidence for management decisions, thereby increasing public and investor confidence in the Atlantic Canadian aquaculture industry.
COMING SOON: A Healthy Environment and a Healthy Economy 2.0
We all want the same thing: a clean and responsible energy future for our children and future generations while continuing to enjoy a high standard of living.
On December 11, 2020, the Prime Minister announced a new climate plan which he claimed will help achieve Canada's economic and environmental goals.
The proposed plan by Environment and Climate Change Canada (ECCC) entitled "A Healthy Environment and a Healthy Economy" will have an initial investment of $15 billion of taxpayer's money. It is built on 5 pillars of action:
  1) Making the Places Canadians Live and Gather More Affordable by Cutting Energy Waste
2) Making Clean, Affordable Transportation and Power Available in Every Community
3) Continuing to Ensure Pollution isn't Free and Households Get More Money Back
4) Building Canada's Clean Industrial Advantage
5) Embracing the Power of Nature to Support Healthier Families and More Resilient Communities  
In my paper, "A Healthy Environment and a Healthy Economy 2.0" I will objectively critique each pillar in the government's new climate plan and provide alternative solutions to the same issues.
  This is an alternative plan that supports workers, protects lower income earners and creates economic growth while respecting the environment and focusing on the dignity of work.
  This plan abandons virtue-signaling projects and relies on Canadian ingenuity to build our economy and restore Canada's role of responsible leadership in the world.