Organized labour lines up against Canada's stance on Venezuela
Organized labour in Canada is voicing its opposition to the federal government's decision to embrace Venezuelan opposition leader Juan Guaido over the regime of Nicolas Maduro — which has been accused of human rights abuses and of winning the last election through vote-rigging.
The Canadian Union of Public Employees (CUPE) — Canada's largest union — the Canadian Union of Postal Workers and the Canadian Labour Congress have expressed varying degrees of concern over Canada's move to recognize Guaido as interim president.
They're sharing that stance with the federal New Democrats, who came out against the federal government's position late last month. "Canada should not simply follow the U.S.'s foreign policy, particularly given its history of self-interested interference in the region," said a statement by NDP Leader Jagmeet Singh issued Jan. 24.
CUPE defended its position Monday when contacted by CBC News. "The statement speaks for itself," said a CUPE spokesman.
Canada accused of siding with Trump
CUPE goes on in that statement to accuse the Trudeau government of choosing to side with a self-declared interim leader over President Nicolas Maduro, "who was duly elected by the people of Venezuela." It also accused Ottawa of siding with U.S. President Donald Trump and American foreign policy.
CUPE said that it "rejects any attempt by the Canadian government to interfere with the democratic processes and sovereignty of the Venezuelan people. Given the history of U.S. involvement in the region, the actions of Guaido have all the signs of a coup d'état.
A masked anti-government protester throws a Molotov cocktail towards Venezuelan Bolivarian National Guardsmen who clashed with the small group of demonstrators when they tried to block a road after the group attended a peaceful demonstration called by self-declared interim president Juan Guaido, to demand the resignation of President Nicolas Maduro, in Caracas, Venezuela, Saturday, Feb. 2, 2019. (Fernando Llano/Associated Press)
"We warn Prime Minister Justin Trudeau against playing any role in bringing about regime change in another country."
At the news conference closing today's meeting in Ottawa of the Lima Group of nations, Foreign Affairs Minister Chrystia Freeland said the idea that opposition to Maduro is part of a coup plot organized by western democracies "could not be further from the truth."
She said that Guaido derives his legitimacy from being the leader of the national assembly in Venezuela. She also emphasized the temporary nature of the Lima Group's recognition of Guaido as interim president.
Freeland said Guaido's interim authority is meant to be used solely to order free and fair elections to return Venezuela to democracy.
The Canadian Labour Congress (CLC), of which CUPE is a member, also issued a statement last week, warning of the dire consequence of "international interference" in Venezuela's crisis.
But its statement was more measured than that of CUPE, focusing on calling for the government to "promote dialogue to foster a peaceful solution to the Venezuelan crisis."
CLC President Hassan Yussuff is also the president of the Trade Confederation of the Americas, which includes the labour movement in South America.
He said he finds the international endorsement of Guaido "problematic" but his main concern is the prospect of military intervention — something the U.S., which is not a member of the Lima Group, has mused about.
Venezuelan President Nicolas Maduro delivers a speech during a gathering with supporters to mark the 20th anniversary of the rise of power of the late Hugo Chavez, the leftist firebrand who installed a socialist government, in Caracas on February 2, 2019. (Yuri Cortez/AFP/Getty Images)
"I think Canada has an important role to play, but I think we have to distinguish that very differently than the interest of the United States," said Yussuff in an interview with CBC News.
The Lima Group's final statement out of Monday's meeting in Ottawa emphasized the group's "support for a process of peaceful transition through political and diplomatic means without the use of force."
Protesters crash press conference
About 50 protesters showed up at the Lima Group's closing news conference to denounce Canada's moves so far. The protesters had varied backgrounds, but some represented organized labour.
National President of the Canadian Union of Postal Workers Mike Palecek said the protesters wanted to send a message that Canada should not interfere in a foreign democracy.
Palacek, like many of the protesters, said he doesn't blame Maduro or his predecessor Hugo Chavez for the humanitarian crisis in Venezuela.
"There's no doubt that there's problems. A lot of those problems are a result of precisely of the economic sanctions levied against Venezuela and the fact that we've seen oil prices crash globally," he said.
Two of the protesters, masquerading as journalists, interrupted the Lima Group's closing news conference, shouting, "Hands off Venezuela" while holding a big black sign that read "Stop the plunder."
"We are recognizing and supporting the right of the people of Venezuela to enjoy democracy," Freeland said after the protesters were escorted from the room. "The kind of democracy which political protesters in Canada do enjoy and, I am sad to say, political protesters in Venezuela do not."
Outside the venue, the protesters made speeches about the benefits to Venezuela's poor of the Bolivarian revolution, led by the late Chavez. No mention was made of the current situation: millions of Venezuelans don't have enough to eat, there are massive shortages of basic medicines and the country's inflation rate is slated to rise to 10 million per cent this year.
At least three million people have fled Venezuela since 2015.
Winner in Deep River's 'Catch the Ace' fundraiser
Mark McEachen is $574,002.50 richer after the ace of spades was drawn in the "Catch the Ace" fundraiser for the Deep River and District Hospital Thursday night.
McEachen, who lives in Douglas, won the weekly prize plus the jackpot. He bought his ticket at the Bear's Den earlier in the day.
The lottery began nearly a year ago and has raised around $780,000 for the hospital which will be used to buy X-ray and imaging equipment to replace aging equipment.
Anciens combattants : la réforme d'indemnisation des libéraux jugée inéquitable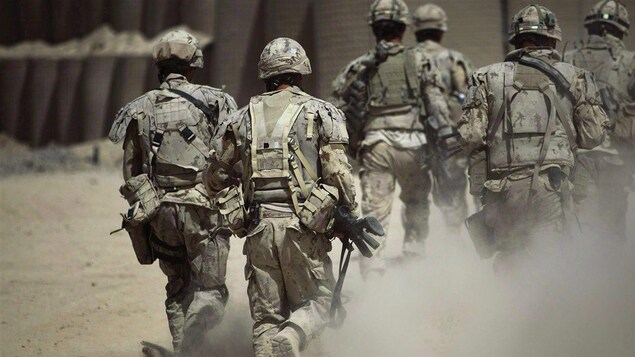 Ce rapport, intitulé Différence de coûts entre les trois régimes de prestations pour les anciens combattants (Nouvelle fenêtre), conclut également que le système des libéraux, appelé Pension à vie, sera moins généreux envers les nouvelles générations de vétérans, en comparaison avec leurs aînés.
Le ministre de la Défense nationale, Harjit Sajjan, qui occupe par intérim le poste de ministre des Anciens combattants depuis la démission de Jody Wilson-Raybould, la semaine dernière, assure toutefois que la réforme proposée par son gouvernement corrigera la plupart des failles des systèmes précédents.
« Le système que nous mettons en place prend soin de nos anciens combattants d'une manière beaucoup plus globale », a affirmé le ministre.
Les anciens combattants qui s'opposent depuis le début à la réforme des libéraux ont plutôt perçu les conclusions du rapport comme une confirmation de leurs craintes, soit que le nouveau régime va à l'encontre de l'équité intergénérationnelle.
Le nouveau régime vise tout simplement à permettre au gouvernement du Canada de faire des économies, et cette intention est savamment dissimulée derrière une série de chiffres et un jargon incompréhensible.
« Le rapport du directeur parlementaire du budget confirme et valide toutes les démarches que nous avons entreprises », a ajouté M. Campbell, en référence à sa propre bataille juridique. Amputé des deux jambes après un déploiement en Afghanistan, le vétéran a intenté une poursuite contre le gouvernement fédéral afin qu'il rétablisse une prestation d'invalidité qui datait d'avant 2006, mais sans succès.
L'analyse comparative menée par le directeur parlementaire du budget, Yves Giroux, arrive exactement à cette conclusion : le système en place avant 2006 était le plus généreux, et ce, pour tous les vétérans.
Une promesse électorale non tenue, selon des vétérans
Les libéraux avaient pourtant promis, en campagne électorale, de réinstaurer la pension d'invalidité à vie après que des vétérans se sont plaints que la somme forfaitaire et les autres allocations visant à la remplacer étaient en réalité moins généreuses.
Les anciens combattants ont alors pris pour acquis que, pour ce faire, un gouvernement libéral remettrait en place le système qui existait avant la création de la Nouvelle Charte des anciens combattants, en 2006. Mais le gouvernement Trudeau a plutôt choisi de mettre sur pied son propre système, qui doit entrer en vigueur le 1er avril.
En somme, de nombreux vétérans estiment que Justin Trudeau n'a pas respecté sa promesse électorale.
Dans son rapport, Yves Giroux estime que le nouveau régime d'indemnisation permettra à la plupart des vétérans qui reçoivent déjà un soutien financier d'augmenter le montant de leurs prestations de 6 à 24 %.
Ceux qui feront leur demande à compter du 1er avril seront toutefois pénalisés en raison de l'élimination d'une prestation d'invalidité spécifique en cas d'inaptitude au travail. « C'est pourquoi les vétérans les plus gravement blessés seront les grands perdants de cette transition », a expliqué Yves Giroux.
Il est impossible de savoir si c'est intentionnel [de la part des libéraux]. Ce que je peux dire, c'est que la panoplie de prestations qui existent pour les vétérans est très, très complexe. Donc il se peut que ce soit une erreur de bonne foi, comme il peut s'agir d'un geste intentionnel. Je n'en sais rien.
Pour Brian Forbes, président du Conseil national des associations d'anciens combattants au Canada, qui représente 60 groupes de vétérans, le gouvernement libéral devrait s'empresser de corriger le tir en appliquant plusieurs des recommandations du comité consultatif qui s'est penché sur la question.
Sinon, les libéraux pourraient s'en mordre les doigts lors du scrutin d'octobre prochain, a-t-il mis en garde.
Alberta to end use of photo radar as 'cash cow'
The Alberta government plans to eliminate photo radar as a tool for revenue generation, Transportation Minister Brian Mason vowed Thursday.
"I think in some cases photo radar in the province of Alberta has been a cash cow," Mason told a news conference in Edmonton. "It's my intention that we are going to humanely put the cash cow down."
The government will introduce new guidelines and force municipalities to disclose locations and the rationale for their use at those sites.
Starting March 1, 2020, municipalities will be required to submit reports to the Alberta government showing the cameras are making the roads safer.
Municipal traffic safety plans will have to tie photo radar locations to safety and will be audited by the provincial government.
The government will prohibit the use of photo radar in speed transition zones starting June 1. The new guidelines will, for the first time, define what a transition zone is. The size of a zone varies according to how much a vehicle needs to slow down. For example, a change in speed of 30 km/hr, requires a transition zone of 200 metres, 100 meters on either side of a sign. 
Municipalities will also be prohibited from placing the devices on multi-lane highways, like Anthony Henday Drive in Edmonton, without having documented traffic data to justify them.
Conventional speed enforcement will still be allowed.  
The locations of photo radar cameras will have to be posted online and updated monthly starting June 1.
The new rules come following a $190,000 two-year review on whether municipalities are using photo radar for safety or as a cash cow.
Although the report was commissioned over concerns photo radar was used to generate revenue for municipalities, the report reaches no conclusion given the lack of traffic data.
The third-party review found photo radar has a marginal contribution to traffic safety, reducing collisions rates by only 1.4 per cent.
Mason said most collisions take place at intersections but photo radar is rarely used there. Instead, they are often deployed on stretches of road where drivers usually speed.
Mason said he believes some municipalities were using the program to generate revenue. Some municipalities have fewer photo radar locations but generate more revenue, he said.
"That tells me that there are different factors at play in terms of the decision … on how much photo radar you're going to deploy, where you're going to deploy it," Mason said.
"There's not a relationship, in many cases, between improved safety outcomes and the deployment of photo radar." 
 According to the report, in 2016-17 Calgary generated $38.1 million from 950 photo radar locations while Edmonton took in $50.8 million from 272 locations. 
Twenty-seven Alberta municipalities have photo radar programs.
The review began in early 2017. The government hoped to compile data on how photo radar locations are chosen, traffic statistics and how much money municipalities are collecting from the program.
When he announced the review, Mason noted the use of photo radar and resulting revenues increased after the City of Edmonton took over the photo radar program from police.
Edmonton's program is transparent, mayor says 
Calgary Police issued a statement saying its photo radar program already complies with the new guidelines. 
"We will make any required reporting adjustments and will take additional time to review the findings in depth to determine any further impacts," the statement said. "We are supportive of the review's findings as they are intended to enhance public and officer safety."
Edmonton Mayor Don Iveson insisted the city is transparent and responsible about how it uses photo radar. 
"I think It's important not to generalize about all municipalities," Iveson said.
He said Edmonton directs its photo radar revenues to a reserve fund that is used to fund traffic safety initiatives like education, crosswalk and signalling improvements.
Iveson said photo radar revenues from 2018 are lower than the amounts collected in 2016. 
In 2018, some $42 million was collected from photo radar and intersection cameras, a drop of about 27 per cent from $52 million in 2016.  
"The revenue is coming down because people are slowing down, which is a good thing," he said. 
Gord Cebryk, deputy manager of city operations, said the city will review the province's new guidelines to determine if changes need to be made. 
"I think most of our locations and our practices are already in compliance, but we want to just make sure that everything is in accordance with the new guidelines," he said. 
That includes showing why certain locations are chosen, that they don't unfairly have photo radar in transition zones, such as going from 50 km/h to 60 km/h, "making sure that what we do is always safety-based."