Le ministre de l'Agriculture critique les « ayatollahs » du ministère de l'Environnement
[ad_1]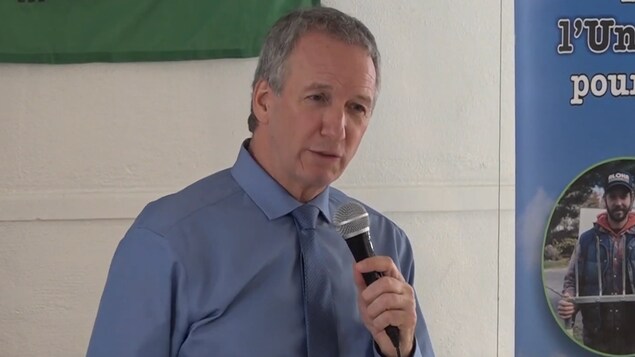 L'équipe du ministre de l'Agriculture lui avait suggéré de prendre une fin de semaine de repos, après une dizaine de jours difficiles à tenter de gérer la controverse causée par le congédiement d'un fonctionnaire lanceur d'alerte.
Mais André Lamontagne a tenu à prendre la parole, samedi, devant un parterre de petits producteurs membres de l'Union paysanne, réunis à Québec. Le discours était filmé par le média spécialisé La Vie Agricole.
Le ministre a pris un « engagement » : réduire les « embûches » auxquelles font face les petits agriculteurs.
Il affirme avoir déjà lancé « un grand chantier » pour revoir la loi et la réglementation sur les produits alimentaires et la transformation.
Il y a un gros tampon pour s'assurer qu'il n'y aura pas de problèmes de santé publique et de salubrité. (…) Mais moi, la question que j'ai posée, c'est : Est-ce qu'on peut réduire ce tampon-là? (…) À un moment donné, est-ce qu'on n'a pas viré fou? N'est-ce pas trop?
Benoit Charette et les « ayatollahs » du ministère de l'Environnement
Le ministre de l'Agriculture a poursuivi son discours en expliquant que la loi environnementale ne convient pas aux petits agriculteurs et qu'il veut leur faciliter la vie. André Lamontagne a raconté en avoir fait part à son collègue ministre de l'Environnement, Benoit Charette.
« Les premières choses que j'ai faites, c'est de lui dire : Benoit, chez vous, qui s'occupe de l'agriculture? Quelle compréhension il a de l'agriculture? Il va falloir qu'on s'assoit, qu'on trouve un moyen de sensibiliser les gens chez vous – et je peux vous dire que là-dedans, il y a quelques ayatollahs, on s'entend là-dessus – pour voir comment on peut accommoder. »
Les ayatollahs sont les principaux chefs religieux de l'islam chiite, mais le terme est aussi utilisé pour désigner, selon le dictionnaire Larousse, des personnes aux idées rétrogrades qui usent de manière arbitraire et tyrannique des pouvoirs étendus dont elles disposent.
Des propos qui inquiètent
« On espère que le ministre Lamontagne ne souhaite pas assouplir davantage les mesures liées à l'utilisation de pesticides quand il dénonce certains "ayatollahs" du ministère de l'Environnement », a réagi Thibault Rehn, coordinateur de Vigilance OGM.
« Pour moi, c'est inquiétant, parce que ça trahit un préjugé », a affirmé Karel Mayrand, directeur général pour le Québec de la Fondation David Suzuki.
De voir ce ministre se faire le lobbyiste de l'industrie auprès du ministre de l'Environnement, ce n'est pas très approprié.
Karel Mayrand rappelle que le ministre Lamontagne a été accusé, pas plus tard que la semaine dernière, de céder aux lobbys en approuvant la congédiement d'un lanceur d'alerte qui dénonçait l'influence des producteurs et des compagnies de pesticides dans la recherche scientifique en agriculture.
« J'y vois une approche conservatrice, a dit M. Mayrand. Le ministre voit de la rigidité réglementaire, donc il veut enlever de la réglementation. »
Avant de faire la leçon à d'autres ministères, il devrait s'assurer que son ministère fait son travail comme il faut.
« La défense de l'environnement, ce n'est pas seulement la job du ministre de l'Environnement, a tenu à dire Karel Mayrand. C'est la responsabilité de tout le gouvernement. »
La Fondation David Suzuki reconnaît toutefois que des modifications pourraient être faites pour adapter la législation à la réalité des petits producteurs qui ne font pas de monoculture, mais il faut être prudent a précisé Karel Mayrand. Si la réglementation est rouverte, il craint que les grands lobbies en profitent pour se faire valoir.
L'Union paysanne demande depuis plusieurs année que la loi soit modifiée pour mettre fin au monopole syndical de l'Union des producteurs agricoles (UPA) et permettre le pluralisme d'association. Actuellement, tous les agriculteurs doivent payer une cotisation à l'UPA.
André Lamontagne a été le premier ministre de l'Agriculture à participer au congrès de l'Union paysanne.
Durant son discours, le ministre a refusé d'aborder le congédiement de l'agronome Louis Robert. Il a mentionné : « Je n'ai pas de langue de bois, ça m'a coûté cher la semaine passée. »
[ad_2]

Source link
Ottawa Book Expo Author Boot Camp: What's in it For You?
Would you love to attend a writers' book camp? If yes, then check out this upcoming boot camp on meetup.com organized in conjunction with the Ottawa Book Expo. The boot camp seeks to boost the commercial success of authors while providing a convivial atmosphere for social networking among authors. There you would learn what you need to do to boost the sale of your book. The goal of the group asides social networking is to empower authors to make money while also saving money.
What's in it for you?
Whether you are a new writer who hasn't published any books yetor you are a veteran writer who has been publishing for decades, a writers boot camp could still be extremely beneficial to you in a couple of ways. There, you would get to meet other writers, you would be motivated to start up your book or continue your writing journey. Ways you can benefit from a writers boot camp include:
You get to ask questions and have your questions answered.
The book camp is not just a place to make new friends and link up with old ones; you also get to learn new ideas. You could ask questions about any topic on writing and have these questions answered by professionals. You would also get to see other writers ask their questions, and learn from them. Your questionsare more likely to be answered directly by someone who knows their onion in the field.
Network with other writers
At the boot camp, you would get to make friends with other writers who would be in attendance. A lot of writers are introverts who would rather not make small talk; however, you have to remember that putting yourself out there, is what's going to help you sell your books. You could also come along with a business card that has your name, what kind of author you are, and the links to your social media. Networking with other writers is definitely worth the time and money you're spending at the Expo.
There's no better way to gain some exposure as a writer than starting local. The boot camp would feature experts on all types of writing. This is one of the most efficient ways to connect with other local writers who would are likely to keep in touch with you through social media or in person, you can also connect with your fans and readers who would be likely to purchase your books. If you're thinking about attending a writers' festival, start local, with the Ottawa Book Expo.
The event is open to all writers and publishers locally and internationally. The Expo is a grassroots-oriented author, publisher, bookseller and literary services festival which supports authors and publishers who seek to promote marginalized voices such as those of different cultural backgrounds, gender and LGBTQ communities.The Expo would hold at the Horticulture Building in Lansdowne Park on the 20th of October 2019.
Virtual farmer's market comes to Ottawa
Ottawa first-ever virtual farmer's market has begun delivering food from local farms straight to people's homes.
Farm to Hand is making it easier for people who cannot access their local farmer's markets to find local, fresh organic food by bringing ordered food right to their doors.
"The difference between us and the farmers market is really just the convenience and the on-demandness," Sean Mallia, the co-founder of the business, told CBC Radio's In Town and Out.
"[Often times a] person wants to make the purchase but they don't have the time on Saturdays to go to the farmers market. Everyone wants to eat local … so when it's easy for them to do it, it just happens." In Town and Out No time to drive to the farmer's market but really want to eat local?
Connecting farmers with people 
The online platform allows farmers to list all their own products, and buyers can have the goods delivered.
"What we really are trying to do is build that connection between farmer and consumer," Mallia said. "When people fill up a cart … they're not just filling a cart full of food, they're filling a cart full of farmers and farms and their stories."
Mallia said the aim is to connect people to the "vibrant food ecosystem" around them, and to local support farmers.
The virtual market is currently limited to the Ottawa area as a pilot project, but Mallia, 21, said the company is looking to expand.
"[We chose Ottawa because] Ottawa really cares. Ottawa really thinks about local [food] and thinks about sustainability," he said. "It just made sense to come out of Ottawa."
Denley: Stonebridge and Mattamy show compromise is possible over development in Ottawa
In Ottawa, development proposals too often end up in acrimony and trips to the provincial planning tribunal. That's why it's so refreshing to see Mattamy Homes and residents of the south Nepean suburb of Stonebridge work together to resolve a dispute in a way that's likely to lead to a victory for both sides.
A little over a year ago, Mattamy created an uproar in the golf course community when it announced a plan to build 158 new homes on golf course lands and alter the Stonebridge course to make it shorter and less attractive to golfers. To residents, it looked like the first step in a plan to turn most, or all, of the course into housing.
It's easy to see why residents were upset. When people pay a premium for a lot backing onto a golf course, there is certainly an implication that the lot will continue to back onto a golf course, but without a legally binding guarantee, it's no sure thing.
Mattamy's situation was understandable, too. This is a tough time to be in the golf course business in Ottawa. There are too many courses and not enough golfers so it's no surprise that golf course owners would find the idea of turning a course into a housing development to be attractive, doubly so when the golf course is owned by a development company.
This is a tough time to be in the golf course business in Ottawa. There are too many courses and not enough golfers so it's no surprise that golf course owners would find the idea of turning a course into a housing development to be attractive.
In the face of the local opposition, Mattamy withdrew its development application. When things cooled down, the company, the neighbours and the city started to work together on finding a solution that would satisfy everyone.
With the city-sponsored help of veteran planning consultant Jack Stirling, they came up with an unusual idea that will still let Mattamy develop its desired number of homes, in exchange for a promise to operate the course for at least 10 years and redesign it so that it remains attractive to golfers.
At the end of the 10 years, Mattamy can sell the course to the community for $6 million. To raise the money, the community working group is proposing a special levy to be paid by Stonebridge homeowners starting in 2021. The amount will range from $175 a year to $475 a year, depending on property values.
If the deal is approved by a majority of homeowners, Mattamy gets its development and a way out of the money-losing golf business. Homeowners get certainty about no future development. They can choose to keep the course going or retain the 198 acres as green space. It's not a cheap solution, but it keeps their community as it is and preserves property values.
If a majority of homeowners backs the deal, both the levy and redevelopment will still need to be approved by the city, something scheduled for late this fall.
Stonebridge Community Association president Jay McLean was part of the working group that prepared the proposal and he's pleased with the outcome. The community's number one goal was preserving green space, and the deal will accomplish that, he says. Mattamy division president Kevin O'Shea says the deal "gives the community the certainty they are looking for."
As useful as this deal could be for Stonebridge residents, it doesn't provide a template to resolve a somewhat similar dispute in Kanata North, where the owner of the Kanata Lakes golf course wants to work with a group of local developers to replace the course with housing. In Kanata, a longstanding legal agreement saying the community has to have 40 per cent open space strengthens residents' situation. In Stonebridge, there was no legal impediment to developing the whole course.
Golf course communities have become an anachronism in a city intent on intensifying within the urban boundary. Redeveloping those lands for housing is in sync with the city's planning goals, but it's not politically saleable to homeowners who thought they had a deal. If it goes ahead, the Stonebridge plan shows there is a reasonable middle ground.