Hacked Twitter accounts used to promote Saudi and its leadership | Saudi Arabia News
[ad_1]

Several verified Twitter accounts have been taken over by pro-Saudi operatives and some have been used to promote Saudi Arabia or its leadership, according to an academic who researches digital propaganda and Twitter bots.
At least four verified Twitter accounts, including one that belonged to an American meteorologist who died more than two years ago, appear to have been hacked and sold to pro-Saudi entities, Marc Owen Jones wrote in a blog post on Saturday.
A verified Twitter account usually signals that the person maintaining it is who they claim to be.
One of the verified hacked accounts originally belonged to the Weather Channel meteorologist David Schwartz who died in 2016.
That account, @TWCDaveSchwartz, has now been followed by dozens of pro-Saudi and Saudi-based accounts.
The account itself appears to have posted a single tweet, which praises the al Qassim region of Saudi Arabia, and its governor, Prince Faisal bin Mishal. But a screenshot of the same account taken in 2018 shows it was used to promote tourism in Saudi Arabia at the time.
So you hijack a man who died of cancers account to promote tourism with a rubbish resolution background. FAIL pic.twitter.com/DnPm7XdMKP


— Spectrum (@spectrumaots) March 16, 2018
Jones, an assistant professor in Middle East Studies and Digital Humanities at Hamad Bin Khalifa University in Qatar, said that verified accounts were more desirable as users are more likely to accept them as a legitimate source of information.
"[A verified account] would gain credibility and followers more rapidly than a non-verified account," Jones told Al Jazeera.
"In practice, it is limited by the fact you cannot change the handle, meaning anything obviously incongruous would stand out in the local context," he added.
Jones identified several other profiles that were taken over, including one belonging to Sheyna Steiner, a personal finance writer who previously appeared as an analyst on Fox News. 
In practice, it is limited by the fact you cannot change the handle, meaning anything obviously incongruous would stand out in the local context

Marc Owen Jones
Steiner's account has posted and re-tweeted dozens of pro-Saudi posts in recent days. On Sunday, the account lost the verified blue tick mark that it carried on Saturday, but it continued to tweet messages promoting Saudi King Salman and Crown Prince Mohammed bin Salman (also known as MBS).
One of the messages included a picture of King Salman and Prince Mohammed, saying "we are all Salman, we are all Mohammed".
Another tweet from the account said: "I tell those idiots who have been reporting my account since yesterday, do so… Your actions will not stop me from defending my country," and then claimed that "if my account is shut down there are a thousand others".
The tweet also included several hashtags calling Saudi Arabia and the Saudi leadership a "red line", a reference to Saudi Minister of State for Foreign Affairs Adel al-Jubeir comments that calls for a change in leadership in Saudi are a "red line".
 

Steiner's account has posted tweets promoting Saudi leaders 

[Al Jazeera]
Another verified account, seemingly hacked, is that of Australian Nicole Jade Parks, a former Winter Olympian.
Although the profile has no recent tweets, it is followed by numerous pro-Saudi and Saudi-based accounts, similar to the accounts that follow the Schwartz and Steiner accounts.
'Manipulate Twitter en masse'
Over the past year, Saudi Arabia's use of Twitter come under increased scrutiny.
Research by the Digital Forensic Research (DFR) lab, part of the Atlantic Council think-tank, uncovered fake accounts spreading pro-government tweets that cast doubt on reports that Khashoggi was murdered.
According to that research, a YouTube video containing an unfounded conspiracy theory, claiming Khashoggi was still alive, was spread using a combination of real Saudi Twitter influencers and a large number of fake accounts.
"Twitter has emerged as a major battleground in Saudi Arabia's diplomatic conflicts, though it's difficult to differentiate between regime-controlled use and pro-regime, voluntary use," Ben Nimmo, head of DFR lab, told Al Jazeera. 
"We saw a surge in automated, bot-driven activity during the Saudi-Qatar row which started in the summer of 2017, [although] it's only fair to mention that a lot of bots were used to boost pro-Qatar messaging in 2017, too," Nimmo said. "So this is not unique to Saudi Arabia."
That drive was aimed mostly at the Arabic-speaking audience whereas, following Khashoggi's murder last year, there was a bigger English-language component to the traffic.
Silencing critics
In October, the New York Times published an investigation into how Saudi Arabia used Twitter accounts to stifle dissent and silence critics on the social media platform. 
"In one conversation viewed by The Times, dozens of leaders decided to mute critics of Saudi Arabia's military attacks on Yemen by reporting the messages to Twitter as 'sensitive'," the report said.
"Such reported posts are one of the things Twitter considers as signals when it decides to hide content from other users, blunting its impact," the New York Times said.
The same article also alleges Twitter fired one of its employees in 2015 after the Saudi Arabian government approached that person to spy on the company on the country's behalf.
So far, Twitter has removed the verified status, including the blue check mark, for at least two of the suspicious accounts.
Al Jazeera contacted Twitter about those accounts but did not receive a response prior to publication. Al Jazeera also contacted the Saudi Arabian Ministry of Interior for comment.
"Given the ever-expanding amount of evidence highlighting Saudi's manipulation of Twitter, whether through moles in Twitter's San Francisco HQ, or through massive troll armies, it is not improbable to wager that these accounts may have been obtained by some nefarious entity for some sinister purpose," Jones wrote in his analysis on the takeover of the verified accounts.
The tactical goal is to get hashtags which support the monarchy to trend, either locally or globally. Once a hashtag trends, far more users will see it

Ben Nimmo
"While such a risky strategy would likely be found out at some point, it is also possible that there are numerous far more credible instances of verified accounts being stolen and used," he told Al Jazeera.
"Often Saudi strategy is to manipulate Twitter en masse, as opposed to be concerned about the consequences of people finding individual accounts suspicious," he said.
But, according to Nimmo, the effects of trying to manipulate Twitter in such large numbers might be minimal.
"The tactical goal is to get hashtags which support the monarchy to trend, either locally or globally. Once a hashtag trends, far more users will see it," said Nimmo. 
"At best, they'll click on it to see the message; at the very least, it can have a subliminal effect on perception. The challenge is that Twitter isn't a vacuum."
What's strange too is that @twcdaveschwartz 's account is still verified, but its name has changed since yesterday. It is no longer "فعاليات القصيم' but just a full stop. So that means someone is doing something to it, just not removing verified status. Odd…


— Marc Owen Jones (@marcowenjones) February 10, 2019
Buying accounts from hackers
Last year, Twitter suspended its verification programme because many users interpreted the blue mark that accompanies verified accounts as an endorsement by the company.
As a result, access to verified accounts has become coveted among hackers, who sell the login information online.
"Verified accounts are a particularly attractive target for fraudsters, because the assumption is that it is a legitimate account," said Nimmo.
According to Jones, it is not unlikely that the pro-Saudi operatives bought access to these pages on one of the many forums where access to hacked accounts is sold.
"Mashable did a report saying people would pay upwards of $1,200 for a verified Instagram account," he said.
2 / Verification has long been perceived as an endorsement. We gave verified accounts visual prominence on the service which deepened this perception. We should have addressed this earlier but did not prioritize the work as we should have.


— Twitter Support (@TwitterSupport) November 15, 2017
[ad_2]

Source link
Ottawa announces new funding to combat online child abuse
Ottawa has announced $22 million in funding to fight online child abuse.
Noting that police-reported incidents of child pornography in Canada increased by 288 per cent between 2010 and 2017, Public Safety Minister Ralph Goodale made the announcement Tuesday.
It follows a London meeting last week that focused on the exploitation of children between Goodale and his counterparts from the United States, Britain, Australia and New Zealand, collectively known as the Five Eyes intelligence group.
Major internet companies, including Facebook, Google and Microsoft, were also at the meeting and agreed to a set of rules the members of the group proposed to remove child pornography from the internet quicker.
On Tuesday, Goodale warned internet companies they had to be better, faster and more open when in comes to fighting child abuse on line.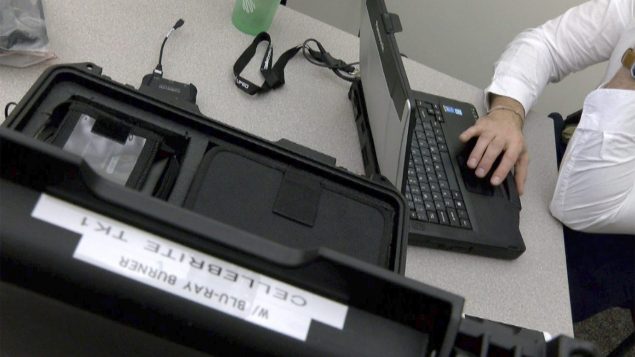 In this Friday, Jan. 12, 2018 photo, detectives use the Cellebrite system to extract information from cellphones at the State Police facility in Hamilton Township, N.J. "Operation Safety Net," the results of which were announced in December, netted 79 people suspected of exploiting children. (Thomas P. Costello/Asbury Park Press/Canadian Press)
"If human harm is done, if a child is terrorized for the rest of their life because of what happened to them on the internet, if there are other damages and costs, then maybe the platform that made that possible should bear the financial consequences," Goodale said.
The government plan includes $2.1 million to intensify engagement with digital industry to develop new tools online and support effective operating principles, $4.9 million for research, public engagement, awareness and collaboration with non-governmental organizations and $15.25 million to internet child exploitation units in provincial and municipal police forces across the country.
Goodale said the strategy recognizes that technology is "increasingly facilitating the easy borderless access to vast volumes of abhorrent images."
That, he said, makes investigations increasingly complex,
"This is a race where the course is always getting longer and more complicated and advancing into brand new areas that hadn't been anticipated five years ago or a year ago or even a week ago," Goodale said.
Gas prices expected to dip in Ottawa
If you can wait an extra day to fill up the gas tank, your bank account might thank you.
Roger McKnight of Enpro is predicting a five cent dip in gas prices Wednesday night at midnight.
This comes after a four cent drop this past Friday, just ahead of the August long weekend.
McKnight said the reason for the drop, both last week and this week, is due to comments made by US President Donald Trump.
He says after the drop, the price will be, on average, 118.9 cents/litre in the Ottawa region.
Oka asks Ottawa to freeze Mohawk land deal, send RCMP to Kanesatake
The town of Oka is asking the federal and provincial governments to slap a moratorium on a proposed land grant to the local Mohawk community in Kanesatake and to establish an RCMP detachment on the First Nations territory to deal with illegal cannabis sales outlets.
The requests were contained in two resolutions adopted Tuesday night by the Oka town council.
The administration of Oka Mayor Pascal Quevillon held its first public meeting since the start of the controversy that pitted the town council against the Kanesatake band council over a decision by a local promoter to give local lands to the Mohawk community.
The three resolutions are addressed to Prime Minister Justin Trudeau's government, Quebec Premier François Legault's government and the Kanesatake band council led by Grand Chief Serge Otsi Simon.
As each resolution was read into the record, Quevillon stressed that the town of Oka was only looking to live in peaceful cohabitation with the Mohawk community.
The town also called upon Ottawa to establish a consultation process that would take into account the concerns of residents in Oka and Kanesatake.
Quevillon's administration also wants access to the plans detailing what lands are at the centre of negotiations between the federal government and the Mohawk community for purchase, suggesting the talks are simply a disguised form of expropriation.
"They're giving money to (the Mohawks) to buy our land and annex it to their territory," Quevillon said.
Despite its demands, the Oka council adopted an official statement addressed to the Kanesatake band council saying the town's population wanted dialogue and peaceful cohabitation, with Quevillon citing the 300 years of close links between the two communities.
During the council meeting's question period, some residents suggested that the council deal with other groups that say they are speaking for Kanesatake, including Mohawk traditionalists. Mayor Quevillon replied that the town would only deal with the band council and did so out of respect for Grand Chief Simon.
The mayor also argued that the RCMP, a federal police force, was best suited to be deployed in Kanesatake, where it would ensure the law would be respected, particularly on the issue of illegal cannabis shops.
Quevillon contended such a deployment was the only way for both communities to work together toward their mutual economic development.
Meanwhile, the apology Grand Chief Simon has said he is expecting from Quevillon for remarks he made earlier this summer about the Mohawk community in Kanesatake does not appear to be coming any time soon.
Asked by a resident if he would apologize, Quevillon left the answer to those citizens who attended the meeting, the vast majority of whom replied, "no."