'It isn't up to children to protect themselves': How to keep kids safe from sexual abuse in sports
[ad_1]

This story is the third of a three-part series by CBC News and Sports on abuse in amateur sport in Canada. Read the first and second stories in the series.
As the scope of the problem of child sexual abuse in Canadian amateur sports becomes clear, the sports world is left playing catch-up as it tries to revamp safety policies and provide parents with the tools they need to better protect young athletes.
A CBC News and Sports investigation found at least 340 coaches across Canada have been charged with sexual offences against minors in the past 20 years. Of those, 222 coaches have been convicted.
There are currently at least 34 trials against coaches before the courts.
"It breaks my heart that my sport has been looked at in the way that it has. It breaks my heart that there are kids who are hurting," said Calgary gymnastics mom Kim Shore.
The trial of former Michigan State University and USA Gymnastics doctor Larry Nassar was the tipping point for Shore. A competitive gymnast herself while growing up, Shore watched many of the harrowing stories of abuse shared by more than 150 victims of Nassar. She says it was gut-wrenching but propelled her into action.
But it wasn't just Nassar's case that had Shore worried about the future of her sport. Canada was grappling with its own issues — three gymnastics coaches were suspended for sexual assault charges within the span of a few months.
Kim Shore, left, pictured here with her daughter Addison, a competitive gymnast, wasn't impressed with the resources online for parents looking for tips to keep their children safe in sports. (Jill English/CBC)
Shore, whose 12-year-old daughter, Addison, is a competitive gymnast, went in search of resources to try to arm herself with information on how to detect potential predators.
"To be honest, I started Googling and looking for advice for parents on how to raise an athlete and what initiatives need to be taken to make sports better," Shore said.
What she found is there wasn't a lot of information on how a parent should confront coaching abuse.
CBC asked some child protection advocates and sports experts about what local and national sport organizations — and parents — can do to protect children.
Watch Kim Shore discuss her tough conversations with young athletes on The National:
Watch for transgressions
In the era of social media, experts say parents need to be aware of who their child is communicating with online. CBC's investigation found many cases where abuse was initiated by a coach online.
In Nova Scotia, for example, volleyball coach Joseph Potvin pleaded guilty in September 2011 to sexual exploitation, sexual assault, luring a child and producing child pornography. He was sentenced to four years in prison.
Potvin admitted to grooming a 17-year-old girl he was coaching in Dartmouth using electronic communication, including having sexually explicit webcam chats with her.
This chart shows findings from CBC's investigation into charges and convictions against Canadian coaches for sexual offences against minors. The breakdown is based on the sports in which the charged coaches were involved. (CBC)
Potvin's techniques of online manipulation aren't uncommon, says Noni Classen, director of education at the Canadian Centre for Child Protection. She says coaches are turning to text messaging and social media with more regularity to prey on young athletes.
"If a coach starts to text a child individually 50 times a day and the parent is not clearly on those and is not aware of the correspondence that's happening … That's a transgression," she said.
Classen suggests parents create a joint email address with their child for all communication with a coach. She also says parents should initiate a conversation with coaches early on about proper coach-athlete boundaries.
Toxic power imbalance
When it comes to trying to build young children into sports superstars, parents can sometimes be reluctant to question a coach's behaviour.
Lorraine Lafrenière, chief executive of the Coaching Association of Canada, says coaches have a privileged position over athletes, which can lead to a toxic power imbalance and potentially even abuse.
"We think a coach has the gold dust to performance and so therefore we confer all of this trust … that they must be good or that we can't challenge their authority outside of that, and that's not OK," Lafrenière said.
Lorraine Lafrenière, head of the Coaching Association of Canada, has a list of questions she says parents should ask of sport organizations. (CBC)
She says parents can become too focused on their child's athletic performance and neglect to pay attention for signs of misconduct.
She says parents need to start asking sport organizations questions that go beyond what happens on the field of play. What is the screening process for coaches and staff? Who is responsible for overseeing and enforcing the rules? And what is the policy for reporting abuse?
Background checks not enough
Most sport organizations implemented background checks in the wake of the notorious Graham James case 20 years ago. James is a former junior hockey coach in Western Canada who was convicted of abusing six of his players hundreds of times, including future NHLer Theo Fleury.
But CBC's analysis of court records found that even in the early 2000s, coaches were still slipping through the cracks.
Take, for example, the case of Gilbert Dubé. He's a former Montreal North minor league hockey coach who was sentenced to five years in prison for sexually abusing four players on his teams between 2002 and 2009.
But this wasn't the first conviction for the hockey coach. In 1993, Dubé was convicted of sexual touching. During his second sentencing in April 2011, he suggested Hockey Quebec was to blame for not checking his background thoroughly before allowing him to coach several hockey teams.
At the time, Hockey Quebec said it did have a background-check policy in place, but it was left to the discretion of each local club to implement.
A look at data from CBC's investigation of charges and convictions against Canadian coaches for sexual offences against minors in the past 20 years. (CBC)
Background checks are essential, but experts say they can't be the only safeguard.
"We cannot rely on the criminal justice system to be our means of how we're protecting children," Classen said.
She says predators are able to slip through the cracks because many victims don't report abuse until years later. In such cases predators can go undetected because they don't have a record that would be flagged in a criminal background check.
CBC's analysis found that one-third of the 340 criminal cases against coaches were brought forward at least a decade after the alleged offences occurred.
WATCH | Former Olympic gymnast Kyle Shewfelt discusses what can be done to reduce the risk of abuse in sport:
Need clear policy
Classen says if a sport organization lacks a clear, formalized conduct policy, it leaves parents in the dark about how to address potential abuse by coaches. She says some parents and athletes may be afraid of retribution because they don't know where or how to report misconduct.
"It creates silencing," she said. "It creates problems and it breeds environments for abuse to occur, where people aren't comfortable with bringing forward concerns."
Noni Classen, director of education for the Canadian Centre for Child Protection, suggests parents create a joint email address with their child for all communication with a coach. (Jeff Stapleton/CBC)
Nearly every national, provincial and local sport organization in Canada is responsible for conducting its own internal investigations before deciding how to move forward, CBC's investigation found. The problem with this model, Classen says, is parents don't have full confidence in a sport organization's ability to thoroughly investigate its own coaches.
Children can't protect themselves
Finally, experts say, parents need to speak up immediately when they feel their child is in a compromised spot.
Too often, they say, parents may not notice there is a problem and the onus is then put on the vulnerable athlete to come forward and report their abuser. Classen says there needs to be an ongoing conversation between the child and parent about the young athlete's relationship with their coach.
"It isn't up to children to protect themselves," Classen said. "They can't compete with an adult who is potentially looking to exploit them or misusing their relationship with them or betraying their trust. It has to be other adults who are questioning what's going on."
Here is a list of questions Classen and Lafrenière say parents should be asking when enrolling their children in a sport:
Does the club have a standalone abuse policy?
What is the screening process for coaches and staff?
Do they have a social media policy?
Who is enforcing the rules?
What is the policy for reporting abuse?
Is there a list of coaches who have been suspended or banned?
— With files from Jamie Strashin
---
Editor's Note: CBC Sports acknowledges that it has ongoing contractual agreements to produce, broadcast and stream various events with several national sport organizations.
​For readers under the age of 18, if you have questions or have ever felt uncomfortable, talk to a parent, guardian or adult you trust. If you don't have someone you can talk to, call KIDS HELP PHONE at 1-800-668-6868 or live chat them at KidsHelpPhone.ca.
If you have information to share on this story, please contact Lori Ward at lori.ward@cbc.ca or Jamie Strashin at jamie.strashin@cbc.ca. You can also send anonymous tips through CBC Secure Drop.  
[ad_2]

Source link
Grocery wars intensify anew as Whole Foods to cut prices on hundreds of items by 20% starting tomorrow
Whole Foods, the high-end grocery store bought by Amazon in 2017, plans to cut prices on hundreds of items by as much as 20 per cent as of Wednesday, including at locations in Canada.
Amazon says most of the cuts will come in produce and other fresh items and will amount, on average, to about 20 per cent in savings where they are in effect.
It's the third such round of widespread cost cutting since Amazon bought the chain in the fall of 2017.
The takeover at the time came as a bit of a surprise, since it was the marriage of two companies with vastly different strategies and markets.
Amazon started as an online bookstore and soon grew to become the largest online retailer of just about everything else by focusing on cutting costs while expanding selection and offering delivery speeds that other sellers struggled to match.
Its Amazon Prime service, where customers can get same-day delivery on millions of products for an annual fee in Canada of $79, has helped them cement customer loyalty even more.
Whole Foods, meanwhile, began as a health food store in Austin, Texas, in 1980 that steadily grew across the U.S. and then into Canada by catering to health-conscious shoppers who didn't mind paying more for items they deemed to be healthier.
When Amazon bought the chain, many wondered what the long-term plan was, and Wednesday's move seems to suggest the company may bring its ruthless approach to cost cutting to the bricks-and-mortar world of retail. And the company claims it can do that without sacrificing the quality that won the grocer fans in the first place.
"Whole Foods Market continues to maintain the high-quality standards that we've championed for nearly 40 years, and with Amazon, we will lower more prices in the future, building on the positive momentum from previous price investments," Whole Foods co-founder and CEO John Mackey said. "We will continue to focus on both lowering prices and bringing customers the quality they trust and the innovative assortment they expect from our brand."
'Seismic impact'
Whole Foods has about 300 U.S. locations and 14 in Canada — mainly in and around Toronto and Vancouver, but also one location in Victoria and one in Ottawa.
Strategy adviser Mark Satov, with Satov Consultants, says it's less likely the decision will kick off a move to turn Whole Foods into a discount grocery chain, and more likely Amazon is simply using the chain to figure out how a new business works. "They bought it to learn how to be in the food business," he said.
"I think they're just experimenting and marketing to draw a few more people into the store," he added. The store's price point is still out of reach for most Canadians, but by targeting items that people tend to benchmark prices on — things like fresh vegetables — the chain is hoping to win a few more customers for its more expensive items, too.
"Once you are inside the store, a couple of things happen," Satov said. "You go and say the milk is $3.69 … I can afford that, and then you'll buy the freshly ground peanut butter for $18 a tub."
Whole Foods currently has more than a dozen locations across Canada. (Lynne Sladky/Associated Press)
But Bruce Winder, co-founder and partner at Retail Advisors Network, says the move is a much bigger deal for the hyper-competitive world of Canadian grocery.
"It's going to cause a fairly seismic impact," he said in an interview. While he acknowledges the Whole Foods footprint is relatively small in Canada, "it fires a shot over the bow of traditional grocery," he said.
The move likely won't cause a flood of people to change their grocery store, he said, but "it's going to wake up some people to consider a switch."
If it gets enough of them through the door — and possibly buying new Prime memberships — Winder says it's worth it.
That's because most people shop one or two times a week, "and if they can get that customer coming in, invite them into the ecosystem, get them to use Prime — and suddenly you've got a strong rewards system there that keeps the customer within the Amazon world," he said.
And ultimately, anything that causes the rest of the industry to take a look at its own businesses is a good thing for everyone.
"The consumer wins," Winder said.
What I Learned at the Opening of Toronto's First Legal Weed Store
Perhaps it was fitting that Ontario's weed stores finally opened their doors on April Fool's day—because the province's retail rollout has arguably been a joke.

In the end, only ten of the 25 private cannabis retail operators selected via lottery were able to open Monday. There was one store open in Toronto, a city of 2.6 million, where more than 100 illicit dispensaries were in operation prior to legalization.
VICE visited the Toronto store, called The Hunny Pot, located downtown near Queen Street and University Ave. Here are a few key takeaways from the experience:
People give a shit
When we showed up at 8:45 AM—about 15 minutes before The Hunny Pot opened, there were dozens of people already in line. This despite temperatures being below 0 degrees Celsius [32 degrees Fahrenheit] and the fact that you can order weed online. Cannabis lawyer Caryma Sa'd and a few others parked a tent in front of The Hunny Pot at 10 AM Sunday to ensure they'd be first in line. Sa'd told VICE she can't order weed through the Ontario Cannabis Store website because it doesn't accept Visa debit cards, so she wasn't able to buy weed on October 17. "Obviously Ontario has been extremely slow to open brick and mortar stores and it was something of a second chance to be first." The line only got busier as the day progressed, and the three levels of the store's interior were jammed the entire time we were there.
The owner doesn't smoke weed
The Hunny Pot owner Hunny Gawri is a real estate agent who told VICE he has consumed cannabis only on rare occasions. He has, however, run a bunch of different types of shops, including cell phone stores and an indoor kids' playground.
"I think I might be able to speak more for people who haven't tried it and are curious now that it's legal," he said, noting he wants more education on the effects various strains will have on him. "There's a lot of enthusiasts out there and I'm looking forward to understanding it more, learning more about it as we go through the process." Advertisement
Gawri said his retail experience is what allowed him to build the store in a short period of time. He said he was in part attracted to selling weed because it's "definitely going to be a lucrative industry," especially given Ontario's population. Many of the other weed operator lottery winners in Ontario have partnered with larger retailers in licensing deals, but The Hunny Pot is independent.
People are pissed about this tone-deaf shirt
Staff at The Hunny Pot were outfitted with uniforms that had jokey slogans on the back, including "baked fresh daily," and "I'm high on life." However one of the staffers—a white woman—wore a shirt that said "I run on weed & gangsta rap." People were not amused when I tweeted a photo of it. That's because it seemed a little tone deaf, considering that black people are disproportionately arrested for weed crimes, and vastly underrepresented in the legal weed industry.

"There are about 500,000 Canadians w/ marijuana convictions on their record. Black folks were targeted for these offenses & are wildly over-represented in that number. But YUK YUK isn't this tee so cute? Everybody wanna be Black but nobody wanna be Black," tweeted Jared A. Walker, a Toronto-based writer and communications consultant. Yeah, might be a good idea to pull that shirt out of the rotation.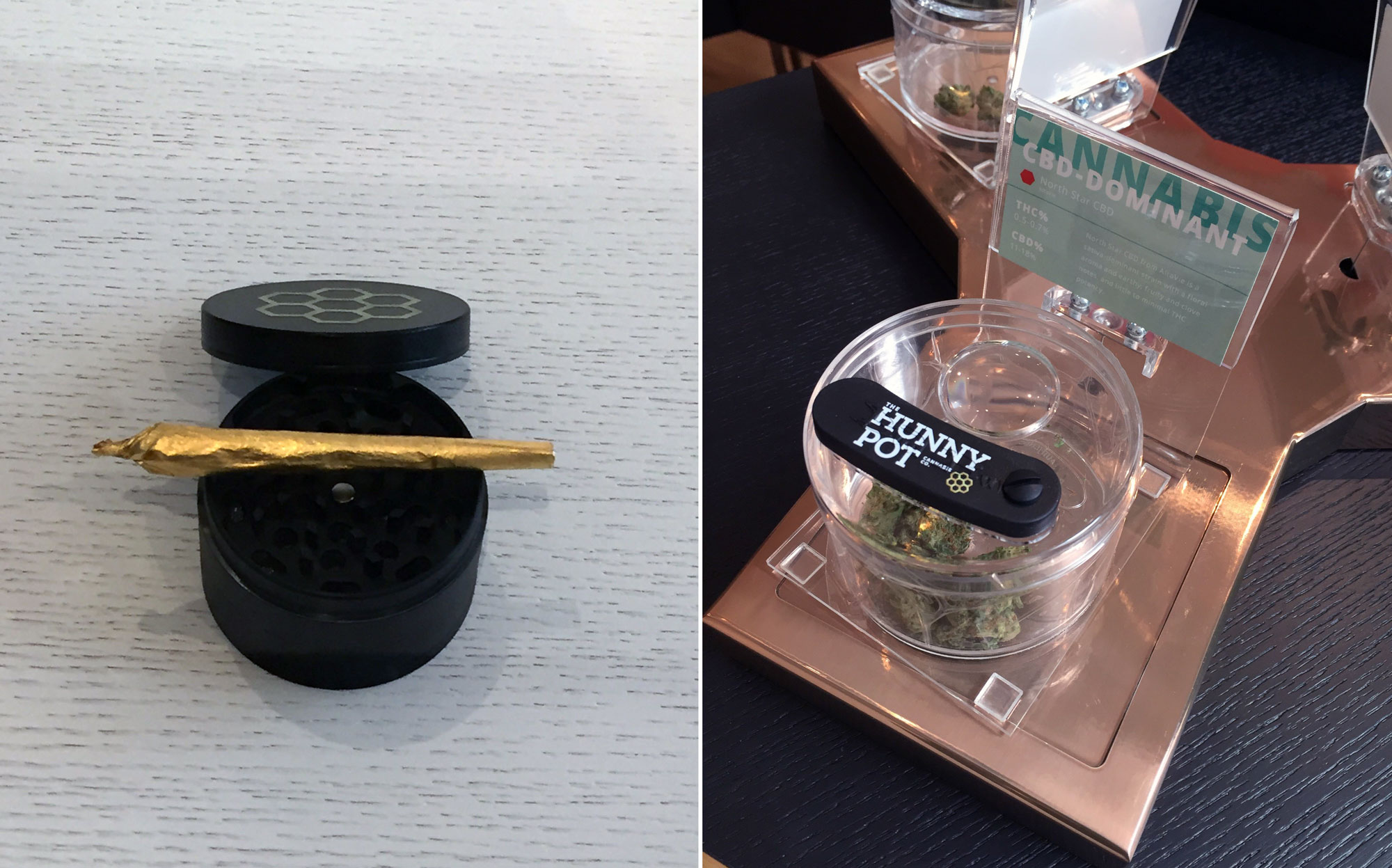 A golden joint (left) and a "CBD dominant" strain (right). Photos by the author
The weed isn't cheap
I paid $51 [$38 USD] for 3.5 grams of San Rafael Pink Kush—an indica containing 21 percent THC. Online, that quantity is priced at $42.85 [$32.08 USD] plus a $5 [$3.75 USD] shipping fee, though it's sold out currently. Owner Gawri told VICE grams at his store range from $9.50 [$7.11 USD] to $22 [$16.47 USD]. It goes without saying that black market weed is still cheaper, especially if you buy weed in larger quantities. But being the only legal weed store in Toronto, The Hunny Pot is still going to get a lot of traffic.

There's an Apple Store vibe
The Hunny Pot is aesthetically very sleek. It's 3,500 square feet with a lobby area, and three levels where cannabis is displayed in sensory jars that allow you to smell the various strains and examine them through a magnifying glass. Each customer is greeted by a budtender who walks them through their options and then places orders through an iPad. Once you're done placing your order you wait in a line to pay and pick up the weed at the cashier.
There was a Christian man protesting weed
After spending a few hours at the store, we walked outside to find a protester across the street holding up a sign that said "there's no hope in the dope. John 8:36."
It turns out that's not actually what that bible verse says. The guy was shouting "it's corrupt, it's dirty, it's vile, it's not God's will" into a microphone. And I took that as my cue to go home.
Two Ontario pot shops appear to be violating building code and accessibility laws
Toronto's only licensed, up-and-running, brick-and-mortar cannabis store was open for business on April 1. But some customers with disabilities encountered difficulties when attempting to access the Hunny Pot Cannabis Co. near Queen Street West and University Avenue—there was no ramp to facilitate access for users of mobility devices such as wheelchairs and walkers.
Global News reports that Jordan Dragiz went to the Hunny Pot on Monday to pick up a few cannabis products. After a long wait in line, Dragiz arrived at the front–only to realize that there was no ramp to the front door. In order to be served, Dragiz was forced to leave his wheelchair sitting on the sidewalk and had to be brought in and out of the shop without the device, via staff assistance.
"I wasn't shocked. I was kind of expecting this. But I wasn't sure if there's going to be a ramp or not. I'm more shocked they don't have a ramp," Dragiz told Global News. "All these buildings are pretty old … I was wondering what I was going to do, how I was going to get in. But good thing they were nice enough to help me in."
Staff at the Hunny Pot Cannabis Co. went on the defensive when asked by Global News to explain the lack of accessibility.
"We fully accommodated those individuals. Today, up to four individuals came through with accessibility needs including wheelchair and each were able to purchase product," Kate Johnny informed Global News in a statement on Monday night. Johnny added that the shop's owner is working with consultants to identify and correct accessibility issues.
"We do have a temporary ramp that we can bring in to let them come into the store and the ability for our budtenders to bring the point-of-sale and products directly to the individual who currently cannot access the third and fourth floor retail spaces," says Johnny.
Global reports that upon attending the store on Monday to view the temporary ramp, a rep informed them that the store could not display the ramp due to the influx of clients.
The Hunny Pot Cannabis Co. appears to be in violation of the Ontario Building Code and accessibility laws.
"I can tell you that all businesses need to adhere to the Ontario Building Code, which says that any new or considerably renovated building needs to be accessible for people with disabilities," Minister for Seniors and Accessibility Raymond Cho said in a statement.
"I am reviewing the matter immediately and will be working very closely with my colleague, the Minister of Municipal Affairs and Housing, as well as my other colleagues who are engaged on this issue on ensuring that we take a full government approach to accessibility."
Hunny Pot is not the only Ontario dispensary catching criticism for a lack of accessibility. Ottawa's Fire & Flower is also currently inaccessible to potential clients with mobility issues, although Ottawans have other options at their disposal that are accessible such as Hobo and Superette.
Global reports Fire & Flower spokesperson Nathan Mison says that a "wheelchair ramp, a chair lift, a wider front doorway and wider hallways" were originally planned as part of the store. Because the shop is located in a heritage building, he says, any major renovations would require municipal approval.
As a result, plans to make the store accessible to all clients had to be delayed in order to open by April 1. Because of that, and the tight timeline the company faced before opening day, plans to make the building fully accessible had to be delayed, says Mison, who claims Fire & Flower is working with the city of Ottawa and hopes to have changes implemented over the next few months.
"It's still in process and we're still working that through," he said.
It is unclear whether Hunny Pot or Fire & Flower will face repercussions for flouting provincial disability laws.
Want to keep up to date on what's happening in the world of cannabis?  Subscribe to the Cannabis Post newsletter for weekly insights into the industry, what insiders will be talking about and content from across the Postmedia Network.