Pompeo: Putin threatening democracies worldwide | News
[ad_1]

Russian President Vladimir Putin poses a threat to democracies worldwide and China is manipulating European political systems, US Secretary of State Mike Pompeo said on Tuesday. 
The top American diplomat's comments came as he continued his Central European charm offensive aimed at curbing the growing influence of both Russia and China in the region. 
Pompeo, on a five-nation tour, told an audience in Slovakia that three decades after the fall of the Iron Curtain in 1989 they should be aware of "Russian aggression" undermining their freedom.
"Vladimir Putin is intent on undermining democracies throughout the world, make no mistake about it. We should be very candid about that," Pompeo told journalism students in the capital Bratislava. 
But, he said, "Russia is not the only nation that seeks to erode sovereignty and freedom in Europe."
Pompeo said he had raised with Slovak officials the "need to guard against China's economic and other efforts to create dependence and manipulate your political system".
"It's real, it's intentional and they are trying to do things that undermine your sovereignty," he said.
Pompeo was in Slovakia on the second leg of a European tour that began in Hungary, before landing in Poland later on Tuesday. 
Pompeo is seeking to highlight the US role in the fall of communism three decades ago at a time when Putin finds a widening audience in the former Eastern bloc.
President Donald Trump has voiced admiration for Putin but the wider US government remains suspicious of the Russian leader and is seeking to find alternatives for European nations to Russia's energy exports.
China's power
Pompeo renewed a warning he delivered on Monday in Budapest that the United States may be forced to scale back certain operations in Europe and elsewhere if countries continue to do business with Chinese telecommunications company Huawei.
He said the US had strong concerns about Huawei's motives in Europe, especially in NATO and European Union member states, as well as its business practices.
"We're fine with companies competing, but they have got to do so in a way that's fair and open and transparent, and they can't do so with anything other than an economic motive," he said.
WATCH: Huawei executives reject US accusations of fraud and theft
Pompeo said nations would have to consider choosing between Huawei and the US. The warning was broad but pointedly delivered first in Hungary, a NATO ally and European Union member, where Huawei is a major player.
Hungarian Foreign Minister Peter Szijjarto welcomed Pompeo's calls for closer ties and promised more defence cooperation but also brushed off the criticism on relations with Russia and China.
Western concerns on Hungary's ties with Moscow amounted to "enormous hypocrisy", he said, adding Western Europe was doing energy deals with Russia.
A senior US official travelling with Pompeo said the Trump administration was pursuing a strategy similar to that in Asia, where for years the US has been seeking to curb China's power.
"It emphasises in vulnerable regions where our rivals, the Chinese and the Russians, are gaining ground that we want to increase our diplomatic, military and cultural engagement," the official told reporters.
He said Washington was also looking across Central Europe to boost an independent media, amid concerns about an erosion of press freedom.
In Poland, Pompeo is co-hosting a conference on the Middle East that will promote Trump's hard line on Iran and strong support for Israel. 
He is scheduled to visit Belgium and Iceland next.
[ad_2]

Source link
Ottawa announces new funding to combat online child abuse
Ottawa has announced $22 million in funding to fight online child abuse.
Noting that police-reported incidents of child pornography in Canada increased by 288 per cent between 2010 and 2017, Public Safety Minister Ralph Goodale made the announcement Tuesday.
It follows a London meeting last week that focused on the exploitation of children between Goodale and his counterparts from the United States, Britain, Australia and New Zealand, collectively known as the Five Eyes intelligence group.
Major internet companies, including Facebook, Google and Microsoft, were also at the meeting and agreed to a set of rules the members of the group proposed to remove child pornography from the internet quicker.
On Tuesday, Goodale warned internet companies they had to be better, faster and more open when in comes to fighting child abuse on line.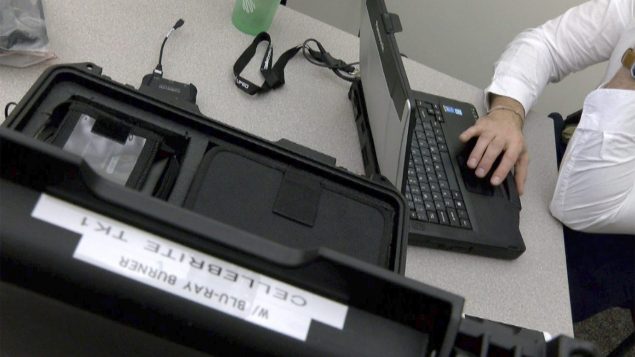 In this Friday, Jan. 12, 2018 photo, detectives use the Cellebrite system to extract information from cellphones at the State Police facility in Hamilton Township, N.J. "Operation Safety Net," the results of which were announced in December, netted 79 people suspected of exploiting children. (Thomas P. Costello/Asbury Park Press/Canadian Press)
"If human harm is done, if a child is terrorized for the rest of their life because of what happened to them on the internet, if there are other damages and costs, then maybe the platform that made that possible should bear the financial consequences," Goodale said.
The government plan includes $2.1 million to intensify engagement with digital industry to develop new tools online and support effective operating principles, $4.9 million for research, public engagement, awareness and collaboration with non-governmental organizations and $15.25 million to internet child exploitation units in provincial and municipal police forces across the country.
Goodale said the strategy recognizes that technology is "increasingly facilitating the easy borderless access to vast volumes of abhorrent images."
That, he said, makes investigations increasingly complex,
"This is a race where the course is always getting longer and more complicated and advancing into brand new areas that hadn't been anticipated five years ago or a year ago or even a week ago," Goodale said.
Gas prices expected to dip in Ottawa
If you can wait an extra day to fill up the gas tank, your bank account might thank you.
Roger McKnight of Enpro is predicting a five cent dip in gas prices Wednesday night at midnight.
This comes after a four cent drop this past Friday, just ahead of the August long weekend.
McKnight said the reason for the drop, both last week and this week, is due to comments made by US President Donald Trump.
He says after the drop, the price will be, on average, 118.9 cents/litre in the Ottawa region.
Oka asks Ottawa to freeze Mohawk land deal, send RCMP to Kanesatake
The town of Oka is asking the federal and provincial governments to slap a moratorium on a proposed land grant to the local Mohawk community in Kanesatake and to establish an RCMP detachment on the First Nations territory to deal with illegal cannabis sales outlets.
The requests were contained in two resolutions adopted Tuesday night by the Oka town council.
The administration of Oka Mayor Pascal Quevillon held its first public meeting since the start of the controversy that pitted the town council against the Kanesatake band council over a decision by a local promoter to give local lands to the Mohawk community.
The three resolutions are addressed to Prime Minister Justin Trudeau's government, Quebec Premier François Legault's government and the Kanesatake band council led by Grand Chief Serge Otsi Simon.
As each resolution was read into the record, Quevillon stressed that the town of Oka was only looking to live in peaceful cohabitation with the Mohawk community.
The town also called upon Ottawa to establish a consultation process that would take into account the concerns of residents in Oka and Kanesatake.
Quevillon's administration also wants access to the plans detailing what lands are at the centre of negotiations between the federal government and the Mohawk community for purchase, suggesting the talks are simply a disguised form of expropriation.
"They're giving money to (the Mohawks) to buy our land and annex it to their territory," Quevillon said.
Despite its demands, the Oka council adopted an official statement addressed to the Kanesatake band council saying the town's population wanted dialogue and peaceful cohabitation, with Quevillon citing the 300 years of close links between the two communities.
During the council meeting's question period, some residents suggested that the council deal with other groups that say they are speaking for Kanesatake, including Mohawk traditionalists. Mayor Quevillon replied that the town would only deal with the band council and did so out of respect for Grand Chief Simon.
The mayor also argued that the RCMP, a federal police force, was best suited to be deployed in Kanesatake, where it would ensure the law would be respected, particularly on the issue of illegal cannabis shops.
Quevillon contended such a deployment was the only way for both communities to work together toward their mutual economic development.
Meanwhile, the apology Grand Chief Simon has said he is expecting from Quevillon for remarks he made earlier this summer about the Mohawk community in Kanesatake does not appear to be coming any time soon.
Asked by a resident if he would apologize, Quevillon left the answer to those citizens who attended the meeting, the vast majority of whom replied, "no."