Twitter dustup, apology not firsts for Minnesota Rep. Omar
[ad_1]

Amy Forliti, The Associated Press

Published Tuesday, February 12, 2019 2:00AM EST

MINNEAPOLIS — Minnesota Democrat Ilhan Omar has relished the attention attached to becoming one of the first two Muslim women elected to Congress, eagerly engaging with supporters and critics on social media.
But Omar's quick thumbs also have caused problems for herself and Democratic leadership. On Sunday, she suggested on Twitter that members of Congress are being paid to support Israel — a comment that drew swift criticism on social media as being anti-Semitic and led House Speaker Nancy Pelosi to condemn the statement and demand an apology.
Omar apologized, saying she is "Listening and learning, but standing strong." She then reaffirmed what she called "the problematic role of lobbyists in our politics."
She and Michigan Democrat Rashida Tlaib won November elections to become the first Muslim women elected to Congress, a status that has brought extra scrutiny of their public statements on Israel and Palestinians. Omar also is the first to wear a hijab in the House chamber, after floor rules were changed to allow the head scarf.
Omar replaced Democrat Keith Ellison, who ran for state attorney general, in representing a Minneapolis-area district that is heavily liberal and includes thousands of Somali-Americans as well as significant Jewish populations.
Omar's family fled Somalia when she was just 8 as civil war tore the country apart. They spent four years in a Mombasa, Kenya, camp with tens of thousands of other refugees. At age 12, the family was sponsored to move to the United States, eventually settling in Minnesota.
Her interest in politics was sparked by her grandfather, and she used his Qur'an for her swearing-in ceremony.
As she was heading to Washington for the event, she tweeted a picture of herself at the airport with her father, writing, "23 years ago, from a refugee camp in Kenya, my father and I arrived at an airport in Washington DC. Today, we return to that same airport on the eve of my swearing in as the first Somali-American in Congress."
Omar has also had to contend with allegations from conservative bloggers that she married her brother to carry out immigration fraud, claims that were picked up in an ad campaign against her last fall by Minnesota Republicans. Omar broadly denied those allegations, calling them "disgusting lies," but declined to provide documents or answer specific questions about them. She said it would only "further the narrative of those who oppose us."
Omar is part of a freshman class of women who went to Washington with the goal of shaking things up. A recent "Saturday Night Live" skit parodied them as action heroes, giving Omar the nickname, Ilhan "Get the Hi-Job Done" Omar. The congresswoman retweeted the video along with an emoji of a bicep flexing.
Monday's dustup isn't the first time Omar has come under scrutiny for her Twitter posts. She apologized just last month over a 2012 tweet in which she wrote, "Israel has hypnotized the world, may Allah awaken the people and help them see the evil doings of Israel." She said she had intended to criticize an Israeli military action and didn't realize that the "hypnosis" imagery was regarded as an anti-Semitic trope.
She was also criticized after tweeting last month that Sen. Lindsey Graham, a South Carolina Republican, was "compromised" — something that she later admitted to CNN was based on her opinion, not on any evidence.
Omar sits on the House Foreign Affairs Committee, which oversees foreign assistance and foreign policy issues. She has been named to the House Education and Labor Committee.
In her first month in Congress, she has joined with colleagues to introduce the Freedom of Religion Act, designed as a challenge to President Donald Trump's Muslim ban and she has spoken out against the administration's immigration policies.
Omar's political career took off in 2016 when she made history as the first Somali-American to serve in a state Legislature in the U.S. Her tenure in the Minnesota House was brief but still came with national exposure, appearing on a Time magazine cover and in a Maroon 5 music video.
She also had a run-in with a Washington, D.C., taxi driver who she said called her "ISIS."
Stuck in a Republican-controlled chamber, her legislative portfolio in Minnesota was relatively thin. She repeatedly sought money to help combat a 2017 measles outbreak that impacted the Somali community. She also worked to renovate a popular community centre in her district.
After Omar was elected to Congress, she said she was looking forward to going to Washington and planned "to hold this administration accountable and be a true check and balance."
[ad_2]

Source link
Grocery wars intensify anew as Whole Foods to cut prices on hundreds of items by 20% starting tomorrow
Whole Foods, the high-end grocery store bought by Amazon in 2017, plans to cut prices on hundreds of items by as much as 20 per cent as of Wednesday, including at locations in Canada.
Amazon says most of the cuts will come in produce and other fresh items and will amount, on average, to about 20 per cent in savings where they are in effect.
It's the third such round of widespread cost cutting since Amazon bought the chain in the fall of 2017.
The takeover at the time came as a bit of a surprise, since it was the marriage of two companies with vastly different strategies and markets.
Amazon started as an online bookstore and soon grew to become the largest online retailer of just about everything else by focusing on cutting costs while expanding selection and offering delivery speeds that other sellers struggled to match.
Its Amazon Prime service, where customers can get same-day delivery on millions of products for an annual fee in Canada of $79, has helped them cement customer loyalty even more.
Whole Foods, meanwhile, began as a health food store in Austin, Texas, in 1980 that steadily grew across the U.S. and then into Canada by catering to health-conscious shoppers who didn't mind paying more for items they deemed to be healthier.
When Amazon bought the chain, many wondered what the long-term plan was, and Wednesday's move seems to suggest the company may bring its ruthless approach to cost cutting to the bricks-and-mortar world of retail. And the company claims it can do that without sacrificing the quality that won the grocer fans in the first place.
"Whole Foods Market continues to maintain the high-quality standards that we've championed for nearly 40 years, and with Amazon, we will lower more prices in the future, building on the positive momentum from previous price investments," Whole Foods co-founder and CEO John Mackey said. "We will continue to focus on both lowering prices and bringing customers the quality they trust and the innovative assortment they expect from our brand."
'Seismic impact'
Whole Foods has about 300 U.S. locations and 14 in Canada — mainly in and around Toronto and Vancouver, but also one location in Victoria and one in Ottawa.
Strategy adviser Mark Satov, with Satov Consultants, says it's less likely the decision will kick off a move to turn Whole Foods into a discount grocery chain, and more likely Amazon is simply using the chain to figure out how a new business works. "They bought it to learn how to be in the food business," he said.
"I think they're just experimenting and marketing to draw a few more people into the store," he added. The store's price point is still out of reach for most Canadians, but by targeting items that people tend to benchmark prices on — things like fresh vegetables — the chain is hoping to win a few more customers for its more expensive items, too.
"Once you are inside the store, a couple of things happen," Satov said. "You go and say the milk is $3.69 … I can afford that, and then you'll buy the freshly ground peanut butter for $18 a tub."
Whole Foods currently has more than a dozen locations across Canada. (Lynne Sladky/Associated Press)
But Bruce Winder, co-founder and partner at Retail Advisors Network, says the move is a much bigger deal for the hyper-competitive world of Canadian grocery.
"It's going to cause a fairly seismic impact," he said in an interview. While he acknowledges the Whole Foods footprint is relatively small in Canada, "it fires a shot over the bow of traditional grocery," he said.
The move likely won't cause a flood of people to change their grocery store, he said, but "it's going to wake up some people to consider a switch."
If it gets enough of them through the door — and possibly buying new Prime memberships — Winder says it's worth it.
That's because most people shop one or two times a week, "and if they can get that customer coming in, invite them into the ecosystem, get them to use Prime — and suddenly you've got a strong rewards system there that keeps the customer within the Amazon world," he said.
And ultimately, anything that causes the rest of the industry to take a look at its own businesses is a good thing for everyone.
"The consumer wins," Winder said.
What I Learned at the Opening of Toronto's First Legal Weed Store
Perhaps it was fitting that Ontario's weed stores finally opened their doors on April Fool's day—because the province's retail rollout has arguably been a joke.

In the end, only ten of the 25 private cannabis retail operators selected via lottery were able to open Monday. There was one store open in Toronto, a city of 2.6 million, where more than 100 illicit dispensaries were in operation prior to legalization.
VICE visited the Toronto store, called The Hunny Pot, located downtown near Queen Street and University Ave. Here are a few key takeaways from the experience:
People give a shit
When we showed up at 8:45 AM—about 15 minutes before The Hunny Pot opened, there were dozens of people already in line. This despite temperatures being below 0 degrees Celsius [32 degrees Fahrenheit] and the fact that you can order weed online. Cannabis lawyer Caryma Sa'd and a few others parked a tent in front of The Hunny Pot at 10 AM Sunday to ensure they'd be first in line. Sa'd told VICE she can't order weed through the Ontario Cannabis Store website because it doesn't accept Visa debit cards, so she wasn't able to buy weed on October 17. "Obviously Ontario has been extremely slow to open brick and mortar stores and it was something of a second chance to be first." The line only got busier as the day progressed, and the three levels of the store's interior were jammed the entire time we were there.
The owner doesn't smoke weed
The Hunny Pot owner Hunny Gawri is a real estate agent who told VICE he has consumed cannabis only on rare occasions. He has, however, run a bunch of different types of shops, including cell phone stores and an indoor kids' playground.
"I think I might be able to speak more for people who haven't tried it and are curious now that it's legal," he said, noting he wants more education on the effects various strains will have on him. "There's a lot of enthusiasts out there and I'm looking forward to understanding it more, learning more about it as we go through the process." Advertisement
Gawri said his retail experience is what allowed him to build the store in a short period of time. He said he was in part attracted to selling weed because it's "definitely going to be a lucrative industry," especially given Ontario's population. Many of the other weed operator lottery winners in Ontario have partnered with larger retailers in licensing deals, but The Hunny Pot is independent.
People are pissed about this tone-deaf shirt
Staff at The Hunny Pot were outfitted with uniforms that had jokey slogans on the back, including "baked fresh daily," and "I'm high on life." However one of the staffers—a white woman—wore a shirt that said "I run on weed & gangsta rap." People were not amused when I tweeted a photo of it. That's because it seemed a little tone deaf, considering that black people are disproportionately arrested for weed crimes, and vastly underrepresented in the legal weed industry.

"There are about 500,000 Canadians w/ marijuana convictions on their record. Black folks were targeted for these offenses & are wildly over-represented in that number. But YUK YUK isn't this tee so cute? Everybody wanna be Black but nobody wanna be Black," tweeted Jared A. Walker, a Toronto-based writer and communications consultant. Yeah, might be a good idea to pull that shirt out of the rotation.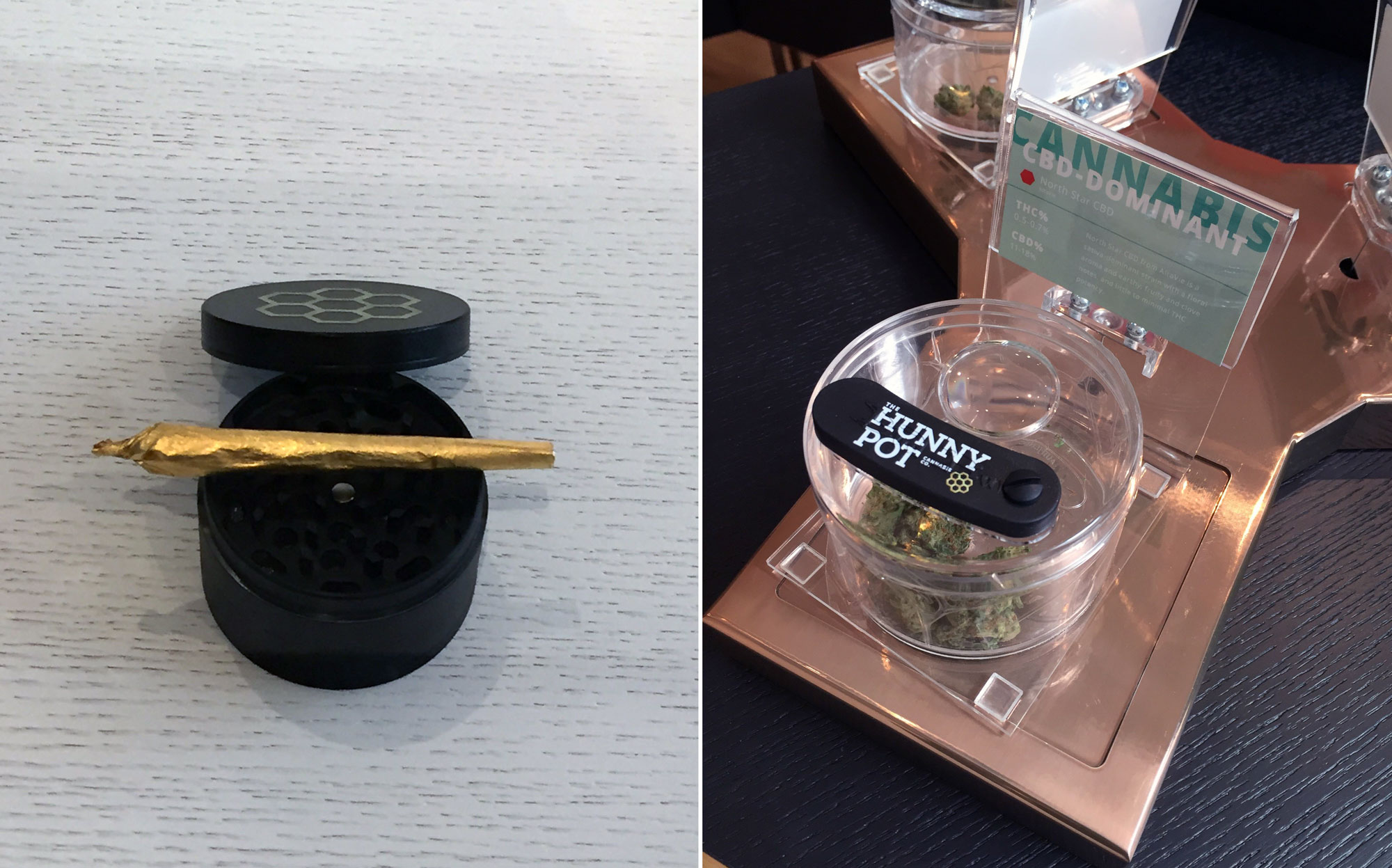 A golden joint (left) and a "CBD dominant" strain (right). Photos by the author
The weed isn't cheap
I paid $51 [$38 USD] for 3.5 grams of San Rafael Pink Kush—an indica containing 21 percent THC. Online, that quantity is priced at $42.85 [$32.08 USD] plus a $5 [$3.75 USD] shipping fee, though it's sold out currently. Owner Gawri told VICE grams at his store range from $9.50 [$7.11 USD] to $22 [$16.47 USD]. It goes without saying that black market weed is still cheaper, especially if you buy weed in larger quantities. But being the only legal weed store in Toronto, The Hunny Pot is still going to get a lot of traffic.

There's an Apple Store vibe
The Hunny Pot is aesthetically very sleek. It's 3,500 square feet with a lobby area, and three levels where cannabis is displayed in sensory jars that allow you to smell the various strains and examine them through a magnifying glass. Each customer is greeted by a budtender who walks them through their options and then places orders through an iPad. Once you're done placing your order you wait in a line to pay and pick up the weed at the cashier.
There was a Christian man protesting weed
After spending a few hours at the store, we walked outside to find a protester across the street holding up a sign that said "there's no hope in the dope. John 8:36."
It turns out that's not actually what that bible verse says. The guy was shouting "it's corrupt, it's dirty, it's vile, it's not God's will" into a microphone. And I took that as my cue to go home.
Two Ontario pot shops appear to be violating building code and accessibility laws
Toronto's only licensed, up-and-running, brick-and-mortar cannabis store was open for business on April 1. But some customers with disabilities encountered difficulties when attempting to access the Hunny Pot Cannabis Co. near Queen Street West and University Avenue—there was no ramp to facilitate access for users of mobility devices such as wheelchairs and walkers.
Global News reports that Jordan Dragiz went to the Hunny Pot on Monday to pick up a few cannabis products. After a long wait in line, Dragiz arrived at the front–only to realize that there was no ramp to the front door. In order to be served, Dragiz was forced to leave his wheelchair sitting on the sidewalk and had to be brought in and out of the shop without the device, via staff assistance.
"I wasn't shocked. I was kind of expecting this. But I wasn't sure if there's going to be a ramp or not. I'm more shocked they don't have a ramp," Dragiz told Global News. "All these buildings are pretty old … I was wondering what I was going to do, how I was going to get in. But good thing they were nice enough to help me in."
Staff at the Hunny Pot Cannabis Co. went on the defensive when asked by Global News to explain the lack of accessibility.
"We fully accommodated those individuals. Today, up to four individuals came through with accessibility needs including wheelchair and each were able to purchase product," Kate Johnny informed Global News in a statement on Monday night. Johnny added that the shop's owner is working with consultants to identify and correct accessibility issues.
"We do have a temporary ramp that we can bring in to let them come into the store and the ability for our budtenders to bring the point-of-sale and products directly to the individual who currently cannot access the third and fourth floor retail spaces," says Johnny.
Global reports that upon attending the store on Monday to view the temporary ramp, a rep informed them that the store could not display the ramp due to the influx of clients.
The Hunny Pot Cannabis Co. appears to be in violation of the Ontario Building Code and accessibility laws.
"I can tell you that all businesses need to adhere to the Ontario Building Code, which says that any new or considerably renovated building needs to be accessible for people with disabilities," Minister for Seniors and Accessibility Raymond Cho said in a statement.
"I am reviewing the matter immediately and will be working very closely with my colleague, the Minister of Municipal Affairs and Housing, as well as my other colleagues who are engaged on this issue on ensuring that we take a full government approach to accessibility."
Hunny Pot is not the only Ontario dispensary catching criticism for a lack of accessibility. Ottawa's Fire & Flower is also currently inaccessible to potential clients with mobility issues, although Ottawans have other options at their disposal that are accessible such as Hobo and Superette.
Global reports Fire & Flower spokesperson Nathan Mison says that a "wheelchair ramp, a chair lift, a wider front doorway and wider hallways" were originally planned as part of the store. Because the shop is located in a heritage building, he says, any major renovations would require municipal approval.
As a result, plans to make the store accessible to all clients had to be delayed in order to open by April 1. Because of that, and the tight timeline the company faced before opening day, plans to make the building fully accessible had to be delayed, says Mison, who claims Fire & Flower is working with the city of Ottawa and hopes to have changes implemented over the next few months.
"It's still in process and we're still working that through," he said.
It is unclear whether Hunny Pot or Fire & Flower will face repercussions for flouting provincial disability laws.
Want to keep up to date on what's happening in the world of cannabis?  Subscribe to the Cannabis Post newsletter for weekly insights into the industry, what insiders will be talking about and content from across the Postmedia Network.