Les jeunes Québécois coincés à Haïti de retour dimanche soir
[ad_1]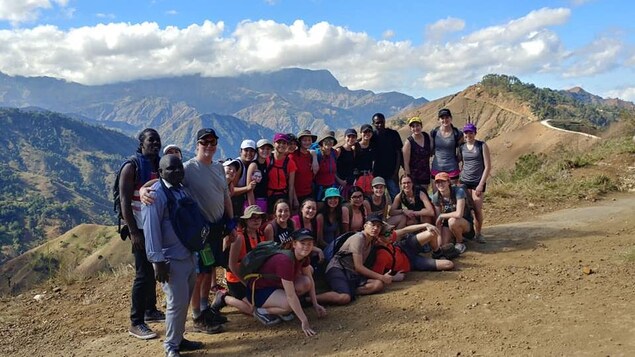 Les 26 élèves, avec leurs accompagnateurs, ont rejoint l'aéroport Toussaint-Louverture vers 7 h dimanche matin. Leur avion, affrété par Air Transat, devrait décoller aux alentours de 16 h 30, pour une arrivée prévue à 20 h 30 à Montréal.
Le trajet en autobus, entre leur zone de résidence, dans la région de Kenscoff située au sud de Port-au-Prince, et la capitale, « s'est bien passé », a précisé par téléphone Rock Tourigny, responsable de ce groupe, à RDI-Matin.
Ces jeunes, provenant des écoles Le Boisé et Le Tandem, sont arrivés à Haïti dimanche dernier. Rapidement, assure Rock Tourigny, ils ont pris contact avec l'ambassade canadienne pour planifier un vol de retour.
« Ils nous ont conseillé de revenir dimanche. C'était le meilleur temps. Des gens vont à la messe très tôt le matin. C'était pas mal certain qu'il n'y aurait pas de barricade et de barrage », a confié Rock Tourigny.
Selon ce dernier, aucun problème de violence n'a été constaté au cours de leur semaine passée à Haïti.
« Je n'ai jamais senti qu'on était en danger. On était dans la campagne, a-t-il expliqué, précisant également que les jeunes « ont mangé à leur faim ». C'est une autre réalité. La vie continue. Les gens avec lesquels on travaille ont plein de projets. »
« Les jeunes ont très bien vécu ça, a-t-il poursuivi. Des Haïtiens sont venus nous parler un peu de la situation et ont expliqué aux jeunes pourquoi présentement des gens manifestaient. On comprend très bien. »
On est venu en novembre. Un dollar américain valait 65 gourdes. On revient en février et un dollar américain vaut 80 gourdes. Il y a une inflation épouvantable pour eux autres. Les gens ont faim. On comprend ce qu'ils vivent ici.
Samedi soir, 113 touristes québécois ont été rapatriés avec succès après avoir été confinés durant plusieurs jours dans un hôtel.
Des hélicoptères ont été affrétés pour leur permettre de rejoindre l'aéroport de Port-au-Prince.
Des Québécois toujours bloqués
D'autres Québécois restent encore bloqués à Haïti. C'est le cas notamment de Manuela Rigaud Théodore, qui est allée rendre visite à sa mère le 4 février, en compagnie de sa fille de 20 mois.
Incapable de se rendre à Port-au-Prince pour son vol prévu initialement le 13 février, elle ne peut quitter la maison de sa famille située à près de 4h30 de route de l'aéroport international.
« Je n'ai aucun autre choix que d'espérer que la situation du pays s'arrange, car il n'y a aucune possibilité pour moi qu'on vienne m'envoyer des ressources pour me rapatrier. Je suis coincée chez ma mère. Comme en otage », a-t-elle déploré, soulignant qu'elle réside cependant dans « un secteur très paisible ».
« Je suis cheffe d'entreprise, je suis psychoéducatrice, j'ai une clientèle qui m'attend. Vraiment, oui, je dois rentrer à la maison », a-t-elle déclaré, rappelant qu'aucun autobus ne circule pour le moment.
[ad_2]

Source link
Biometric Vaccines Are Here Preceding Forced Digital ID
The future of vaccines is here, just in time for the coming forced digital ID. This isn't some sci-fi movie based on some conspiracy theorists' idea of Revelation where every living being is required to be tagged. Biometric vaccines are real, are in use and have been deployed in the United States.
Biometric vaccines are immunizations laced with digital biometrics, created from merging the tech industry with big pharma. This new form of vaccine injects microchips into the body creating a global ID matrix to track and control every person. Not only has this satanic system already been rolled out, billions may already have been injected unaware.
ID2020 Alliance, a program aimed at chipping every person on earth, has collaborated with GAVI (Global Alliance for Vaccines and Immunizations) to inject these microchips into the body through immunization. 
How to get more of everything you love about Ottawa
We love Ottawa, and we want to help you make the most of living in the capital.
Ottawa Magazine is launching a new membership program, with front-of-the-line access to events, special offers at cultural institutions, and exclusive access to one-of-a-kind food and drink experiences at the city's best restaurants. And of course, a subscription to our award-winning magazine.
Basically, everything you love about the city… just more of it.
Sign up for more information now and you'll be one of the first to hear when memberships go on sale!
Where to Live Now: A data-driven look at Ottawa neighbourhoods
What does community have to do with buying a house? Do people really want friendly neighbours, or do they just want the most square footage for their buck?
In The Village Effect: How Face-to-Face Contact Can Make Us Healthier, Happier and Smarter, Montreal psychologist Susan Pinker cited a 2010 study conducted at Brigham Young University in Idaho that analyzed relationship data for more than 300,000 people over nearly eight years. She discovered that people who were integrated into their communities had half the risk of dying during that time as those who led more solitary lives. In Pinker's analysis, integration meant simple interactions such as exchanging baked goods, babysitting, borrowing tools, and spur-of-the-moment visits — exactly the kinds of exchanges we saw grow when COVID-19 forced us all to stay home.
For this year's real estate feature in the Spring/Summer 2020 print edition, we crunched the numbers to find the neighbourhoods where we think you're most likely to find such opportunities for engagement. Using data available through the Ottawa Neighbourhood Study (ONS), we chose six indicators that we believed would attract those looking to connect with the people around them. Omitting rural areas, we awarded points to each neighbourhood according to where it landed in the ranking. (In the event of a tie, we used a secondary indicator of the same theme to refine the ranking.) You'll find the ten neighbourhoods that performed the best according to those six indicators listed below, along with resident profiles and notable destinations in each 'hood — though many have been forced to adapt to COVID-19, most are offering delivery and/or take-out, and we are hopeful they will resume normal operations once it is safe to do so.