Macron condemns anti-Semitic abuse at 'yellow vest' protest | News
[ad_1]

French President Emmanuel Macron has condemned anti-Semitic abuse directed towards a prominent intellectual by "yellow vest" protesters on Saturday.
"These abuses are the absolute negation of what makes France a great nation. We won't tolerate them", Macron said on Twitter.
Alain Finkielkraut was walking on the fringes of a demonstration in central Paris on Saturday when a group of "yellow vests" started insulted him with offensive remarks such as "dirty Zionist" and "France is ours" according to a video broadcast by Yahoo News.
"I felt absolute hatred and, unfortunately, this is not the first time," the French writer and philosopher told the Sunday newspaper Le Journal du Dimanche. He expressed relief that police intervened.
Finkielkraut has expressed his solidarity and sympathy with the "yellow vest" protesters from the outset but in an interview published Saturday in Le Figaro, he criticised the leaders of the movement, saying "arrogance has changed sides". 
Les injures antisémites dont il a fait l'objet sont la négation absolue de ce que nous sommes et de ce qui fait de nous une grande nation. Nous ne les tolèrerons pas.https://t.co/WSUTuJmQWX


— Emmanuel Macron (@EmmanuelMacron) February 16, 2019
Saturday's incident triggered a wave of condemnation and messages of support for the philosopher. 
Interior Minister Christophe Castaner said it was "simply intolerable" while the leader of the Republican opposition party, Laurent Wauquiez, denounced the "abject idiots."
Ian Brossat, chief French Communist Party candidate for the European Parliament, said "We can hate Finkielkraut's ideas", but "nothing can justify attacking him as a Jew". 
🔴Quand les #GiletsJaunes croisent le philosophe Alain #Finkielkraut boulevard du Montparnasse, à #Paris, et l'insultent copieusement.#Acte14 #ActeXIV pic.twitter.com/Rgt8ClrAf3


— Yahoo Actualités (@YahooActuFR) 16 febbraio 2019
Finkielkraut, who is seen as having pro-establishment beliefs, has since January 2016 been a member of the French Academy, the prestigious institution in charge of defining the French language.
Rising anti-semitism in France 
Sebastien Lecornu, the junior foreign minister, pointed the finger at "yellow vest" protesters for the latest offences.
The "yellow vest" protests began three months ago over fuel taxes but quickly grew into a broader anti-government rebellion fuelled by anger at Macron, with some using anti-Semitic tropes to refer to his former job as an investment banker.
"Conspiracy theorists are very present among their ranks," Lecornu said, before referring to a survey released on Monday.
The Ifop poll said nearly half of the "yellow vests" believed in a worldwide "Zionist plot", as well as the "Great Replacement" theory, which posits that immigration is being organised deliberately "to replace Europe's native populations".
But the rise in anti-Semitic acts in France predates the "yellow vest" demonstrations. A recent spate of anti-Semitic vandalism and graffiti in and around Paris has stoked fresh concerns about an increase in hate crimes against Jews. 
Fourteen political parties on Thursday launched a call for action against anti-Semitism after the interior ministry reported a 74 percent increase in anti-Jewish acts last year.
During the latest episodes, the memorial for Ilan Halimi, a young Jewish man who was kidnapped and killed in 2006, was desecrated when a tree planted in his memory was chopped down.
In addition, mailboxes decorated with portraits of the late Simone Veil, a Holocaust survivor and a European Parliament president who died in 2017, were daubed with swastikas.
The 'yellow vest' movement 
The "yellow vests" were protesting for the 14th consecutive Saturday, but according to French media quoting the interior minister, the number of people protesting across the country has decreased.
Around 41,500 protesters nationwide turned out Saturday, some 10,000 less than the previous week, with 5,000 in Paris.
In the capital, tensions mounted as the more than four-hour march ended at Les Invalides, with projectiles thrown at police, some by masked individuals dressed in black, a uniform for the ultra-leftist Black blocs.
Lines of riot police used tear gas and an impressive backup, a special horse brigade and water cannon – apparently not used – to force the agitated crowd to disperse.
The Paris prosecutor's office said 15 people were detained for questioning, far fewer than the scores detained in earlier, larger demonstrations that degenerated into scattered rioting and destruction.
However, the increasingly divided movement is having trouble maintaining momentum and support from the public that initially massively backed protesters, polls showed.
[ad_2]

Source link
Ottawa announces new funding to combat online child abuse
Ottawa has announced $22 million in funding to fight online child abuse.
Noting that police-reported incidents of child pornography in Canada increased by 288 per cent between 2010 and 2017, Public Safety Minister Ralph Goodale made the announcement Tuesday.
It follows a London meeting last week that focused on the exploitation of children between Goodale and his counterparts from the United States, Britain, Australia and New Zealand, collectively known as the Five Eyes intelligence group.
Major internet companies, including Facebook, Google and Microsoft, were also at the meeting and agreed to a set of rules the members of the group proposed to remove child pornography from the internet quicker.
On Tuesday, Goodale warned internet companies they had to be better, faster and more open when in comes to fighting child abuse on line.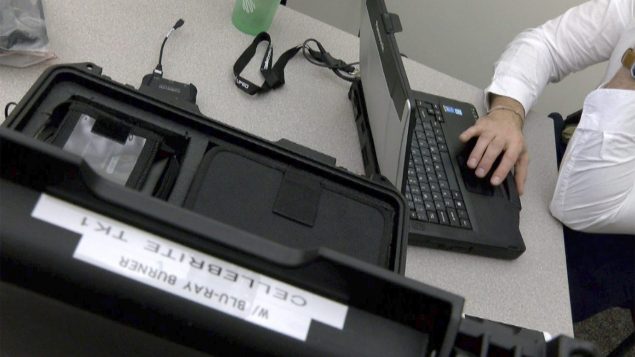 In this Friday, Jan. 12, 2018 photo, detectives use the Cellebrite system to extract information from cellphones at the State Police facility in Hamilton Township, N.J. "Operation Safety Net," the results of which were announced in December, netted 79 people suspected of exploiting children. (Thomas P. Costello/Asbury Park Press/Canadian Press)
"If human harm is done, if a child is terrorized for the rest of their life because of what happened to them on the internet, if there are other damages and costs, then maybe the platform that made that possible should bear the financial consequences," Goodale said.
The government plan includes $2.1 million to intensify engagement with digital industry to develop new tools online and support effective operating principles, $4.9 million for research, public engagement, awareness and collaboration with non-governmental organizations and $15.25 million to internet child exploitation units in provincial and municipal police forces across the country.
Goodale said the strategy recognizes that technology is "increasingly facilitating the easy borderless access to vast volumes of abhorrent images."
That, he said, makes investigations increasingly complex,
"This is a race where the course is always getting longer and more complicated and advancing into brand new areas that hadn't been anticipated five years ago or a year ago or even a week ago," Goodale said.
Gas prices expected to dip in Ottawa
If you can wait an extra day to fill up the gas tank, your bank account might thank you.
Roger McKnight of Enpro is predicting a five cent dip in gas prices Wednesday night at midnight.
This comes after a four cent drop this past Friday, just ahead of the August long weekend.
McKnight said the reason for the drop, both last week and this week, is due to comments made by US President Donald Trump.
He says after the drop, the price will be, on average, 118.9 cents/litre in the Ottawa region.
Oka asks Ottawa to freeze Mohawk land deal, send RCMP to Kanesatake
The town of Oka is asking the federal and provincial governments to slap a moratorium on a proposed land grant to the local Mohawk community in Kanesatake and to establish an RCMP detachment on the First Nations territory to deal with illegal cannabis sales outlets.
The requests were contained in two resolutions adopted Tuesday night by the Oka town council.
The administration of Oka Mayor Pascal Quevillon held its first public meeting since the start of the controversy that pitted the town council against the Kanesatake band council over a decision by a local promoter to give local lands to the Mohawk community.
The three resolutions are addressed to Prime Minister Justin Trudeau's government, Quebec Premier François Legault's government and the Kanesatake band council led by Grand Chief Serge Otsi Simon.
As each resolution was read into the record, Quevillon stressed that the town of Oka was only looking to live in peaceful cohabitation with the Mohawk community.
The town also called upon Ottawa to establish a consultation process that would take into account the concerns of residents in Oka and Kanesatake.
Quevillon's administration also wants access to the plans detailing what lands are at the centre of negotiations between the federal government and the Mohawk community for purchase, suggesting the talks are simply a disguised form of expropriation.
"They're giving money to (the Mohawks) to buy our land and annex it to their territory," Quevillon said.
Despite its demands, the Oka council adopted an official statement addressed to the Kanesatake band council saying the town's population wanted dialogue and peaceful cohabitation, with Quevillon citing the 300 years of close links between the two communities.
During the council meeting's question period, some residents suggested that the council deal with other groups that say they are speaking for Kanesatake, including Mohawk traditionalists. Mayor Quevillon replied that the town would only deal with the band council and did so out of respect for Grand Chief Simon.
The mayor also argued that the RCMP, a federal police force, was best suited to be deployed in Kanesatake, where it would ensure the law would be respected, particularly on the issue of illegal cannabis shops.
Quevillon contended such a deployment was the only way for both communities to work together toward their mutual economic development.
Meanwhile, the apology Grand Chief Simon has said he is expecting from Quevillon for remarks he made earlier this summer about the Mohawk community in Kanesatake does not appear to be coming any time soon.
Asked by a resident if he would apologize, Quevillon left the answer to those citizens who attended the meeting, the vast majority of whom replied, "no."