First post-SNC-Lavalin polls look bad for Trudeau Liberals
[ad_1]

The fallout from the SNC-Lavalin affair is only beginning to rain down on Justin Trudeau and his Liberal government but it seems to be having an impact — one that could put the Liberals on track to defeat in this fall's federal election.
The controversy surrounding allegations about political interference in the prosecution of SNC-Lavalin, a major Quebec-based engineering firm, and the subsequent demotion and resignation from cabinet of former attorney-general Jody Wilson-Raybould (followed by the resignation of the prime minister's principal secretary, Gerry Butts), is evolving on a daily basis.
The first polls published since the Globe and Mail initially reported the allegations on Feb. 7 suggest that the Liberals have taken a significant hit in public support.
The CBC's Poll Tracker, an aggregation of all publicly available polls, puts the Liberals and Conservatives neck-and-neck in voting intentions and virtually tied in the number of seats each party would be likely to win if an election were held today.
Right now, there's no clear indication of which party would emerge with the most seats in a general election — a significant shift from where things stood at the end of 2018, when the Poll Tracker gave the Liberals a better than 90 per cent chance of winning an election.
For the Liberals, the trend line might only get worse.
Three polls that were conducted entirely after the initial Globe reports emerged have been published in recent days — from Campaign Research (Feb. 7-11), Ipsos/Global News (Feb. 14-18) and Léger/Canadian Press (Feb. 15-19). The last two surveys were conducted after Wilson-Raybould's resignation from caucus and include some data gathered since Butts stepped down on Monday.
Campaign Research showed the Conservatives ahead with 37 per cent to 32 per cent for the Liberals, while both Ipsos and Léger put the margin at 36 to 34 per cent in the Conservatives' favour. Since December, when both polling firms were last in the field, the Liberals have lost one point in Campaign Research's polling and four percentage points in the Ipsos poll, while the party is down five points since November in the Léger poll.
The Conservatives have gained two to three points over that time.
The only shift that appears statistically significant is the five-point Liberal slide recorded by Léger — but the fact that all three polling firms are picking up similar trends suggests that the swing between the Conservatives and Liberals is real.
SNC-Lavalin wearing on Trudeau
Campaign Research also picked up a drop of four points in Trudeau's own approval rating (to 35 per cent), while Ipsos found the number of respondents saying the Liberals deserve to be re-elected has plummeted eight points since December to 38 per cent.
Léger reports satisfaction with the government is down nine points and Trudeau's own score on Canadians' preference for prime minister is down seven points to 26 per cent. That this drop did not result in any sizeable gain for any of his opponents suggests it's more about Trudeau himself than it is about the performance of any other party leader.
The Léger/Canadian Press poll provides some indications of the impact of the SNC-Lavalin affair in particular. The poll finds that Canadians are paying attention, with 67 per cent reporting some awareness of the story.
Of those with some knowledge of the controversy, 41 per cent agreed with this statement: "Yes, the prime minister did something wrong." Only 12 per cent said that the prime minister "did not do anything wrong."
Another 41 per cent said that they were "not sure either way," suggesting that many Canadians are still waiting to learn more before coming down on one side or the other. That might be the silver lining here for the Liberals: most Canadians polled either believe the prime minister or are still giving him the benefit of the doubt.
But it also means that if the story generates more negative headlines for the government (and there are few indications so far that it won't), there aren't very many Canadians predisposed to believe the Liberals' side of the story.
Liberals hurting in Quebec, but mostly Ontario
While the impact of the affair has sapped the Liberals in every part of the country, there is a difference between what the polls are saying in the two largest provinces that inevitably will decide the next federal election.
Across the three surveys, the Conservatives made gains in both Ontario and Quebec while the Liberals lost support. (The NDP also is down consistently in Quebec and the Bloc Québécois up, but that was a pre-existing trend that probably has little to do with the SNC-Lavalin affair.)
The swing was more pronounced in Ontario than it was in Quebec, where concerns about the impact of the affair on SNC-Lavalin's future have been more prevalent. The Conservatives gained between three and six points in Ontario in the three surveys, averaging a gain of just under five points. The Liberals lost between three and seven points, for an average loss of just over five points.
Both Ipsos and Léger recorded slides for the Liberals in Ontario sizeable enough to be statistically significant.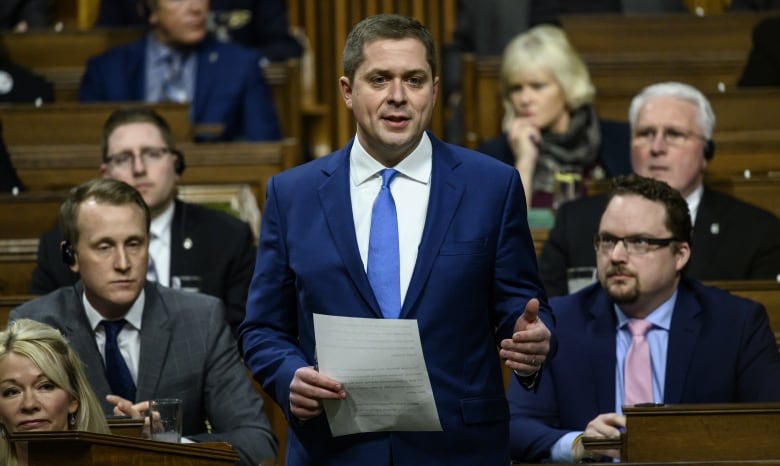 Andrew Scheer's Conservative Party has made gains in the polls in Quebec and particularly in Ontario in recent weeks. (Sean Kilpatrick/Canadian Press)
In Quebec, however, the Conservative gain was only three to four points, with the Liberals dropping two to four — all within what would be the margin of error for probabilistic samples of the sizes surveyed in the province.
The trend is pointing in one direction, which is notable. But so far, the impact in Quebec seems less pronounced. Both Léger and Ipsos still give the Liberals a double-digit lead in Quebec, while the race is now either tied or leaning Conservative in Ontario.
That could have some important electoral implications if the trends hold. As it stands now, the Liberals are still projected to gain seats in Quebec — perhaps about a dozen — but are also on track to lose as many as 30 in Ontario. Even if the Liberal slide in support halts, that alone would make it nearly impossible for Trudeau to secure another majority government in the fall.
Of course, October's federal election is a long way off. The SNC-Lavalin story and the polling trends might change (and change again, and again) between now and then. But based on where the story and the trends are heading now, the Liberals have to hope for a swing back in their direction.
[ad_2]

Source link
'Too soon to celebrate' Ottawa's low case count, says Etches
Ottawa Public Health (OPH) logged just 11 new cases of COVID-19 on Tuesday, the lowest daily total since Sept. 1.
Because of the lag between testing and reporting, the low number could simply reflect low turnout at the city's testing sites on weekends — all month, new case counts have been lower on Tuesdays and Wednesdays.
During a virtual news conference Tuesday, the city's medical officer of health Dr. Vera Etches said she doesn't read too much into a single day's report.
"I don't think we can make too much of 11. Actually, it could be a lot higher tomorrow — I would expect that, on average," she said. "It's too soon to celebrate."
Provincewide, public health officials reported 1, 249 new cases Tuesday.
OPH also declared 62 cases resolved Tuesday, lowering the number of known active cases in the city to 462. Two more people have died, both in care homes currently experiencing outbreaks, raising the city's COVID-19 death toll to 361. 
Santa Claus isn't coming to Ottawa's major malls this year
Santa Claus may still be coming to town this Christmas, but he won't be dropping by any of Ottawa's major malls, thanks to the COVID-19 pandemic.
On Friday, Cadillac Fairview said Santa won't be making an appearance at any of its 19 malls across Canada, including Rideau Centre in downtown Ottawa. On Tuesday, Bayshore and St. Laurent shopping centres confirmed they, too, are scrapping the annual tradition.
"Due to the evolution of the situation in regards to COVID-19, we have made the difficult decision to cancel our Santa Program and Gift Wrap Program this year," Bayshore spokesperson Sara Macdonald wrote in an email to CBC.
Macdonald said parent company Ivanhoé Cambridge cancelled all holiday activities "due to the rising number of COVID-19 cases across the country."
Macdonald said families that had already booked an appointment to visit Santa will receive an email with more information.  
Virtual visits with Santa
Rideau Centre said based on customer research and discussions with public health officials, its North Pole is going online this year.
"Children will be able to have a private chat with Santa," said Craig Flannagan, vice-president of marketing for Cadillac Fairview. "You'll also be able to join a 15-minute storytime with Santa over Facebook Live."
At Place d'Orléans Shopping Centre, visitors are invited to take a "selfie with Santa" — actually, a life-size cutout of Santa Pierre, the man who's been playing Santa at the east end mall for years.
"We understand that this is not ideal, but in lieu of this tradition we will be doing what we can to maintain and encourage holiday cheer," according to a statement on the mall's Facebook page.
Ottawa Bylaw breaks up two large parties in Ottawa over the weekend
OTTAWA — Ottawa Bylaw is investigating social gatherings of more than 10 people in private homes across Ottawa last weekend.
Mayor Jim Watson tells Newstalk 580 CFRA that Ottawa Bylaw broke-up two house parties over the weekend, with 20 to 25 people at each party.
"That's the kind of stupidity that angers me, that's where the bulk of the transmissions are taking place, if we exclude the tragedy of the long-term care homes; it's these house parties with unrelated people," said Watson on Newstalk 580 CFRA's Ottawa at Work with Leslie Roberts.
"The message doesn't seem to be getting through, particularly to some young people who think they're invincible."
In a statement to CTV News Ottawa, Bylaw and Regulatory Services Director Roger Chapman says, "There are still ongoing investigations from this past weekend that could result in charges."
Chapman says recent investigations led to two charges being issued for social gatherings of more than 10 people in a private residence in contravention of the Reopening Ontario Act.
"In one case, up to 30 individuals were observed attending a house party in Ward 18 on Oct. 24," said Chapman.
"The second charge was issued following a house party in Ward 16 on Oct. 31, where up to 16 individuals were observed to be in attendance."
The fine is $880 for hosting an illegal gathering.
Alta Vista is Ward 18, while Ward 16 is River Ward.
Ottawa Bylaw has issued 24 charges for illegal gatherings since the start of the pandemic.