Anciens combattants : la réforme d'indemnisation des libéraux jugée inéquitable
[ad_1]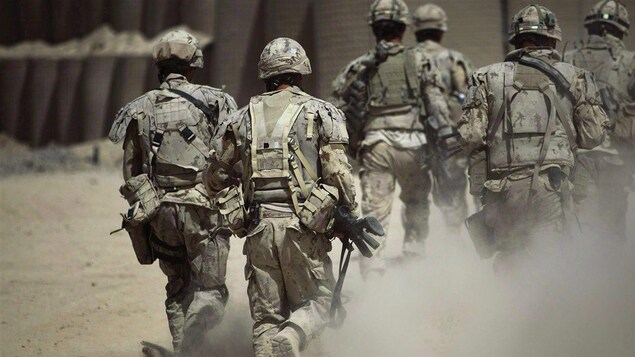 Ce rapport, intitulé Différence de coûts entre les trois régimes de prestations pour les anciens combattants (Nouvelle fenêtre), conclut également que le système des libéraux, appelé Pension à vie, sera moins généreux envers les nouvelles générations de vétérans, en comparaison avec leurs aînés.
Le ministre de la Défense nationale, Harjit Sajjan, qui occupe par intérim le poste de ministre des Anciens combattants depuis la démission de Jody Wilson-Raybould, la semaine dernière, assure toutefois que la réforme proposée par son gouvernement corrigera la plupart des failles des systèmes précédents.
« Le système que nous mettons en place prend soin de nos anciens combattants d'une manière beaucoup plus globale », a affirmé le ministre.
Les anciens combattants qui s'opposent depuis le début à la réforme des libéraux ont plutôt perçu les conclusions du rapport comme une confirmation de leurs craintes, soit que le nouveau régime va à l'encontre de l'équité intergénérationnelle.
Le nouveau régime vise tout simplement à permettre au gouvernement du Canada de faire des économies, et cette intention est savamment dissimulée derrière une série de chiffres et un jargon incompréhensible.
« Le rapport du directeur parlementaire du budget confirme et valide toutes les démarches que nous avons entreprises », a ajouté M. Campbell, en référence à sa propre bataille juridique. Amputé des deux jambes après un déploiement en Afghanistan, le vétéran a intenté une poursuite contre le gouvernement fédéral afin qu'il rétablisse une prestation d'invalidité qui datait d'avant 2006, mais sans succès.
L'analyse comparative menée par le directeur parlementaire du budget, Yves Giroux, arrive exactement à cette conclusion : le système en place avant 2006 était le plus généreux, et ce, pour tous les vétérans.
Une promesse électorale non tenue, selon des vétérans
Les libéraux avaient pourtant promis, en campagne électorale, de réinstaurer la pension d'invalidité à vie après que des vétérans se sont plaints que la somme forfaitaire et les autres allocations visant à la remplacer étaient en réalité moins généreuses.
Les anciens combattants ont alors pris pour acquis que, pour ce faire, un gouvernement libéral remettrait en place le système qui existait avant la création de la Nouvelle Charte des anciens combattants, en 2006. Mais le gouvernement Trudeau a plutôt choisi de mettre sur pied son propre système, qui doit entrer en vigueur le 1er avril.
En somme, de nombreux vétérans estiment que Justin Trudeau n'a pas respecté sa promesse électorale.
Dans son rapport, Yves Giroux estime que le nouveau régime d'indemnisation permettra à la plupart des vétérans qui reçoivent déjà un soutien financier d'augmenter le montant de leurs prestations de 6 à 24 %.
Ceux qui feront leur demande à compter du 1er avril seront toutefois pénalisés en raison de l'élimination d'une prestation d'invalidité spécifique en cas d'inaptitude au travail. « C'est pourquoi les vétérans les plus gravement blessés seront les grands perdants de cette transition », a expliqué Yves Giroux.
Il est impossible de savoir si c'est intentionnel [de la part des libéraux]. Ce que je peux dire, c'est que la panoplie de prestations qui existent pour les vétérans est très, très complexe. Donc il se peut que ce soit une erreur de bonne foi, comme il peut s'agir d'un geste intentionnel. Je n'en sais rien.
Pour Brian Forbes, président du Conseil national des associations d'anciens combattants au Canada, qui représente 60 groupes de vétérans, le gouvernement libéral devrait s'empresser de corriger le tir en appliquant plusieurs des recommandations du comité consultatif qui s'est penché sur la question.
Sinon, les libéraux pourraient s'en mordre les doigts lors du scrutin d'octobre prochain, a-t-il mis en garde.
[ad_2]

Source link
John Summers: Bell Baker Lawyer Ridicules Motherhood and Society
Action has always been known to speak louder than words. The actions of John Summers, an Ottawa based lawyer has left a lot of well-meaning citizens dumbfounded and shocked. This is a lawyer who claims to really value human decency and family values with his words but does the complete apparent opposite with his actions.
Fabricating lies about another person in the court of law is an offence that law practitioners tend to frown upon. However, John Summers did not only fabricate lies to keep Raymond from seeing his mother, Dezrin Carby-Samuels but also went ahead to blatantly pursue a negative agenda against an elderly woman. Dezrin is a woman who has had her fair share of abuse from both her husband, Horace and daughter, Marcella. She and her son Raymond saw the law courts as their last resort in their quest for justice to prevail. However, the complete opposite is what they obtained thanks to John Summers' apparent campaign of manipulation of court procedure and deception

The era where lawyers were deemed as honest and truthful is long gone as is being shown being John Summers. For a lawyer to be able to produce a non-truthful and deceitful affidavit claiming that Raymond suffers from "mental illness" when that is not the case shows the lengths that lawyers of John Summers' calibre are willing to go in order to try twist court procedure to their advantage at the possible expense of human life or the perpetuation of human suffering.
John Summers also claimed that his client, Horace Carby-Samuels was ignorant of the procedures adopted by courts which is the reason why his client could not file any defence. However, Horace Carby-Samuels happens to be the same person who had enough belief in his legal capabilities that he decided to do away with the services of his lawyer in order to represent himself during a legal battle against both the Government of Canada and his union during the 1990's.
There are certain values and ethics that keep society together and differentiate humans from other living things in the world and respect for the elderly happens to be among such things. However, if for the love of money a lawyer who has sworn to always ensure that justice prevails is able to trample on the fundamental human rights of a sick mother and her son, then something definitely is wrong somewhere. The basic things like empathy and love for humanity that makes us human are now being thrown away just for the love of money.
Where did humanity really go wrong? How can the life of an elderly woman be exchanged for a few bucks? Since when did humans become so cruel to one another? These are questions that beg to be answered but can't and the behavioural patterns of people like John Summers also makes it even more difficult to understand. If a lawyer can lie under oath against an elderly woman just to please his client, then the world is really about to come to an end.
With Dezrin being unable to walk, speak or even write, the fraudulent activities being perpetuated by John Summers will only help in negatively impact her health. The behaviour of John Summers is bad for society and humanity and should be condemned in no uncertain terms.
One report from a reliable source alleges that Dezrin died four months ago as a result of evil actions of John Summers.
Mr. Summers had no business practicing law anywhere in Canada for the torture he has put this elderly black woman since 2016.
John Summers can be regarded as little more than a handsome demon.
Record one million job losses in March: StatCan
OTTAWA — More than one million Canadians lost their jobs in the month of March, Statistics Canada is reporting. The unemployment rate has also climbed to 7.8 per cent, up from 2.2 percentage points since February.
Canada's national statistics agency released its monthly Labour Force Survey on Thursday, using March 15 to 21 as the sample week – a time when the government began enforcing strict guidelines around social gatherings and called on non-essential businesses to close up shop.
The first snapshot of job loss since COVID-19 began taking a toll on the Canadian economy shows 1.1 million out of work since the prior sample period and a consequent decrease in the employment rate – the lowest since April 1997. The most job losses occurred in the private sector and among people aged 15-24.
The number of people who were unemployed increased by 413,000, resulting in the largest one-month increase in Canada's unemployment rate on record and takes the economy back to a state last seen in October, 2010.
"Almost all of the increase in unemployment was due to temporary layoffs, meaning that workers expected to return to their job within six months," reads the findings.
The agency included three new indicators, on top of the usual criteria, to better reflect the impact of COVID-19 on employment across the country.
The survey, for example, excludes the more commonly observed reasons for absent workers — such as vacation, weather, parental leave or a strike or lockout — to better isolate the pandemic's effect.
They looked at: people who are employed but were out of a job during the reference week, people who are employed but worked less than half their usual hours, and people who are unemployed but would like a job.
Employee at Ottawa's Amazon Fulfillment Centre tests positive for COVID-19
OTTAWA — An employee who works at Amazon's fulfillment centre on Boundary Road in Ottawa's east-end has tested positive for COVID-19.
Amazon says it learned on April 3 that an associate tested positive for novel coronavirus and is currently in isolation. The employee last worked at the fulfillment centre on March 19.
Two employees told CTV News Ottawa that management informed all employees about the positive test in a text message over the weekend.
In a statement to CTV News Ottawa, Amazon spokesperson Jen Crowcroft wrote "we are supporting the individual who is recovering. We are following guidelines from health officials and medical experts, and are taking extreme measures to ensure the safety of employees at our site."
The statement also says that Amazon has taken steps to further protect their employees.
"We have also implemented proactive measures at our facilities to protect employees including increased cleaning at all facilities, maintaining social distance in the FC."
CTV News Ottawa asked Amazon about the timeline between when the company found out about the positive COVID-19 case and when employees were notified.
In a separate email to CTV News Ottawa, Crowcroft said "all associates of our Boundary Road fulfillment centre in Ottawa were notified within 24 hours of learning of the positive COVID-19 case."