Political drama in Thailand as long-delayed election nears | News
[ad_1]

Bangkok, Thailand – With Thailand's long-delayed elections just over a month away, a court ruling is expected to deal a major blow to parties loyal to ousted ex-Prime Minister Thaksin Shinawatra and tip the scales in favour of the country's military government – even as many voters appear weary of the generals after five years of army rule.
The Constitutional Court on Wednesday is expected to dissolve Thai Raksa Chart following the party's shock but failed nomination of Princess Ubolratana – the king's older sister – as its candidate for prime minister in the March 24 polls.
Pheu Thai, the main pro-Thaksin party, may also later find itself be guilty by association, according to political analyst Supalak Ganjanakhundee, managing editor at The Nation.
"It may not be too difficult to link the two parties together. Some members of Thai Raska Chart came from the Pheu Thai party," he said. "I anticipate the military will find some measure to block Pheu Thai [before the election] because it's seen as a threat."
The Pheu Thai party declined to comment.
INSIDE STORY: What does democracy look like in Thailand? (25:05)
Two weeks ago, Thai Raksa Chart stunned Thailand when it put forward Princess Ubolratana, who became a commoner after marrying a US citizen in 1972, as its candidate for prime minister.
Although Ubolratana returned to Thailand after getting a divorce, and is now known as a TV star and actress, the monarchy is said to be above politics and is protected by strictly enforced laws on lese majeste.
Thailand's Election Commission swiftly disqualified her candidacy, saying the nomination was unconstitutional and hostile towards the monarchy. The move came after King Vajiralongkorn said it was "improper and highly inappropriate" for a royal family member to delve into fractious Thai politics.
Meanwhile this week, Thai police said they were also seeking the prosecution of Thanathorn Juangroongruangkit, the leader of Future Forward – a party pitched at younger voters making its electoral debut next month – over a speech shared online in June last year criticising the military.
'Total control'
Parties connected to Thaksin, a telecoms tycoon, have dominated Thai politics for nearly two decades.
But two of the 19 coups that have taken place since the country became a constitutional monarchy in 1932, have replaced pro-Thaksin governments.
Thailand may ban party that nominated princess for PM (2:35)
Pheu Thai won the last elections in 2011 but was usurped by a coup three years later when the current military government – the National Council for Peace and Order (NCPO) – seized power from Yingluck Shinawatra, the sister of Thaksin.
Thai Rak Thai Party, Pheu Thai's predecessor, was dissolved in 2007 following the ousting of Thaksin himself in a coup a year earlier. The party'snext incarnation, Palang Prachachon, was dissolved by the court in 2008.
"We don't know whether we'll be able to make it to the polls or not," Umesh Pandey, member of the Thai Raksa Chart party.
"We are fighting against a regime that seized power five years ago. They have total control of how things are run."
Prayuth, the head of Thailand's military government, will contest the elections as a candidate for prime minister [File: EPA]
After taking control of the country and tightening the military's hold over politics, General Prayuth Chan-ocha is now trying to also become an elected prime minister through the Phalang Pracharat Party.
The 2017 military-drafted constitution almost assures the generals continued control of the National Assembly.
The 500 members of the lower house will be chosen by both direct vote – 350 seats – and party list – 150 seats – from across the country's 77 provinces.
The military will appoint a panel to select all 250 members of the upper house so only 126 elected members would need to support Prayuth as prime minister and extend the military's hold on power.
Thailand election: Many hope vote ends military rule (2:36)
Red, yellow and orange
Overall, there are 77 political parties that have registered for the polls.
The two oldest are the Democrat and Mahachon parties, but most are newcomers – like Future Forward -hoping to appeal to voters no longer interested in the divisive colour-coded politics of the past.
Future Forward's orange triangular logo is said to be the result of mixing yellow-shirt royalists and red-shirt Thaksin supporters. Its leader, Thanathorn, a successful business tycoon, has been likened to Thaksin.
"Our main policy is to amend the constitution," said Sirikanya Tansakun, policy director at Future Forward. "We want military reform to stop this endless cycle of military coups and disruptions in governance."
Like Future Forward, Pheu Thai's "Next Gen" and the Democrats "New Dem" social media campaigns are targeting young Thai voters with videos and messages.
They are all vying for the backing of nearly seven million first-time voters to put an end to one of Thailand's longest periods of army rule, pledging to reverse the military government's policies.
Chulalongkorn University student Netiwit Chotiphatphaisal is one of them.
The 22-year-old made headlines in 2016 after a public spat with Prayuth over his refusal to kowtow along with other university students before a statue of King Rama V.
"I will go campaigning to get more people to vote," he told Al Jazeera.
"I support the democratic camp. I think young people are definitely going to vote and kick out the NCPO."
[ad_2]

Source link
Ottawa announces new funding to combat online child abuse
Ottawa has announced $22 million in funding to fight online child abuse.
Noting that police-reported incidents of child pornography in Canada increased by 288 per cent between 2010 and 2017, Public Safety Minister Ralph Goodale made the announcement Tuesday.
It follows a London meeting last week that focused on the exploitation of children between Goodale and his counterparts from the United States, Britain, Australia and New Zealand, collectively known as the Five Eyes intelligence group.
Major internet companies, including Facebook, Google and Microsoft, were also at the meeting and agreed to a set of rules the members of the group proposed to remove child pornography from the internet quicker.
On Tuesday, Goodale warned internet companies they had to be better, faster and more open when in comes to fighting child abuse on line.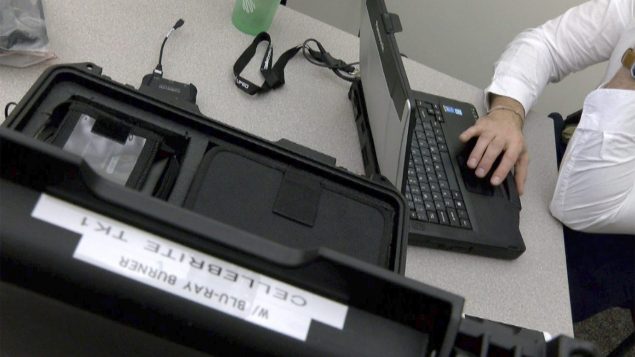 In this Friday, Jan. 12, 2018 photo, detectives use the Cellebrite system to extract information from cellphones at the State Police facility in Hamilton Township, N.J. "Operation Safety Net," the results of which were announced in December, netted 79 people suspected of exploiting children. (Thomas P. Costello/Asbury Park Press/Canadian Press)
"If human harm is done, if a child is terrorized for the rest of their life because of what happened to them on the internet, if there are other damages and costs, then maybe the platform that made that possible should bear the financial consequences," Goodale said.
The government plan includes $2.1 million to intensify engagement with digital industry to develop new tools online and support effective operating principles, $4.9 million for research, public engagement, awareness and collaboration with non-governmental organizations and $15.25 million to internet child exploitation units in provincial and municipal police forces across the country.
Goodale said the strategy recognizes that technology is "increasingly facilitating the easy borderless access to vast volumes of abhorrent images."
That, he said, makes investigations increasingly complex,
"This is a race where the course is always getting longer and more complicated and advancing into brand new areas that hadn't been anticipated five years ago or a year ago or even a week ago," Goodale said.
Gas prices expected to dip in Ottawa
If you can wait an extra day to fill up the gas tank, your bank account might thank you.
Roger McKnight of Enpro is predicting a five cent dip in gas prices Wednesday night at midnight.
This comes after a four cent drop this past Friday, just ahead of the August long weekend.
McKnight said the reason for the drop, both last week and this week, is due to comments made by US President Donald Trump.
He says after the drop, the price will be, on average, 118.9 cents/litre in the Ottawa region.
Oka asks Ottawa to freeze Mohawk land deal, send RCMP to Kanesatake
The town of Oka is asking the federal and provincial governments to slap a moratorium on a proposed land grant to the local Mohawk community in Kanesatake and to establish an RCMP detachment on the First Nations territory to deal with illegal cannabis sales outlets.
The requests were contained in two resolutions adopted Tuesday night by the Oka town council.
The administration of Oka Mayor Pascal Quevillon held its first public meeting since the start of the controversy that pitted the town council against the Kanesatake band council over a decision by a local promoter to give local lands to the Mohawk community.
The three resolutions are addressed to Prime Minister Justin Trudeau's government, Quebec Premier François Legault's government and the Kanesatake band council led by Grand Chief Serge Otsi Simon.
As each resolution was read into the record, Quevillon stressed that the town of Oka was only looking to live in peaceful cohabitation with the Mohawk community.
The town also called upon Ottawa to establish a consultation process that would take into account the concerns of residents in Oka and Kanesatake.
Quevillon's administration also wants access to the plans detailing what lands are at the centre of negotiations between the federal government and the Mohawk community for purchase, suggesting the talks are simply a disguised form of expropriation.
"They're giving money to (the Mohawks) to buy our land and annex it to their territory," Quevillon said.
Despite its demands, the Oka council adopted an official statement addressed to the Kanesatake band council saying the town's population wanted dialogue and peaceful cohabitation, with Quevillon citing the 300 years of close links between the two communities.
During the council meeting's question period, some residents suggested that the council deal with other groups that say they are speaking for Kanesatake, including Mohawk traditionalists. Mayor Quevillon replied that the town would only deal with the band council and did so out of respect for Grand Chief Simon.
The mayor also argued that the RCMP, a federal police force, was best suited to be deployed in Kanesatake, where it would ensure the law would be respected, particularly on the issue of illegal cannabis shops.
Quevillon contended such a deployment was the only way for both communities to work together toward their mutual economic development.
Meanwhile, the apology Grand Chief Simon has said he is expecting from Quevillon for remarks he made earlier this summer about the Mohawk community in Kanesatake does not appear to be coming any time soon.
Asked by a resident if he would apologize, Quevillon left the answer to those citizens who attended the meeting, the vast majority of whom replied, "no."