Rival concerts held as Venezuela power struggle intensifies | Colombia News
[ad_1]

Cucuta, Colombia – Rival concerts became the backdrop of the showdown between Venezuelan President Nicolas Maduro and opposition leader and self-declared interim president Juan Guaido on Friday as the opposition prepared to bring aid across the Venezuela-Colombia border – a move Maduro has vowed to block. 
Billionaire Richard Branson hosted a "Venezuelan Aid Live" concert on the Tienditas International bridge, which connects Venezuela and Colombia, while Maudro's government kicked off a three-day festival on the other side of the border. 
Branson said he hopes to raise more than $100m to provide food and medicine for Venezuelans. 
"I think that if we can persuade the soldiers to open the bridge, that's the ideal outcome from this concert," Branson told the Reuters news agency ahead of Friday's concert.
"That will then mean that people who are dying from cancer because they're not getting the right pills, or other illnesses, they will be able to get help medical help," he added.
People arrive at the 'Venezuela Live Aid' concert at the Tienditas cross-border bridge between Colombia and Venezuela, in Cucuta, Colombia [Edgard Garrido/Reuters] 
Just 300 metres away, 150 artists began performing at Maduro's "Hands off Venezuela" festival. 
"We'll be here to denounce all the barbarity, the conspiracy, the blockades with which the United States government have been attacking the democratic stability in Venezuela", said Dario Vivas, from the ruling United Socialist Party of Venezuela from that concert's construction site on Thursday. 
The musical tug of war is part of a power struggle between Maduro and US-backed Guaido, who declared himself interim president on January 23. 
Power struggle
The Colombian border city of Cucuta has become the site of an aid standoff between the two men. 
Guaido has the backing of the US and about 50 other countries. Maduro maintains the support of Russia, China and Turkey, among others, as well as most of the state's institutions, including the military. 
Guaido gave a Saturday deadline for the aid stockpiled on the border to be allowed into Venezuela. Most of that aid has been provided by the US. 
He said he would leave a caravan of volunteers in getting the aid across by "sea, land and air".
"On the 23rd, we will go to each and every [military] post to demand humanitarian aid be allowed in", Guaido told reporters in Caracas.
"That they allow us to help and save lives in our country and that we make room for us to open the humanitarian channel," he added. 
But Maduro, who denies a humanitarian crisis is taking place in his country, has vowed to block the aid, calling it a "provocation" and telling US President Donald Trump that he "should worry about the poor in his own country".
Milagro Mendes fled Venezuela more than three years ago. Now she sells water and other drinks in Cucuta [Mia Alberti/Al Jazeera]
Milagro Mendes, a Venezuelan vendor who was selling water outside the Cucuta concert venue, said she thought the concert was a "very good thing". 
"Our country needs help, peace and for Maduro to give up because he destroyed the country," Mendes, 21, told Al Jazeera. 
She left Venezuela three years ago because her family couldn't afford for her schooling. 
"I now send money to my father for his diabetes medication and for my mother's heart problems," she said. 
Richard Alberto Dias, Colombian-Venezuelan said he came to the concert to support he Venezuelan people. 
"I'm here to be with the Venezuelan people that need our help, and also to tell Maduro and the politicians in Venezuela that we are the majority," he told Al Jazeera. "And that tomorrow aid will go in wether they like it or not." 
'Nothing is certain'
Security on both sides of the border was ramped up this week ahead of the aid caravan and concerts. 
Venezuelan Defence Minister Vladimir Padrino said on Tuesday his troops were "obedient and subordinate" to Maduro.
He warned the opposition it would have to pass over "our dead bodies" to overthrow Maduro.
"They will never accept orders from any foreign government … They will remain deployed and alert along the borders, as our commander in chief has ordered, to avoid any violations of our territory's integrity," Padrino said.
In a televised speech, Maduro also said he would "charge" Colombian President Ivan Duque "with any violence that might occur on the border".
The Mayor of Cucuta, Cesar Rojas Ayalla, told Al Jazeera "nothing is certain", but he believes "Venezuelans won't shoot against their own people, their own blood".
Ayalla also said the city was deploying 1,500 police officers to the concert's site.
On Thursday, Maduro said he was closing the border with Brazil and was considering doing the same with Colombia. He has already closed the maritime border with Aruba, Bonaire, and Curacoa, where some aid has been stockpiled. 
A least one person was killed and several others injured when Venezuelan soldiers opened fire on members of an indigenous community near the border with Brazil on Friday, Reuters news reported. 
Humanitarian aid for Venezuela is seen at a warehouse at the Tienditas cross-border bridge between Colombia and Venezuela in Cucuta, Colombia [Luisa Gonzalez/Reuters]
It remains unclear how exactly the opposition plans to get the aid across the border if Maduro blocks it. 
According to Reuters, opposition figures say volunteers may form a human chain and individually carry the packages out of the border.
In a statement, Colombia's migration authority said it would restrict border crossings on Saturday to people participating in the aid hand-off. 
As the border tug of war continues under a soundtrack of Latin pop music, the humanitarian crisis between Colombia and Venezuelans worsens.
While figures in both countries build infrastructure to host a concert for thousands of people, migrants still have no place to sleep or shower.
More than three million Venezuelans have fled hyperinflation and food and medicine shortages since 2014, according to the United Nations. 
Maira Fernanda Carrera, a Colombian-Venezuelan attending Friday's concern in Cucuta, said she hasn't seen her father, who is in Venezuela, in 10 years. 
"It's not so much about the concert," she told Al Jazeera, "but more about the world seeing what Venezuelans here at the border go through, searching for food and work."
[ad_2]

Source link
Ottawa announces new funding to combat online child abuse
Ottawa has announced $22 million in funding to fight online child abuse.
Noting that police-reported incidents of child pornography in Canada increased by 288 per cent between 2010 and 2017, Public Safety Minister Ralph Goodale made the announcement Tuesday.
It follows a London meeting last week that focused on the exploitation of children between Goodale and his counterparts from the United States, Britain, Australia and New Zealand, collectively known as the Five Eyes intelligence group.
Major internet companies, including Facebook, Google and Microsoft, were also at the meeting and agreed to a set of rules the members of the group proposed to remove child pornography from the internet quicker.
On Tuesday, Goodale warned internet companies they had to be better, faster and more open when in comes to fighting child abuse on line.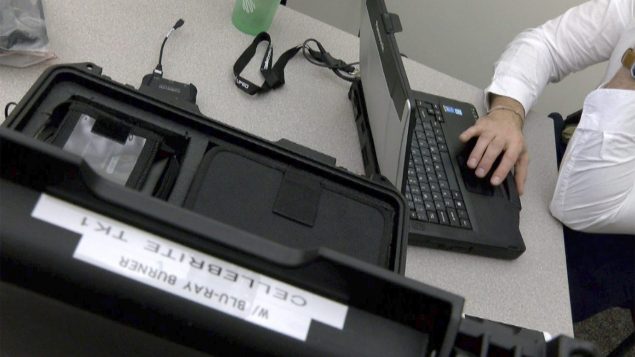 In this Friday, Jan. 12, 2018 photo, detectives use the Cellebrite system to extract information from cellphones at the State Police facility in Hamilton Township, N.J. "Operation Safety Net," the results of which were announced in December, netted 79 people suspected of exploiting children. (Thomas P. Costello/Asbury Park Press/Canadian Press)
"If human harm is done, if a child is terrorized for the rest of their life because of what happened to them on the internet, if there are other damages and costs, then maybe the platform that made that possible should bear the financial consequences," Goodale said.
The government plan includes $2.1 million to intensify engagement with digital industry to develop new tools online and support effective operating principles, $4.9 million for research, public engagement, awareness and collaboration with non-governmental organizations and $15.25 million to internet child exploitation units in provincial and municipal police forces across the country.
Goodale said the strategy recognizes that technology is "increasingly facilitating the easy borderless access to vast volumes of abhorrent images."
That, he said, makes investigations increasingly complex,
"This is a race where the course is always getting longer and more complicated and advancing into brand new areas that hadn't been anticipated five years ago or a year ago or even a week ago," Goodale said.
Gas prices expected to dip in Ottawa
If you can wait an extra day to fill up the gas tank, your bank account might thank you.
Roger McKnight of Enpro is predicting a five cent dip in gas prices Wednesday night at midnight.
This comes after a four cent drop this past Friday, just ahead of the August long weekend.
McKnight said the reason for the drop, both last week and this week, is due to comments made by US President Donald Trump.
He says after the drop, the price will be, on average, 118.9 cents/litre in the Ottawa region.
Oka asks Ottawa to freeze Mohawk land deal, send RCMP to Kanesatake
The town of Oka is asking the federal and provincial governments to slap a moratorium on a proposed land grant to the local Mohawk community in Kanesatake and to establish an RCMP detachment on the First Nations territory to deal with illegal cannabis sales outlets.
The requests were contained in two resolutions adopted Tuesday night by the Oka town council.
The administration of Oka Mayor Pascal Quevillon held its first public meeting since the start of the controversy that pitted the town council against the Kanesatake band council over a decision by a local promoter to give local lands to the Mohawk community.
The three resolutions are addressed to Prime Minister Justin Trudeau's government, Quebec Premier François Legault's government and the Kanesatake band council led by Grand Chief Serge Otsi Simon.
As each resolution was read into the record, Quevillon stressed that the town of Oka was only looking to live in peaceful cohabitation with the Mohawk community.
The town also called upon Ottawa to establish a consultation process that would take into account the concerns of residents in Oka and Kanesatake.
Quevillon's administration also wants access to the plans detailing what lands are at the centre of negotiations between the federal government and the Mohawk community for purchase, suggesting the talks are simply a disguised form of expropriation.
"They're giving money to (the Mohawks) to buy our land and annex it to their territory," Quevillon said.
Despite its demands, the Oka council adopted an official statement addressed to the Kanesatake band council saying the town's population wanted dialogue and peaceful cohabitation, with Quevillon citing the 300 years of close links between the two communities.
During the council meeting's question period, some residents suggested that the council deal with other groups that say they are speaking for Kanesatake, including Mohawk traditionalists. Mayor Quevillon replied that the town would only deal with the band council and did so out of respect for Grand Chief Simon.
The mayor also argued that the RCMP, a federal police force, was best suited to be deployed in Kanesatake, where it would ensure the law would be respected, particularly on the issue of illegal cannabis shops.
Quevillon contended such a deployment was the only way for both communities to work together toward their mutual economic development.
Meanwhile, the apology Grand Chief Simon has said he is expecting from Quevillon for remarks he made earlier this summer about the Mohawk community in Kanesatake does not appear to be coming any time soon.
Asked by a resident if he would apologize, Quevillon left the answer to those citizens who attended the meeting, the vast majority of whom replied, "no."