New Yorkers were right to oppose the Amazon deal | USA
[ad_1]

Two hundred thirty-eight cities vied for Amazon's new headquarters. Or partial headquarters. They competed with offers of support. That got cut down to 20.
At last, a choice was made! New York. Plus one other. In a two-way split.
Governor Andrew Cuomo and Mayor Bill DeBlasio were very proud. They proclaimed that it was a triumph. It would bring 25,000 new jobs! They would be good jobs! Grand jobs! With salaries averaging $150,000! Plus the "campus". 
The city and state together had come up with a three billion dollar subsidy package. They claimed that it was performance based. Even better, that it would generate $27bn in taxes, a return nine times greater than the giveaways.
Then, somehow, the deal dissolved. Amazon walked away. The exact cause is muddy and obscure. It seems to boil down to attitude. New Yorkers were not sufficiently obsequious, humble, and gracious for the largess about to be bestowed upon them. They asked questions.
Would the physical plant and these 25,000 new high-salary employees eat up the housing stock and drive out the current residents? What about public transportation, parking, schools, fire stations and police? What about Amazon's anti-union policies and actions in a pro-union city?
Some cheered the demise of the deal. Alexandria Ocasio–Cortez was the most visible. She said, "… a group of dedicated, everyday New Yorkers and their neighbours defeated Amazon's corporate greed, its worker exploitation, and the power of the richest man in the world."
"Morning Joe" is a news and talk show on MSNBC, as liberal a news network that we have. The host is Joe Scarborough. He used to be a Republican congressman. His revulsion against Trump and the ratings to be had ranting about him have moved Joe to leave his party and declare himself an independent. He surrounds himself with semi-liberals, especially his co-host Mika Brzezinski, who is now his wife. Well, they were just agog and aghast! 
Steven Rattner, journalist, financier, and adviser to Obama, said Ocasio-Cortez's remark "may be the most economically ignorant statement I have ever read." "NYC wasn't handing cash to Amazon. It was an incentive program based on job creation, producing tax revenue. There isn't a $3 billion pile of money that can now be spent on subways or education," added Andrew Ross Sorkin, financial columnist for the New York Times, as he grumbled that, "There is a financial [illiteracy] epidemic in America." Susan Del Percio, a Republican political consultant, said, "What's shocking to me is yet once again she shows how little she understands, about not just economics, but even unemployment". Even Mika, usually the most liberal of the lot, wanted to tell Alexandria, "You don't know what you don't know and you're going to step in it if you're not careful," and that she should "follow some of the more successful more mature members. I would suggest Nancy Pelosi would be a great example," picked out because she wasn't enthusiastic about the Green New Deal. Joe, himself, went on at length to explain how Amazon's jobs would have a multiplier effect as other business would spring up and grow to service them.
None of these impressive and very well-credentialed people seems to have done any research beyond reading the press release.
They all referred to the $150,000 jobs, or "high-paying jobs" in a general way, leaving the impression that the jobs would pay that much.
That should have been suspect. Most Amazon employees race around warehouses looking for goods, then put them in those custom Amazon boxes, with computer printed labels, then take them to the loading dock, constantly under the pressure of clocks that say they have to fill so many orders an hour. According to Glassdoor.com, Warehouse Associates make $14 an hour. If they work a 40-hour week, 50 weeks a year, that's all of $28,000. An area manager makes $56,000. There are different levels of software engineer, receiving salaries around $110,000 and $135,000. There are a few job categories that get up in the $150,000 range or past it. However, the median income of an Amazon employee is down there with the $14 an hour folks, it's just $28,446.
Working at UPS is probably quite similar, though a lot of their employees get to go outside and drive trucks. Their median income is nearly double Amazon's. UPS has a union. Amazon does not and is dedicated to keeping it that way.
Median is the point that half the people are above and half below.
"Average" is a much trickier idea. A fairly standard illustration is that there are 10 people sitting in a bar. For simplicity, each has a net worth of $10,000. That means their average net worth is also $10,000. Jeff Bezos, head of Amazon strolls in. Now there are 11 people in the bar and their "average" net worth has soared to $12bn, though none of the original 10 is any richer and Jeff is not a penny poorer.
If the median Amazon salary is $28,446, how could the 25,000 new jobs at the new facility average $150,000? Would there be 100 executives making $35,100,000 each? Or 10 mega-executives making $351,000,000 each? Even if this was going to be a super-duper research and development centre full of engineers, that only gets things up to the $100,000 range. You still have to pump in one billion, two hundred fifty thousand dollars – somewhere to some people – to create an average of $150,000.
The claim of 25,000 jobs averaging $150,000 is somewhere on the sliding scale of impossible, down through extremely unlikely, to deliberately misleading.
At the same time, two other pieces of news came out.
Amazon had become the second company in America to be worth over a trillion dollars!
Amazon made $11.2bn in profit in 2018. And paid $0.0 federal income tax.
That was profit. Not revenue. Not gross. Profit. Nor was that an aberration. "From 2009 to 2018, the company earned roughly $26.5 billion in profit and paid approximately $791 million in federal taxes, for an effective federal tax rate of 3.0 percent."
Whatever the specifics of this particular deal may have been, the idea of giving three billion dollars in incentives to a trillion-dollar company, that made an $11bn profit and paid no income tax, makes Amazon the Poster Corporation for all that's wrong with fiscal policies. It reveals the competition between states and between localities to bring in businesses to be a race to the bottom. The idea that citizens should pay companies for jobs, instead of businesses paying the community for the physical and social infrastructures that make their businesses possible, is a perversion and in the long run, it's destructive.
The opposition to the deal may have been wrong in detail. But it is right in principle.
The views expressed in this article are the author's own and do not necessarily reflect Al Jazeera's editorial stance.
[ad_2]

Source link
Ottawa announces new funding to combat online child abuse
Ottawa has announced $22 million in funding to fight online child abuse.
Noting that police-reported incidents of child pornography in Canada increased by 288 per cent between 2010 and 2017, Public Safety Minister Ralph Goodale made the announcement Tuesday.
It follows a London meeting last week that focused on the exploitation of children between Goodale and his counterparts from the United States, Britain, Australia and New Zealand, collectively known as the Five Eyes intelligence group.
Major internet companies, including Facebook, Google and Microsoft, were also at the meeting and agreed to a set of rules the members of the group proposed to remove child pornography from the internet quicker.
On Tuesday, Goodale warned internet companies they had to be better, faster and more open when in comes to fighting child abuse on line.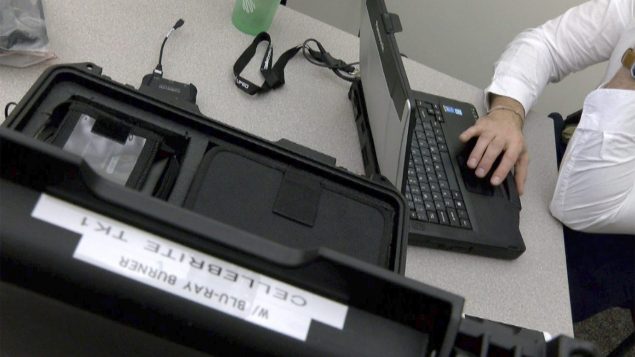 In this Friday, Jan. 12, 2018 photo, detectives use the Cellebrite system to extract information from cellphones at the State Police facility in Hamilton Township, N.J. "Operation Safety Net," the results of which were announced in December, netted 79 people suspected of exploiting children. (Thomas P. Costello/Asbury Park Press/Canadian Press)
"If human harm is done, if a child is terrorized for the rest of their life because of what happened to them on the internet, if there are other damages and costs, then maybe the platform that made that possible should bear the financial consequences," Goodale said.
The government plan includes $2.1 million to intensify engagement with digital industry to develop new tools online and support effective operating principles, $4.9 million for research, public engagement, awareness and collaboration with non-governmental organizations and $15.25 million to internet child exploitation units in provincial and municipal police forces across the country.
Goodale said the strategy recognizes that technology is "increasingly facilitating the easy borderless access to vast volumes of abhorrent images."
That, he said, makes investigations increasingly complex,
"This is a race where the course is always getting longer and more complicated and advancing into brand new areas that hadn't been anticipated five years ago or a year ago or even a week ago," Goodale said.
Gas prices expected to dip in Ottawa
If you can wait an extra day to fill up the gas tank, your bank account might thank you.
Roger McKnight of Enpro is predicting a five cent dip in gas prices Wednesday night at midnight.
This comes after a four cent drop this past Friday, just ahead of the August long weekend.
McKnight said the reason for the drop, both last week and this week, is due to comments made by US President Donald Trump.
He says after the drop, the price will be, on average, 118.9 cents/litre in the Ottawa region.
Oka asks Ottawa to freeze Mohawk land deal, send RCMP to Kanesatake
The town of Oka is asking the federal and provincial governments to slap a moratorium on a proposed land grant to the local Mohawk community in Kanesatake and to establish an RCMP detachment on the First Nations territory to deal with illegal cannabis sales outlets.
The requests were contained in two resolutions adopted Tuesday night by the Oka town council.
The administration of Oka Mayor Pascal Quevillon held its first public meeting since the start of the controversy that pitted the town council against the Kanesatake band council over a decision by a local promoter to give local lands to the Mohawk community.
The three resolutions are addressed to Prime Minister Justin Trudeau's government, Quebec Premier François Legault's government and the Kanesatake band council led by Grand Chief Serge Otsi Simon.
As each resolution was read into the record, Quevillon stressed that the town of Oka was only looking to live in peaceful cohabitation with the Mohawk community.
The town also called upon Ottawa to establish a consultation process that would take into account the concerns of residents in Oka and Kanesatake.
Quevillon's administration also wants access to the plans detailing what lands are at the centre of negotiations between the federal government and the Mohawk community for purchase, suggesting the talks are simply a disguised form of expropriation.
"They're giving money to (the Mohawks) to buy our land and annex it to their territory," Quevillon said.
Despite its demands, the Oka council adopted an official statement addressed to the Kanesatake band council saying the town's population wanted dialogue and peaceful cohabitation, with Quevillon citing the 300 years of close links between the two communities.
During the council meeting's question period, some residents suggested that the council deal with other groups that say they are speaking for Kanesatake, including Mohawk traditionalists. Mayor Quevillon replied that the town would only deal with the band council and did so out of respect for Grand Chief Simon.
The mayor also argued that the RCMP, a federal police force, was best suited to be deployed in Kanesatake, where it would ensure the law would be respected, particularly on the issue of illegal cannabis shops.
Quevillon contended such a deployment was the only way for both communities to work together toward their mutual economic development.
Meanwhile, the apology Grand Chief Simon has said he is expecting from Quevillon for remarks he made earlier this summer about the Mohawk community in Kanesatake does not appear to be coming any time soon.
Asked by a resident if he would apologize, Quevillon left the answer to those citizens who attended the meeting, the vast majority of whom replied, "no."