10 Home Theater Design Ideas That'll Make Movie Night So Much Better
The only thing better than going to the movies is enjoying one from the comfort of your very own home theater. If you're ready to commit or just starting to research the process, these ten home theater design ideas, renovation tips, and decorating examples will help you create the cinematic viewing space of your dreams. Now sit back, relax, and enjoy the feature presentation of home theaters that rival the real thing below. 1 Free Up Your Basement PHOTO: Dustin Askland; DESIGN: Elizabeth Roberts
A basement is the perfect location to design a home theater since it's isolated and dark. This will make sound performance and lighting easier to control.
The Design Tip: Try painting your walls a dark color and install an extra-large flat screen, as seen in this home theater designed by Elizabeth Roberts Architecture & Design. Then bring in seating reminiscent of classic plush movie theater seats but with a modern spin and the ability to work in a variety of environments. 2 Scout Out Alternate Locations Studio DB
If you don't have a basement or large enough space, there are plenty of other ways to make a home theater work. Transform a spare bedroom or a walk-in closet, where the enclosed nature minimizes natural light. Other options include converting a garden shed, pool house, and even an unused garage.
The Design Tip: If you can't design an entire room to feel like a blackbox theater, opt for built-in seating for a bite-sized version of the experience, as seen in this nook designed by Studio DB. 3 Consider Insulating Your Space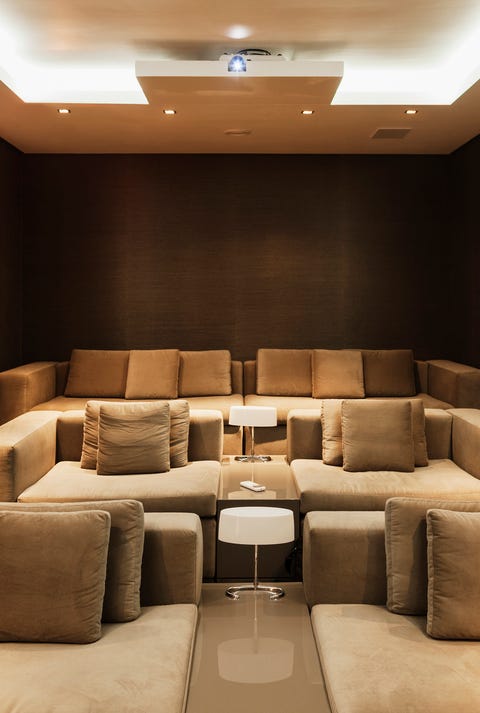 Once you've selected the room you want to use for a home theater, you'll want to map out your renovation needs. Do you just want to decorate a media room that draws inspiration from a movie theater, or do you want to go all out? If it's the latter, you may want to insulate your walls with drywall to create a sound barrier.
The Design Tip: Make it ultra-push. Big suede love seats are perfect for romantic nights and those lacquered tables between them are the perfect resting spot for your bowl of popcorn. Advertisement – Continue Reading Below
4 Optimize Your Wiring PHOTO: Dustin Askland; DESIGN: Elizabeth Roberts
Another important step is getting your wiring in check. You'll need the right wiring for lighting, sound, and your projector and/or screen. This is also a good time to mention that you'll want to keep equipment out of sight and hide your wires with discreet tubing.

The Design Tip: If your home theater doesn't have room for cinema-style stadium seating, try a conversation pit. Designed by Elizabeth Roberts, this space feels like a private haven fit for big viewing parties thanks to the full carpeting and depressed flooring. 5 Review Sound Options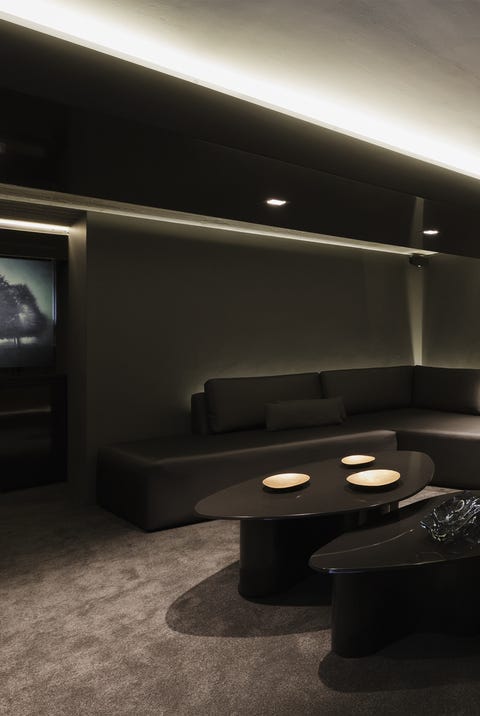 There's a lot to think about when designing your sound system, from how many speakers you'll need and whether or not to install surround sound. Some design choices will also impact the sound quality. For example, a carpet helps contain the noise and prevent echo.

The Design Tip: Plush carpet, low to the ground seating, and sophisticated marble coffee tables make this home theater perfect for both viewing and entertaining. A large sectional can fit more family and friends and the moody color story makes it feel like a subterranean lounge. 6 Choose Your Screen Studio Lifestyle
There are a ton of options and things to consider when picking your screen. Most importantly, the room's dimensions. If it's shallow, you won't want to choose a screen that's too large. Whichever you choose, make sure it's equipped with a blu-ray player, satellite feed, and game console.
The Design Tip: You can still create a media room that feels like a home theater even if you don't have the perfect basement space to do so (blackout curtains to the rescue). Take note from this cozy media room decorated by Studio Lifestyle. Advertisement – Continue Reading Below
7 Set Up Control Systems Catherine Kwong Design
Consider setting up a control system like a universal remote, iPad, iPhone, or a whole-home automation system. This will help you control lighting, sound, and everything else you need in one place.
The Design Tip: This media room from Catherine Kwong is perfect for cozy family movie nights, but its also the perfect backdrop for entertaining, afternoon naps, and casual get togethers. 8 Think About Bells and Whistles PHOTO: Kenya Bravo for Homepolish; DESIGN: Paula Guzman for Homepolish
Do you want 3-D capability? Professional-level audio performance and high resolution picture? A hidden projector that drops down from the ceiling? There are plenty of little add-ons that will make your home theater a truly immersive experience.
The Design Tip: If you have plain white walls, a projector is going to be your best friend. You'll be able to watch your favorite movies on a big "screen" without actually having to install one on your living room walls, as seen in this apartment designed by Paula Guzman of Homepolish. 9 Think About Layout Studio Ashby
And now for the fun part… Once you've worked out all the technical elements, you can think about layout. Go for cinema-style stadium seating with reclining loungers or love seats, or keep things one level with a sectional.
The Design Tip: The layout of this home theater designed by Studio Ashby is a nod to the real cinematic experience, but with a sophisticated spin. The Art Deco sconces tiered seating evoke the Hollywood golden age while the olive green seats and ottomans are fresh and contemporary. Advertisement – Continue Reading Below
10 Have Fun With Design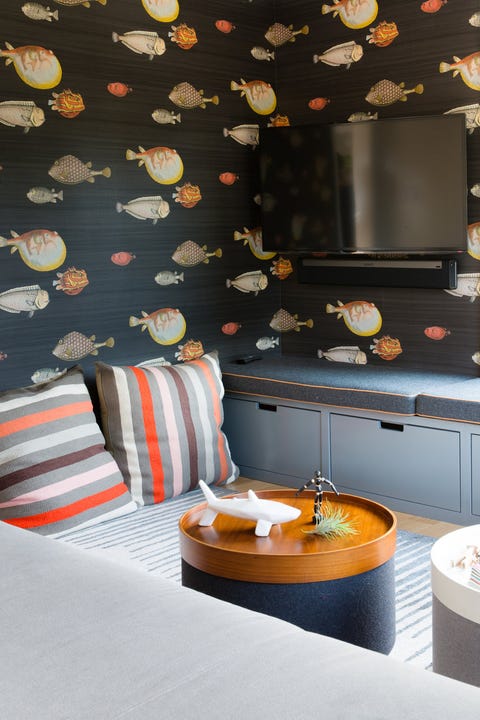 And last but not least, you can start decorating your home theater. Choose a theme and run with it, whether you want to channel the setting of your favorite film, make it sophisticated, or feature a repeating motif.
The Design Tip: If your media room is also a play room, choose a dark wallpaper that will absorb light during viewing parties but also speak to the space's other uses with a whimsical print. Adding floor cushions is also a good call, as seen in this media room by Regan Baker Design.
Not even real estate is immune from the impact of the coronavirus
The novel coronavirus may have started as a health scare in China, but now that it has spread to more than 100 countries, its economic impact is becoming increasingly difficult to ignore.
The contagion has sent global stock markets into panic mode, with a record plunge on Monday and soaring volatility ever since.
Housing markets in Canada and Australia, however, appear undeterred by the jitters. In fact, they have even taking encouragement from recent rate cuts implemented to combat the crisis.
At the same time, home-refinance applications in the U.S. have surged by 79 per cent, as per the U.S. Mortgage Bankers Association's refinance index.
But is real estate really immune from the impact of the coronavirus, which was officially deemed a pandemic by the World Health Organization on Wednesday?
Some real estate sectors are clearly more vulnerable than others. The surge in cancellations for tourist travel is not only affecting airlines but also hotels and others in the lodging industry.
The next week is usually one of the busiest travel seasons of the year as families travel during the March break. Already, cancellations are at an all-time high, something that is putting stress on the hotel industry, and one could see that part of the market come under pressure if conditions pressure.
Some investors, meanwhile, expect REITs to do well in times of uncertainty because, with long-term leases, landlords are likely to enjoy more stable cash flows than manufacturers and others who are more sensitive to short-term declines in the demand.
In addition to office and large retail real estate, where tenants usually have longer leases, investors are reportedly favouring purpose-built rental housing and self-storage real estate.
Coronavirus is already taking its toll on Canada's real estate market
The real estate frenzy in Canada's biggest markets is headed for a chill as anxiety rises over the economic fallout of the coronavirus.
A call for social distancing means far fewer people will be opening up their homes to potential buyers.
RE/MAX wants its realtors in Ontario, the Atlantic provinces and Western Canada to cancel open houses until COVID-19 is under control.
"While almost all real estate brokerage firms have embraced digital tech and realtors are able to utilize signature platforms and other tools to conduct business, once showings, open houses and other in-person business is restricted, there will definitely be a drop off in transactions," John Lusink, president and broker of record at Right at Home Realty, told Yahoo Finance Canada.
"We expect to see a drop in sales but this will take a month or two to filter through into the actual results."
Buyers will also likely put their plans on hold.
"Obviously there has been an immediate pause in market activity as everyone tries to figure out what happens next," Steve Saretsky, realtor and author of real estate blog Vancity Condo, told Yahoo Finance Canada.
"We are seeing buyers move to the sidelines and sellers put some of their listing plans on hold."
But that doesn't mean the end result will be more affordable homes.
"The way I see it the housing market is basically frozen… no buyers and no sellers," Benjamin Tal, deputy chief economist at CIBC Capital Markets, told Yahoo Finance Canada.
"That in a way will limit or even eliminate any notable downward risk to prices. Simply the  number of sales will go down dramatically."
6 Ottawa Homes For Sale Along OC Transpo That Are Still Kinda Affordable
Like many big cities, finding an affordable place to live in Ottawa can be challenging, especially for new home buyers. Though one benefit of living in the capital is having access to public transportation within minutes, which in the long run, might help offset any moving expenses. So if you're a new buyer or just looking to relocate, cheap homes for sale near transit in Ottawa are perfect for those who are always on the go.
The Ottawa Real Estate Board reported back in February that the average cost to buy a home was 21% higher than the previous year.
Despite these growing prices, it seems that Millenials are still flocking to the area to enjoy Ottawa's culture.
There are so many beautiful places to explore and fun things to do that it's not hard to love where you live no matter your budget. Being close to public transit is always a plus, especially if you don't own a car but still want to enjoy the perks of the city.
These spots are both affordable and travel-friendly, so you can save money and still explore the area without breaking the bank.
They are also OC Transpo accessible.
From charming bungalows to three-story units, there's a place for everyone to call home.
If you want to feel more like a royal for the day, you can check out these luxurious Ottawa homes that are basically giant spa getaways.
Pull out your Presto Card and get ready to explore the city as soon as you step out the door!
According to the Ontario Real Estate Association, the Ontario government has currently prohibited open houses during the current state of emergency.
The Real Estate Council of Ontario states homebuyers are still able to view listings online through virtual tours and 360 walk-throughs.