Hamish Dodd's home-renovation tips
The challenges of renovating a house are laid bare in 100 Day Renovation, a local property series.
In the show, Auckland couple Alex and Rachel, who have two children, share project-managing duties when they decide to add another level to their single-storey family home.
It is hoped their renovation will take no more than 100 days.
But as anyone who has renovated a house knows, things don't always run according to schedule.
100 Day Renovation is fronted by interior designer Hamish Dodd, who viewers may remember from the series My House My Castle.
Several years ago, Dodd presented 100 Day Bach, a show in which he and his wife Anita set themselves a challenge of building their Taupō holiday home within 100 days.
"For years I worked on TV makeover shows which were pretty much under the pump," says Hamish Dodd.
"Not that we seem to change the format here. I wanted it to be more content driven. Yes, entertaining but more what, why and how. That was the key. I got to have some influence over it which was not just, 'And this week we're putting the insulation in the walls'.
"I wanted it to explain what insulation was required, why we were doing it, why we had to use a certain type because of the thickness of the wall cavities.
"(I wanted) more information for people so people can see that not everything is done in a hurry, not everything runs smoothly and that that's OK. That was the aim – to capture the good, the bad and the ugly."
For the record, building the Taupō pad took longer than 100 days but Dodd is tight-lipped about how many days were needed to renovate Alex and Rachel's house.
When they were looking at their housing options, Dodd says Alex and Rachel, who live on the Hibiscus Coast, north of Auckland, were adamant that they wanted to stay in their local area.
"The initial thought was to actually look and buy another house in the area that was bigger," he says.
"(Their house) has got a lot of rooms as such but it was originally a very old bach. The original building stemmed from the 1930s and it had been added on and added on.
"But when you take an old bach … the bedrooms were tiny. And the flow of the house didn't work. There was no real respite for the rest of the family to get away from each other perhaps, even though technically it had enough bedrooms."
However, buying a bigger house in the same area was too expensive.
"They are near the beach and those properties have gone up astronomically," Dodd says.
"But the thing to remember is our incomes have not sky-rocketed at the same rate as property."
Hamish Dodd's Top Five Tips For Home Renovation
1) If you are doing a really big project and you are unsure how costings work, get a quantity surveyor to look at the project. Hands down it's money well spent.
2) Get advice, talk to people. There is no harm in getting quotes either. People assume a value of something and say, 'Oh I won't put in one of those air-conditioning systems that run through the ceilings or a home-heating system. They are really expensive'. It's like 'Are they?' Have you actually compared them if you were to turn around in a few years' time and put heat pumps in every room after the fact. You'll probably find it's about the same price.
3) Maintain good communication with contractors, suppliers and, most importantly, your partner – the person you are building the house with. Obviously that goes out the door if you are building it by yourself.
4) When it comes to finding suitable tradespeople maybe your good mate is a plumber. You might say to them, 'Just out of interest, do you have a builder?' They will. Because what you find is they are a team. Builders will work with their own plumber, their own electrician, their own tiler. They have a collective who've worked together for years. That means when the builder needs an electrician in a hurry he's got a lot more clout than you if you've just gone off and rung an electrician down the road.
5) Build in a bit of down time so you can relax and enjoy life while you do it. Renovating a house is meant to be exciting. That's a cool thing to do. Kiwis, we love our houses. To have it turn into a stress storm is crazy in my opinion. You know it's going to run over time and be stressful. So if you know it's happening, mitigate it. Go away somewhere for the weekend. It doesn't have to be astronomically dear. It's a bit about separation.
9 practical ways to save on your renovation
Collecting your keys soon? It's time to start planning for your renovation! Purchasing and putting together a home calls for wise decisions to be made, especially so you don't break the bank. Together with BankBazaar, we bring you a list of tips and tricks to help you balance your budget easily.
1. PLAN YOUR BUDGET (AND STICK TO IT)
Decide exactly what you need for your new home and list out the cost of each purchase. With this budget in mind, stick to it as closely as possible. However, there may be certain unforeseen circumstances that may cause you to exceed your pre-planned budget due to. With that in mind, be sure to give yourself an allowance of about 20 per cent on top of that pre-planned budget so that you don't end up with an incomplete bathroom.
2. RESEARCH
Experience is the best teacher – read up on what people have done and learn from their experiences. Read reviews on interior designers and look at their portfolios. It is important to note that some interior designers are more skilled in certain home types than others. Try to get at least 3 quotations for your ideal home. Compare them before deciding on a designer.
3. PLAN YOUR PURCHASES
Home fairs attract a range of merchants selling products you might need, which can be a great place to check out! Warehouse sales are also a place to get furniture at a bargain. Compare prices across different merchants before your eventual purchase.
If the purchases are not urgent, wait for discounts during occasions like the Great Singapore Sale, National Day, Black Friday, Cyber Monday or Christmas. Keep on the lookout for cyber sales throughout the year where retailers will have discounts that can save you some money.
For the true bargain hunters, head over to Johor Bahru to get lights and furniture at a fraction of the cost. Tampoi Lighting Centre is immensely popular among Singaporeans, and JC Bespoke is great for good quality teak furniture.
4. DIFFERENTIATE YOUR NEEDS AND WANTS
Amidst the excitement of preparing for a new home, we tend to fail to consider what we really need. Do you really need that S$800 bright red professional mixer, or does it just look great on the kitchen counter?
Pro tip: Consider if your purchase will make your home a more functional one. If not, you may want to wait till you've moved into your home to really know. In that way, it may be wiser to leave some of the nice-to-have purchases till after you've moved in.
5. DO-IT-YOURSELF
Try assembling your own furniture instead of paying someone to do it for you. Just imagine that sense of satisfaction after you're done! Of course, be discerning as to what you can do. As a general rule of thumb, it might be wise to leave the specialised tasks, such as installation of gas pipes, to trained professionals.
Furniture stores such as IKEA are good bets to get the furniture needed at fairly reasonable prices. Check out Youtube's home renovation videos, Pinterest or ikeahackers.net for nifty DIY tips.
6. DRAW INSPIRATION FROM OTHERS
The Internet is full of inspiration, from renovation saving tips to creative, style tips! Of course, Qanvast has thousands of local home ideas that'll pique your interest – a real treasure trove of ideas on personalizing your home!!
7. DECIDE ON A COST-SAVING THEME FOR YOUR HOME
The design of your home plays a role in your renovation cost as well. A home with a minimalist theme is likely to be cheaper to renovate than an apartment that is intended to exude a sense of opulence. Having said that, it doesn't mean you have to compromise on style: after all, simplicity is beauty.
8. DO AWAY WITH UNNECESSARY FRILLS
It is important to focus on what is functional for your home. For example, it might not be very practical to get carpets if you have young children or pets at home. At the same time, wallpaper may not be the best idea in Singapore's tropical climate as it causes the wallpaper to discolour and replacing wallpaper can be a little pricey as well.
9. REFURBISH OR REUSE WHEN POSSIBLE
If you are moving into a second-hand home, consider what can be kept, such as structural elements or pieces of furniture. Refurbish them if they are still functional and in relatively good condition. If you have current furniture, consider what can be reused and brought to your new home.
For first-time homeowners, it is important to note that while you may want to have custom carpentry throughout the house, you won't be able to bring these pieces to your next house if you plan on moving again.
Tips for Successful and Stress Free Home Renovation Projects
Tackling a renovation project can be both rewarding and challenging. Unlike building a home from scratch, you're never starting with a clean slate. Renovations are often complicated, as you need to correct the mistakes of the previous owners, as well as to deal with unforeseen issues and costs. While being prepared is essential, before you take on your own renovation, make sure you've run through the rest of these tips.
Plan everything carefully
When you're about to spend some serious dollars, your better make a plan of what goes where before you hit the ground. Failing to do so can result in unnecessary post-reparations which cost even more. Don't forget to establish a timescale of renovations, to make sure any changes to the structure and finish go before replacing fittings and fixtures, which in their turn go before painting, window upgrades, and lighting.
Document everything
You need a budget sheet that outlines every detail of furniture, finishes, and fittings. This is an essential part of any interior design project, as it includes details such as door hardware, paint, lights, locations, prices, the lead time, and other specific requirements. When you see how your costs are spreading throughout the project, it'll be easier for you to foresee items that may lean heavily on the budget, and replace them with cost-effective alternatives without compromising the result.
Choose materials wisely
Even the most contemporary minimalistic spaces can be made much cosier with the right choice of materials. While striking a balance between functionality and aesthetic can be challenging, carpets in bedroom and natural stone in common rooms can make a nice combination. While a lot of homeowners avoid natural stone because they think it shows wear quickly, the latest sealants and protective coats can make a stone floor impervious to normal wear and tear, as well as resistant to spills and dirt.
Customise storage to your needs
While seeing storage options on a home improvement TV program is one thing, make the changes to match your style of living is another. Kid's wardrobes, for example, can fit more shelves per unit, since their clothes are much smaller, while you should design the kitchen storage that matches your appliances and utensils. In both cases, built-in solutions offer the less cluttered look, with great backdrops. You can even hide your cables by wiring the appliances into custom-made cabinets.
Have someone evaluate your budget
For most people, coming up with a budget is like making a shopping list and adding a proverbial 20% margin. However, if you enlist licensed quantity surveyors from the early start, they can get you more accurate estimates on every aspect of the job, even saving you some money in the process. Have a certified quantity surveyor inspect, assess, and record the value of items you're planning to dispense with. Things like old window furnishes, floor coverings, and many other items have a residual value that can be written off and claimed as a tax deduction. Such scrapping costs can literally earn you some money, especially if the property isn't too old.
Design a floorplan with future in mind
While the final floor layout is as much of a personal thing as anything else, keep in mind that every change might affect the ventilation scheme, traffic flow, and lighting fixtures. If you've decided to relocate doors or windows, make sure you have enough wall space, as well as floor space to accommodate all your furniture. Feng shui or not, it's always better to have a clear path through your rooms. If you're not sure what to do with the floorplan arrangement, take a walk through empty rooms and see what would be the most natural way of moving from one to the next.
Give bathroom to the experts
While moving plumbing pipes and fixtures is generally not recommended unless absolutely necessary, if you decide to do it, bring along an interior designer to make sure your plumber has the correct inputs. Keep in mind that re-routing even a single fixture costs a lot, and once concrete slabs have been poured, plumbing and wires laid in, going back and undoing mistakes isn't easy at all. A friendly renovator's tip: make sure the toilet is away from view and make the centerpiece, which is usually the vanity, the first thing a visitor sees when stepping through the door.
Small details, big impact
After you've gone through heavy-duty renovation phases, details like power points, switches, and fans might seem insignificant. However, in order to prevent them from appearing all of a sudden in the wrong spot, you need to work out their position, as well. Make sure your new home layout isn't missing on power points, and try to keep as much of wiring hidden in the floors, walls, or ceiling as possible – which is especially tricky in open-plan spaces.
No two home renovations turn out the same, however, you should still follow certain guidelines to avoid unnecessary work and retracing your steps.
10 Home Theater Design Ideas That'll Make Movie Night So Much Better
The only thing better than going to the movies is enjoying one from the comfort of your very own home theater. If you're ready to commit or just starting to research the process, these ten home theater design ideas, renovation tips, and decorating examples will help you create the cinematic viewing space of your dreams. Now sit back, relax, and enjoy the feature presentation of home theaters that rival the real thing below. 1 Free Up Your Basement PHOTO: Dustin Askland; DESIGN: Elizabeth Roberts
A basement is the perfect location to design a home theater since it's isolated and dark. This will make sound performance and lighting easier to control.
The Design Tip: Try painting your walls a dark color and install an extra-large flat screen, as seen in this home theater designed by Elizabeth Roberts Architecture & Design. Then bring in seating reminiscent of classic plush movie theater seats but with a modern spin and the ability to work in a variety of environments. 2 Scout Out Alternate Locations Studio DB
If you don't have a basement or large enough space, there are plenty of other ways to make a home theater work. Transform a spare bedroom or a walk-in closet, where the enclosed nature minimizes natural light. Other options include converting a garden shed, pool house, and even an unused garage.
The Design Tip: If you can't design an entire room to feel like a blackbox theater, opt for built-in seating for a bite-sized version of the experience, as seen in this nook designed by Studio DB. 3 Consider Insulating Your Space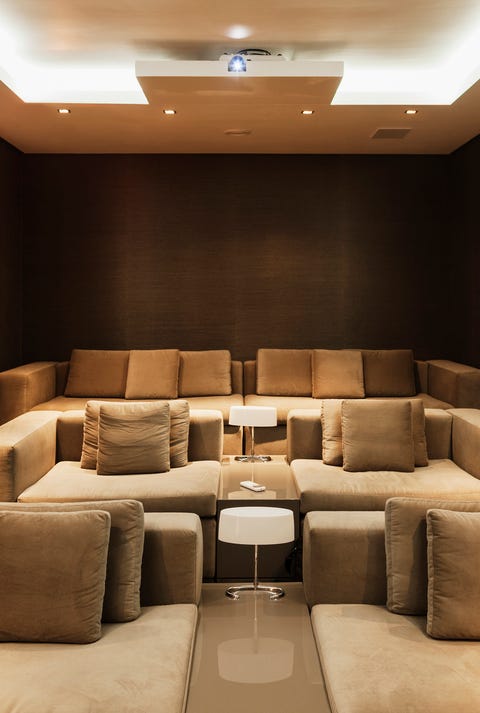 Once you've selected the room you want to use for a home theater, you'll want to map out your renovation needs. Do you just want to decorate a media room that draws inspiration from a movie theater, or do you want to go all out? If it's the latter, you may want to insulate your walls with drywall to create a sound barrier.
The Design Tip: Make it ultra-push. Big suede love seats are perfect for romantic nights and those lacquered tables between them are the perfect resting spot for your bowl of popcorn. Advertisement – Continue Reading Below
4 Optimize Your Wiring PHOTO: Dustin Askland; DESIGN: Elizabeth Roberts
Another important step is getting your wiring in check. You'll need the right wiring for lighting, sound, and your projector and/or screen. This is also a good time to mention that you'll want to keep equipment out of sight and hide your wires with discreet tubing.

The Design Tip: If your home theater doesn't have room for cinema-style stadium seating, try a conversation pit. Designed by Elizabeth Roberts, this space feels like a private haven fit for big viewing parties thanks to the full carpeting and depressed flooring. 5 Review Sound Options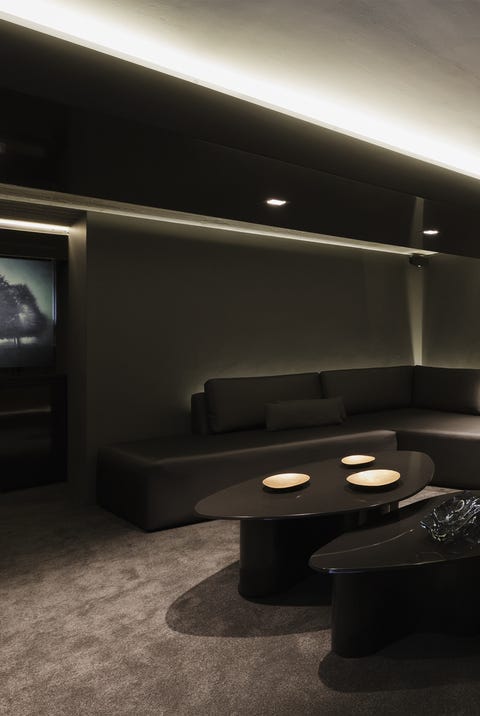 There's a lot to think about when designing your sound system, from how many speakers you'll need and whether or not to install surround sound. Some design choices will also impact the sound quality. For example, a carpet helps contain the noise and prevent echo.

The Design Tip: Plush carpet, low to the ground seating, and sophisticated marble coffee tables make this home theater perfect for both viewing and entertaining. A large sectional can fit more family and friends and the moody color story makes it feel like a subterranean lounge. 6 Choose Your Screen Studio Lifestyle
There are a ton of options and things to consider when picking your screen. Most importantly, the room's dimensions. If it's shallow, you won't want to choose a screen that's too large. Whichever you choose, make sure it's equipped with a blu-ray player, satellite feed, and game console.
The Design Tip: You can still create a media room that feels like a home theater even if you don't have the perfect basement space to do so (blackout curtains to the rescue). Take note from this cozy media room decorated by Studio Lifestyle. Advertisement – Continue Reading Below
7 Set Up Control Systems Catherine Kwong Design
Consider setting up a control system like a universal remote, iPad, iPhone, or a whole-home automation system. This will help you control lighting, sound, and everything else you need in one place.
The Design Tip: This media room from Catherine Kwong is perfect for cozy family movie nights, but its also the perfect backdrop for entertaining, afternoon naps, and casual get togethers. 8 Think About Bells and Whistles PHOTO: Kenya Bravo for Homepolish; DESIGN: Paula Guzman for Homepolish
Do you want 3-D capability? Professional-level audio performance and high resolution picture? A hidden projector that drops down from the ceiling? There are plenty of little add-ons that will make your home theater a truly immersive experience.
The Design Tip: If you have plain white walls, a projector is going to be your best friend. You'll be able to watch your favorite movies on a big "screen" without actually having to install one on your living room walls, as seen in this apartment designed by Paula Guzman of Homepolish. 9 Think About Layout Studio Ashby
And now for the fun part… Once you've worked out all the technical elements, you can think about layout. Go for cinema-style stadium seating with reclining loungers or love seats, or keep things one level with a sectional.
The Design Tip: The layout of this home theater designed by Studio Ashby is a nod to the real cinematic experience, but with a sophisticated spin. The Art Deco sconces tiered seating evoke the Hollywood golden age while the olive green seats and ottomans are fresh and contemporary. Advertisement – Continue Reading Below
10 Have Fun With Design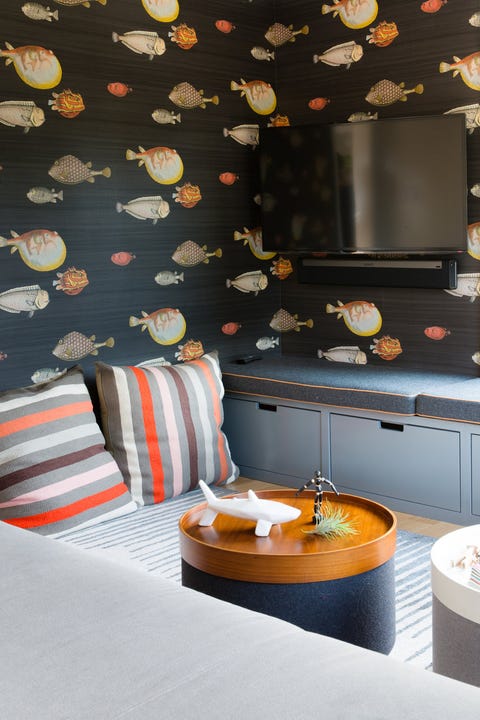 And last but not least, you can start decorating your home theater. Choose a theme and run with it, whether you want to channel the setting of your favorite film, make it sophisticated, or feature a repeating motif.
The Design Tip: If your media room is also a play room, choose a dark wallpaper that will absorb light during viewing parties but also speak to the space's other uses with a whimsical print. Adding floor cushions is also a good call, as seen in this media room by Regan Baker Design.