Seven saving tips for women in their 20s
Your twenties are an exciting time, as you wrap up your studies, embark on your career and perhaps even start a family. As a woman, it is important you begin saving and investing towards your future now, especially in today's tough economic times.
Although mastering personal finance is an essential life skill, it is not taught in most schools. This means most adults only learn about money handling once they start earning a living; which could have potentially disastrous results.
Money, for most people is an emotionally charged subject; representing power, love, or even control, particularly in relationships. Research has found that your individual beliefs about money, coupled with your emotional attachment to it strongly influences the way you spend and handle money. Key personality traits such as assertiveness, optimism, and flexibility to change are among qualities linked to smarter money choices.
These essential tips for the modern woman can however make your money work for you, at any age, and keep you financially sharp.
Know where your money is going
The key to creating wealth has always been tied to spending less than you earn. Sheba Njagi is an entrepreneur and head of training at Centonomy. She puts emphasis on importance of coming up with a budget as the first step. A good current budget helps track expenses, but it can also reveal any cash flow problems that need solving. "You need to categorise your expenses. Break them down into those that are top priority-the ones you can't live without, those that are important but not essential and those that are essential. This helps you identify opportunities for potentially wasted income that can be channelled towards your goals."
In her book All Your Worth: The Ultimate Lifetime Money Plan, Elizabeth Warren shared and popularised the 50/20/30 budget rule. She advises that you divide your take-home money (after taxes) into three categories: essentials, lifestyle, and the future. 50 per cent of your income goes to needs and life's must-haves such as rent, utilities, food and transportation. 20 per cent goes to wants and involves your lifestyle spending like travel, leisure activities, shopping and gym memberships. Thirty per cent should go into a savings account or a retirement fund.
Set goals
Handling money responsibly when you don't have deep pockets takes a great deal of restraint, planning, patience and a strong desire to succeed. Financial experts always advise to ask yourself whether you have financial dreams or financial goals. A financial dream is something you hope for, but a financial goal is something you've planned for. A smart financial goal usually has what you plan to accomplish, details on the resources you need to make those goals happen, a timeframe for each goal and how each goal will fit into your budget.
By setting strategic financial goals, you become motivated as well as focused. Putting money aside for specific projects, special occasions, academic or professional courses, holidays or even gifts allows you to reap the benefits of discipline and having an extra income to channel these goals towards. "There's no need to cut down on your expenses with no financial goal in mind" Sheba says, "without a specific goal you are more likely to go back to an unhealthy spending cycle."
Actively track your spending
The first step to getting your finances in order is in tracking your cash. "It's one thing to come up with a good budget but another to stick to it," Sheba says, "depending on what you like, you can either download a spending tracker app if you are always on the phone. If not, you can write; basically note down every time you spend money." This helps not only track the major, easily identifiable expenses but also the hidden, often overlooked ones like random purchases made in traffic during rush hour. Not physically seeing where your money is going may seem ill advised but direct debit automation is a fantastic option for saving plans.
Avoid debt
Sheba cautions against taking on debt for personal use no matter what. "Understand the difference between good and bad debt. Only take debts that will lead to income generation. Using a debt for personal use means you will still have to dip back into your already strained pocket to take care of other responsibilities."
Find the right bank
Sheba advises first time salaried employees in particular to do extensive research and look at all the fine print when choosing a bank. "Before being wowed by the exclusive services some banks promise, look at the cost of transactions. "A good bank has a secure and user friendly mobile or online banking platform. They should also have free to low cost monthly charges. Aim for banks that help customers track every transaction on the account via text or email for instance."
Invest as early as possible
Investment is usually targeted to one's individual goals. According to Sheba, there are three main reasons why people invest and you have to understand what yours look like. "People invest in order to preserve their capital, to generate income or to grow their capital exponentially and for each objective there are specific types of investments that can work." Fixed deposit accounts, unit trusts or sacco accounts are good examples of investments that preserve capital while giving a fairly decent return. For income generation one can attempt to maximise on a passive business idea which they can work on in their free time. There are also government bonds and treasury bills.
Ottawa announces new funding to combat online child abuse
Ottawa has announced $22 million in funding to fight online child abuse.
Noting that police-reported incidents of child pornography in Canada increased by 288 per cent between 2010 and 2017, Public Safety Minister Ralph Goodale made the announcement Tuesday.
It follows a London meeting last week that focused on the exploitation of children between Goodale and his counterparts from the United States, Britain, Australia and New Zealand, collectively known as the Five Eyes intelligence group.
Major internet companies, including Facebook, Google and Microsoft, were also at the meeting and agreed to a set of rules the members of the group proposed to remove child pornography from the internet quicker.
On Tuesday, Goodale warned internet companies they had to be better, faster and more open when in comes to fighting child abuse on line.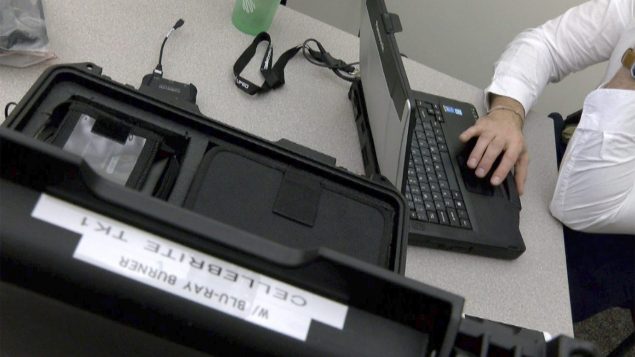 In this Friday, Jan. 12, 2018 photo, detectives use the Cellebrite system to extract information from cellphones at the State Police facility in Hamilton Township, N.J. "Operation Safety Net," the results of which were announced in December, netted 79 people suspected of exploiting children. (Thomas P. Costello/Asbury Park Press/Canadian Press)
"If human harm is done, if a child is terrorized for the rest of their life because of what happened to them on the internet, if there are other damages and costs, then maybe the platform that made that possible should bear the financial consequences," Goodale said.
The government plan includes $2.1 million to intensify engagement with digital industry to develop new tools online and support effective operating principles, $4.9 million for research, public engagement, awareness and collaboration with non-governmental organizations and $15.25 million to internet child exploitation units in provincial and municipal police forces across the country.
Goodale said the strategy recognizes that technology is "increasingly facilitating the easy borderless access to vast volumes of abhorrent images."
That, he said, makes investigations increasingly complex,
"This is a race where the course is always getting longer and more complicated and advancing into brand new areas that hadn't been anticipated five years ago or a year ago or even a week ago," Goodale said.
Gas prices expected to dip in Ottawa
If you can wait an extra day to fill up the gas tank, your bank account might thank you.
Roger McKnight of Enpro is predicting a five cent dip in gas prices Wednesday night at midnight.
This comes after a four cent drop this past Friday, just ahead of the August long weekend.
McKnight said the reason for the drop, both last week and this week, is due to comments made by US President Donald Trump.
He says after the drop, the price will be, on average, 118.9 cents/litre in the Ottawa region.
Oka asks Ottawa to freeze Mohawk land deal, send RCMP to Kanesatake
The town of Oka is asking the federal and provincial governments to slap a moratorium on a proposed land grant to the local Mohawk community in Kanesatake and to establish an RCMP detachment on the First Nations territory to deal with illegal cannabis sales outlets.
The requests were contained in two resolutions adopted Tuesday night by the Oka town council.
The administration of Oka Mayor Pascal Quevillon held its first public meeting since the start of the controversy that pitted the town council against the Kanesatake band council over a decision by a local promoter to give local lands to the Mohawk community.
The three resolutions are addressed to Prime Minister Justin Trudeau's government, Quebec Premier François Legault's government and the Kanesatake band council led by Grand Chief Serge Otsi Simon.
As each resolution was read into the record, Quevillon stressed that the town of Oka was only looking to live in peaceful cohabitation with the Mohawk community.
The town also called upon Ottawa to establish a consultation process that would take into account the concerns of residents in Oka and Kanesatake.
Quevillon's administration also wants access to the plans detailing what lands are at the centre of negotiations between the federal government and the Mohawk community for purchase, suggesting the talks are simply a disguised form of expropriation.
"They're giving money to (the Mohawks) to buy our land and annex it to their territory," Quevillon said.
Despite its demands, the Oka council adopted an official statement addressed to the Kanesatake band council saying the town's population wanted dialogue and peaceful cohabitation, with Quevillon citing the 300 years of close links between the two communities.
During the council meeting's question period, some residents suggested that the council deal with other groups that say they are speaking for Kanesatake, including Mohawk traditionalists. Mayor Quevillon replied that the town would only deal with the band council and did so out of respect for Grand Chief Simon.
The mayor also argued that the RCMP, a federal police force, was best suited to be deployed in Kanesatake, where it would ensure the law would be respected, particularly on the issue of illegal cannabis shops.
Quevillon contended such a deployment was the only way for both communities to work together toward their mutual economic development.
Meanwhile, the apology Grand Chief Simon has said he is expecting from Quevillon for remarks he made earlier this summer about the Mohawk community in Kanesatake does not appear to be coming any time soon.
Asked by a resident if he would apologize, Quevillon left the answer to those citizens who attended the meeting, the vast majority of whom replied, "no."