What I Learned at the Opening of Toronto's First Legal Weed Store
Perhaps it was fitting that Ontario's weed stores finally opened their doors on April Fool's day—because the province's retail rollout has arguably been a joke.

In the end, only ten of the 25 private cannabis retail operators selected via lottery were able to open Monday. There was one store open in Toronto, a city of 2.6 million, where more than 100 illicit dispensaries were in operation prior to legalization.
VICE visited the Toronto store, called The Hunny Pot, located downtown near Queen Street and University Ave. Here are a few key takeaways from the experience:
People give a shit
When we showed up at 8:45 AM—about 15 minutes before The Hunny Pot opened, there were dozens of people already in line. This despite temperatures being below 0 degrees Celsius [32 degrees Fahrenheit] and the fact that you can order weed online. Cannabis lawyer Caryma Sa'd and a few others parked a tent in front of The Hunny Pot at 10 AM Sunday to ensure they'd be first in line. Sa'd told VICE she can't order weed through the Ontario Cannabis Store website because it doesn't accept Visa debit cards, so she wasn't able to buy weed on October 17. "Obviously Ontario has been extremely slow to open brick and mortar stores and it was something of a second chance to be first." The line only got busier as the day progressed, and the three levels of the store's interior were jammed the entire time we were there.
The owner doesn't smoke weed
The Hunny Pot owner Hunny Gawri is a real estate agent who told VICE he has consumed cannabis only on rare occasions. He has, however, run a bunch of different types of shops, including cell phone stores and an indoor kids' playground.
"I think I might be able to speak more for people who haven't tried it and are curious now that it's legal," he said, noting he wants more education on the effects various strains will have on him. "There's a lot of enthusiasts out there and I'm looking forward to understanding it more, learning more about it as we go through the process." Advertisement
Gawri said his retail experience is what allowed him to build the store in a short period of time. He said he was in part attracted to selling weed because it's "definitely going to be a lucrative industry," especially given Ontario's population. Many of the other weed operator lottery winners in Ontario have partnered with larger retailers in licensing deals, but The Hunny Pot is independent.
People are pissed about this tone-deaf shirt
Staff at The Hunny Pot were outfitted with uniforms that had jokey slogans on the back, including "baked fresh daily," and "I'm high on life." However one of the staffers—a white woman—wore a shirt that said "I run on weed & gangsta rap." People were not amused when I tweeted a photo of it. That's because it seemed a little tone deaf, considering that black people are disproportionately arrested for weed crimes, and vastly underrepresented in the legal weed industry.

"There are about 500,000 Canadians w/ marijuana convictions on their record. Black folks were targeted for these offenses & are wildly over-represented in that number. But YUK YUK isn't this tee so cute? Everybody wanna be Black but nobody wanna be Black," tweeted Jared A. Walker, a Toronto-based writer and communications consultant. Yeah, might be a good idea to pull that shirt out of the rotation.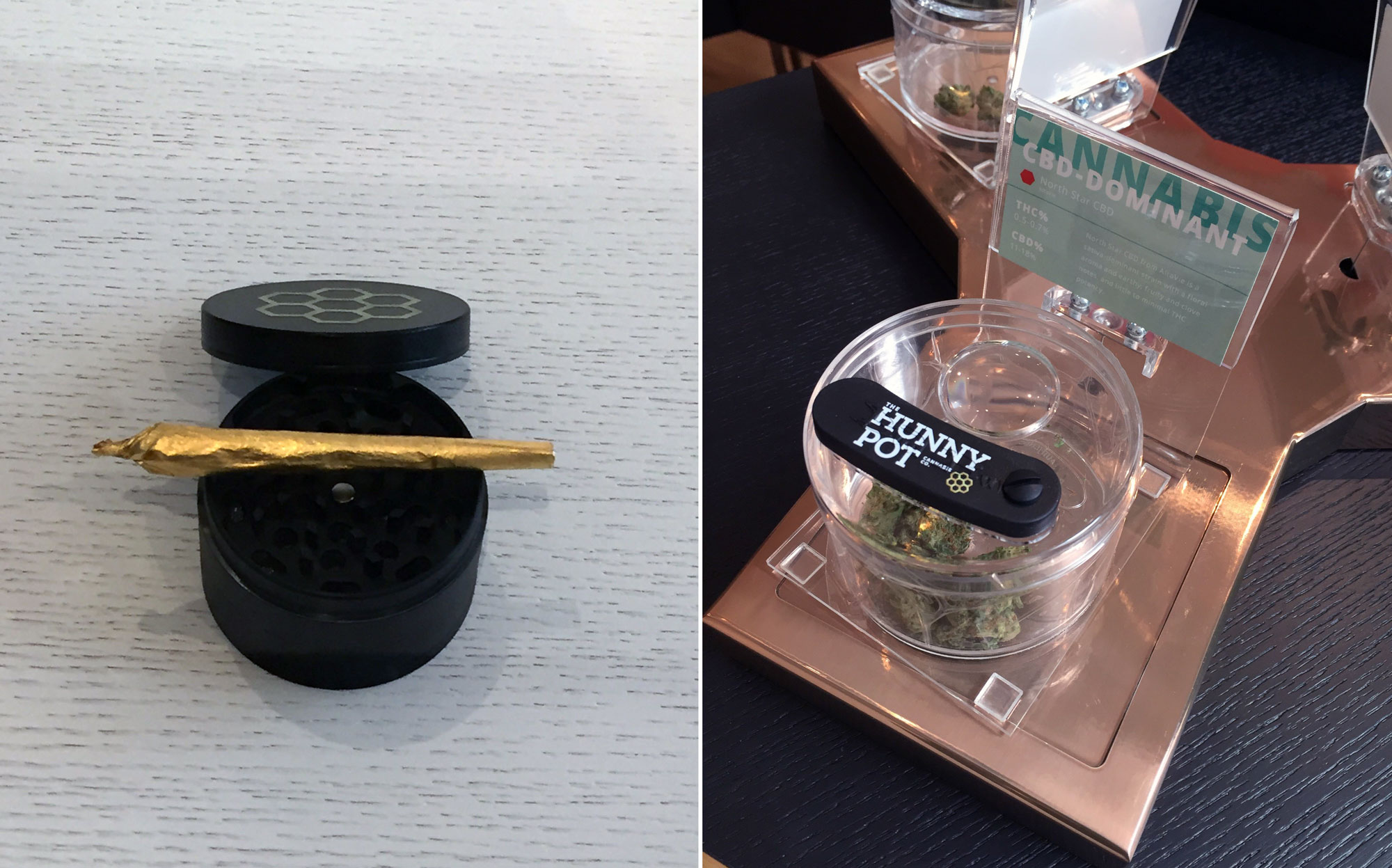 A golden joint (left) and a "CBD dominant" strain (right). Photos by the author
The weed isn't cheap
I paid $51 [$38 USD] for 3.5 grams of San Rafael Pink Kush—an indica containing 21 percent THC. Online, that quantity is priced at $42.85 [$32.08 USD] plus a $5 [$3.75 USD] shipping fee, though it's sold out currently. Owner Gawri told VICE grams at his store range from $9.50 [$7.11 USD] to $22 [$16.47 USD]. It goes without saying that black market weed is still cheaper, especially if you buy weed in larger quantities. But being the only legal weed store in Toronto, The Hunny Pot is still going to get a lot of traffic.

There's an Apple Store vibe
The Hunny Pot is aesthetically very sleek. It's 3,500 square feet with a lobby area, and three levels where cannabis is displayed in sensory jars that allow you to smell the various strains and examine them through a magnifying glass. Each customer is greeted by a budtender who walks them through their options and then places orders through an iPad. Once you're done placing your order you wait in a line to pay and pick up the weed at the cashier.
There was a Christian man protesting weed
After spending a few hours at the store, we walked outside to find a protester across the street holding up a sign that said "there's no hope in the dope. John 8:36."
It turns out that's not actually what that bible verse says. The guy was shouting "it's corrupt, it's dirty, it's vile, it's not God's will" into a microphone. And I took that as my cue to go home.
Virtual farmer's market comes to Ottawa
Ottawa first-ever virtual farmer's market has begun delivering food from local farms straight to people's homes.
Farm to Hand is making it easier for people who cannot access their local farmer's markets to find local, fresh organic food by bringing ordered food right to their doors.
"The difference between us and the farmers market is really just the convenience and the on-demandness," Sean Mallia, the co-founder of the business, told CBC Radio's In Town and Out.
"[Often times a] person wants to make the purchase but they don't have the time on Saturdays to go to the farmers market. Everyone wants to eat local … so when it's easy for them to do it, it just happens." In Town and Out No time to drive to the farmer's market but really want to eat local?
Connecting farmers with people 
The online platform allows farmers to list all their own products, and buyers can have the goods delivered.
"What we really are trying to do is build that connection between farmer and consumer," Mallia said. "When people fill up a cart … they're not just filling a cart full of food, they're filling a cart full of farmers and farms and their stories."
Mallia said the aim is to connect people to the "vibrant food ecosystem" around them, and to local support farmers.
The virtual market is currently limited to the Ottawa area as a pilot project, but Mallia, 21, said the company is looking to expand.
"[We chose Ottawa because] Ottawa really cares. Ottawa really thinks about local [food] and thinks about sustainability," he said. "It just made sense to come out of Ottawa."
Denley: Stonebridge and Mattamy show compromise is possible over development in Ottawa
In Ottawa, development proposals too often end up in acrimony and trips to the provincial planning tribunal. That's why it's so refreshing to see Mattamy Homes and residents of the south Nepean suburb of Stonebridge work together to resolve a dispute in a way that's likely to lead to a victory for both sides.
A little over a year ago, Mattamy created an uproar in the golf course community when it announced a plan to build 158 new homes on golf course lands and alter the Stonebridge course to make it shorter and less attractive to golfers. To residents, it looked like the first step in a plan to turn most, or all, of the course into housing.
It's easy to see why residents were upset. When people pay a premium for a lot backing onto a golf course, there is certainly an implication that the lot will continue to back onto a golf course, but without a legally binding guarantee, it's no sure thing.
Mattamy's situation was understandable, too. This is a tough time to be in the golf course business in Ottawa. There are too many courses and not enough golfers so it's no surprise that golf course owners would find the idea of turning a course into a housing development to be attractive, doubly so when the golf course is owned by a development company.
This is a tough time to be in the golf course business in Ottawa. There are too many courses and not enough golfers so it's no surprise that golf course owners would find the idea of turning a course into a housing development to be attractive.
In the face of the local opposition, Mattamy withdrew its development application. When things cooled down, the company, the neighbours and the city started to work together on finding a solution that would satisfy everyone.
With the city-sponsored help of veteran planning consultant Jack Stirling, they came up with an unusual idea that will still let Mattamy develop its desired number of homes, in exchange for a promise to operate the course for at least 10 years and redesign it so that it remains attractive to golfers.
At the end of the 10 years, Mattamy can sell the course to the community for $6 million. To raise the money, the community working group is proposing a special levy to be paid by Stonebridge homeowners starting in 2021. The amount will range from $175 a year to $475 a year, depending on property values.
If the deal is approved by a majority of homeowners, Mattamy gets its development and a way out of the money-losing golf business. Homeowners get certainty about no future development. They can choose to keep the course going or retain the 198 acres as green space. It's not a cheap solution, but it keeps their community as it is and preserves property values.
If a majority of homeowners backs the deal, both the levy and redevelopment will still need to be approved by the city, something scheduled for late this fall.
Stonebridge Community Association president Jay McLean was part of the working group that prepared the proposal and he's pleased with the outcome. The community's number one goal was preserving green space, and the deal will accomplish that, he says. Mattamy division president Kevin O'Shea says the deal "gives the community the certainty they are looking for."
As useful as this deal could be for Stonebridge residents, it doesn't provide a template to resolve a somewhat similar dispute in Kanata North, where the owner of the Kanata Lakes golf course wants to work with a group of local developers to replace the course with housing. In Kanata, a longstanding legal agreement saying the community has to have 40 per cent open space strengthens residents' situation. In Stonebridge, there was no legal impediment to developing the whole course.
Golf course communities have become an anachronism in a city intent on intensifying within the urban boundary. Redeveloping those lands for housing is in sync with the city's planning goals, but it's not politically saleable to homeowners who thought they had a deal. If it goes ahead, the Stonebridge plan shows there is a reasonable middle ground.
City eyes five big themes for Ottawa's new official plan
As Ottawa maps out its future for the next 25-plus years, city staff propose focusing on five major areas, including the places we live and the ways we move around the capital.
A staff report to the city's planning committee lays out five themes for future public consultations, before city council finalizes the plan.
1. Growth Management: City staff say Ottawa should focus on building up, rather than out. Staff also suggest the city provide direction on the type of new housing developments, rather than focusing on the number of units in a development, to encourage a wider variety of housing types.
2. Mobility: Staff say the city should encourage active transportation — like walking and cycling — and transit use by better co-ordinating land use and transportation planning. The report also encourages designing streets to better accomodate pedestrians and cyclists, as well as improving connections to the O-Train and Transitway.
3. Urban and Community Design: Because Ottawa is a major city and the nation's capital, staff say the design of our city's buildings and skyline should be a higher calibre to reflect that status. Staff also suggest the city provide high-level direction for better designed parks and public spaces.
4. Climate, Energy and Public Health: Staff say residents' health must be foundational to the city's new official plan, with policies contributing to creating more inclusive, walkable, and sustainable communities.
5. Economic Development: Because much of Ottawa's employment is knowledge-based, the city suggests those employment spaces could be better integrated into neighbourhoods and along main streets and transit nodes, instead of being isolated in business parks. City staff also suggest the city encourage more business incubation and identify opportunities to increase local food production.
The city's new official plan will map out the city's growth to 2046. The five themes and the plan's high-level policy direction will go before the city's planning committee, next week.
Public consultation and fine-tuning is expected to happen before city council approves the final version of the new official plan in 2021.