How to keep your finances afloat at retirement: Follow these 10 steps to avoid falling into the pension abyss
It is almost four years since the nation was delivered pension freedoms – giving savers greater control over their hard-won retirement pots.
Although welcome, many people are still wrestling with the rules of their new-found emancipation.
The changes began in April 2015 and gave people greater flexibility over what to do with their funds on (and before) retirement.
Out on a limb: It is almost four years since the nation was delivered pension freedoms – giving savers greater control over their hard-won retirement pots
Savers with personal pensions could suddenly take as much money as they wished out of their plans at any time from age 55. They were also permitted for the first time to bequeath their pension to their family – free of inheritance tax.
The freedoms have proved popular, with £23.6 billion cashed in by the end of 2018 – though few blew their cash on Lamborghinis as the architect of the reforms, Steve Webb, then Pension Minister, joked that they might.
HOW THIS IS MONEY CAN HELP
But with freedom has come responsibility – a serious dose of it. Savers now require more nous about how to make their pots last a lifetime.
Financial advisers can offer help but research by insurer Canada Life suggests about seven out of ten of those who access their funds do it without expert guidance.
The upshot is that flexible access leaves many savers vulnerable to making bad decisions, such as cashing in too much, making poor investment choices – or running out of money.
Worse still, they have become easier targets for either fraudsters or unscrupulous advisers eager to part them from their retirement fund.
Fiona Tait, technical director of specialist adviser Intelligent Pensions, says: 'Flexibility can be useful but the reality is that you can only spend the money once, and if you use it early you could be left with little to live on later in retirement.
'Just because the rules allow you to do something does not mean it is a good idea.'
Canada Life's research suggests most people appear well informed and are making sensible choices but there is cause for concern that more than 60 per cent of withdrawals are being swept into cash where it is at risk of withering on the vine of low interest rates and inflation. Video playing bottom right…Click here to expand to full page
Andrew Tully, technical director of the firm, says: 'The risk warnings don't seem to have sated the appetite to grab the cash and put it into low or no-interest accounts.'
Here are key steps to making the right pension freedom decisions:
1. Ask yourself if you need the cash now
Unless you have an urgent use for the money, it is better to leave it in the pension so that it can continue to grow in a tax-efficient environment.
Tait says: 'Will the cash improve your overall financial situation? Perhaps you can use some of it to pay off debts, which would free up those loan repayments.' But if the plan is to blow the lot on one holiday, then it is best to think again.
2. Dip into other savings first
The generous tax treatment of a pension fund – especially for those who wish to pass it down the generations – means savers who need cash are usually better off cashing in other investments first.
Tax-efficient Isas, shares or cash deposits should be the first port of call.
3. Calculate income to last a lifetime
Working out how to convert a pension pot into lifetime income is 'the nastiest, hardest problem in finance', according to renowned American economist William Sharpe.
Adrian Boulding, chief innovation officer at financial company Spire Platform Solutions, says the best starting point is to work out what you will need in terms of essential income, lifestyle income and any legacy you want to leave behind.
He says: 'Essential income needs to cover rent, rates, bills and one holiday. The lifestyle sum includes things such as a second holiday. The third is what you might want to leave behind for your family or a charity.'
At the same time, factor in the years that lie ahead. Jonathan Watts-Lay, of adviser Wealth at Work, says: 'Most people live longer than they expect.
'The Institute for Fiscal Studies found that those in their 50s and 60s underestimate their chances of survival to age 75 by around 20 per cent and to 85 by up to 10 per cent.'
For help on what income to aim for without it running out try an online calculator such as offered by the Money Advice Service at moneyadviceservice.org.uk.
4. Best ways to deliver income
Income for bills should be guaranteed if you want to sleep at night. Boulding says: 'One way to cover this element is to purchase an annuity – a policy that pays out a fixed income for life.'
Before pension freedom, the majority of people purchased annuities with their entire pot at retirement – after taking 25 per cent tax-free cash.
But in the last decade these deals have proved poor value – and once purchased they cannot be unravelled. Boulding says buying an annuity to cover necessities can be sensible if the remaining pension is left invested, with withdrawals made as and when required.
Watts-Lay says that whether choosing an annuity or a product that allows regular withdrawals of income – known as drawdown – it is vital not to accept the first deal offered by your pension company. He says: 'Shopping around is likely to increase your income.'
As the years pass and guaranteed income needs increase in importance, more of the pot can be converted into an annuity. Boulding calls this 'salami slicing'.
5. Avoid danger of too much cash
People cashing in their pots often divert the windfall into a bank account as a safe home for their money.
Tait warns that unless you have plans to spend this, a bank account is a poor value option. The pension is best left to run.
Tom Selby, senior analyst at broker AJ Bell, says investors who opt to leave their pensions invested while drawing an income 'face a great balancing act'.
Those who took this course in April 2015 and chose their investments carefully have done well so far in 'generating a golden combination of income and capital preservation' because of strong stockmarket returns.
The broker found that pension freedom customers often chose investment trusts that pay strong dividends to achieve this goal.
For example, someone with a pension fund of £100,000 who took a £5,000 annual income did best with investment fund Fundsmith Equity – with the pot now worth a healthy £165,000.
6. Seek the support of a financial adviser
Thanks to the pension freedom reforms introduced four years ago, you can tailor when and how you use your pot pension – and when you stop saving into it
Savers should consider financial advice before making any decision with their pension – even if it means paying hundreds of pounds.
Keith Richards, chief executive of the Personal Finance Society, says: 'Even though financial advisers do not have a crystal ball they can help people make better decisions.'
Find a regulated professional at findanadviser.org.
7. Be tax aware to avoid penalties
Willy-nilly withdrawal of cash from a pension can cost a fortune in unwanted tax.
Watts-Lay says: 'Only the first 25 per cent of a personal pension's value is tax free with the rest taxed as earned income. Many people who do not take advice end up paying more tax than they need to.'
He adds: 'Some people have taken their pension as a cash lump sum, not realising it would push them into a higher tax bracket.'
It can be more sensible to take small regular amounts from a pension, topping them up with sums taken from an Isa as these withdrawals are tax-free.
A saver who has already started taking benefits under the freedom rules, but then wants to start topping up the pot again should be aware the maximum annual allowance for contributions falls from £40,000 to £4,000.
Breach the limit and there is a tax penalty.
8. Understand defined benefit dilemma
Defined benefit schemes are dubbed the creme de la creme of workplace pensions because they are based on a combination of salary and length of service and guarantee an income for life, whatever the weather on the stock market.
But thousands of scheme members have been transferring out of these gold-plated plans into personal pensions to gain greater access to their savings.
A transfer involves giving up pension scheme benefits in return for a cash value which is then invested in a personal pension.
This can in turn be cashed in, converted into an annuity, have an income taken from it as and when – or left alone to be passed down to the next generation.
Some of the cash values offered in the last two years have been hard to resist – up to £1 million or more for the lucky few.
Watts-Lay says: 'Regulated financial advice must be sought to transfer a pension if its value is £30,000 or above. But there is no requirement to take ongoing advice once the transfer has been made.
Ottawa announces new funding to combat online child abuse
Ottawa has announced $22 million in funding to fight online child abuse.
Noting that police-reported incidents of child pornography in Canada increased by 288 per cent between 2010 and 2017, Public Safety Minister Ralph Goodale made the announcement Tuesday.
It follows a London meeting last week that focused on the exploitation of children between Goodale and his counterparts from the United States, Britain, Australia and New Zealand, collectively known as the Five Eyes intelligence group.
Major internet companies, including Facebook, Google and Microsoft, were also at the meeting and agreed to a set of rules the members of the group proposed to remove child pornography from the internet quicker.
On Tuesday, Goodale warned internet companies they had to be better, faster and more open when in comes to fighting child abuse on line.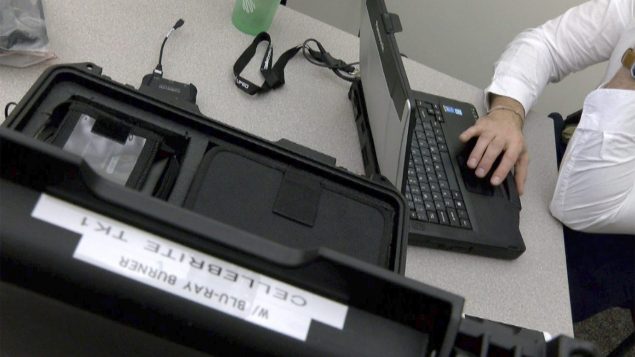 In this Friday, Jan. 12, 2018 photo, detectives use the Cellebrite system to extract information from cellphones at the State Police facility in Hamilton Township, N.J. "Operation Safety Net," the results of which were announced in December, netted 79 people suspected of exploiting children. (Thomas P. Costello/Asbury Park Press/Canadian Press)
"If human harm is done, if a child is terrorized for the rest of their life because of what happened to them on the internet, if there are other damages and costs, then maybe the platform that made that possible should bear the financial consequences," Goodale said.
The government plan includes $2.1 million to intensify engagement with digital industry to develop new tools online and support effective operating principles, $4.9 million for research, public engagement, awareness and collaboration with non-governmental organizations and $15.25 million to internet child exploitation units in provincial and municipal police forces across the country.
Goodale said the strategy recognizes that technology is "increasingly facilitating the easy borderless access to vast volumes of abhorrent images."
That, he said, makes investigations increasingly complex,
"This is a race where the course is always getting longer and more complicated and advancing into brand new areas that hadn't been anticipated five years ago or a year ago or even a week ago," Goodale said.
Gas prices expected to dip in Ottawa
If you can wait an extra day to fill up the gas tank, your bank account might thank you.
Roger McKnight of Enpro is predicting a five cent dip in gas prices Wednesday night at midnight.
This comes after a four cent drop this past Friday, just ahead of the August long weekend.
McKnight said the reason for the drop, both last week and this week, is due to comments made by US President Donald Trump.
He says after the drop, the price will be, on average, 118.9 cents/litre in the Ottawa region.
Oka asks Ottawa to freeze Mohawk land deal, send RCMP to Kanesatake
The town of Oka is asking the federal and provincial governments to slap a moratorium on a proposed land grant to the local Mohawk community in Kanesatake and to establish an RCMP detachment on the First Nations territory to deal with illegal cannabis sales outlets.
The requests were contained in two resolutions adopted Tuesday night by the Oka town council.
The administration of Oka Mayor Pascal Quevillon held its first public meeting since the start of the controversy that pitted the town council against the Kanesatake band council over a decision by a local promoter to give local lands to the Mohawk community.
The three resolutions are addressed to Prime Minister Justin Trudeau's government, Quebec Premier François Legault's government and the Kanesatake band council led by Grand Chief Serge Otsi Simon.
As each resolution was read into the record, Quevillon stressed that the town of Oka was only looking to live in peaceful cohabitation with the Mohawk community.
The town also called upon Ottawa to establish a consultation process that would take into account the concerns of residents in Oka and Kanesatake.
Quevillon's administration also wants access to the plans detailing what lands are at the centre of negotiations between the federal government and the Mohawk community for purchase, suggesting the talks are simply a disguised form of expropriation.
"They're giving money to (the Mohawks) to buy our land and annex it to their territory," Quevillon said.
Despite its demands, the Oka council adopted an official statement addressed to the Kanesatake band council saying the town's population wanted dialogue and peaceful cohabitation, with Quevillon citing the 300 years of close links between the two communities.
During the council meeting's question period, some residents suggested that the council deal with other groups that say they are speaking for Kanesatake, including Mohawk traditionalists. Mayor Quevillon replied that the town would only deal with the band council and did so out of respect for Grand Chief Simon.
The mayor also argued that the RCMP, a federal police force, was best suited to be deployed in Kanesatake, where it would ensure the law would be respected, particularly on the issue of illegal cannabis shops.
Quevillon contended such a deployment was the only way for both communities to work together toward their mutual economic development.
Meanwhile, the apology Grand Chief Simon has said he is expecting from Quevillon for remarks he made earlier this summer about the Mohawk community in Kanesatake does not appear to be coming any time soon.
Asked by a resident if he would apologize, Quevillon left the answer to those citizens who attended the meeting, the vast majority of whom replied, "no."